Here's What Trump's Latest Executive Orders Do
With a pen stroke, President Trump withdrew the U.S. from the Trans-Pacific Partnership, imposed a federal hiring freeze, and reinstated the "Mexico City policy" on defunding international abortion-related services.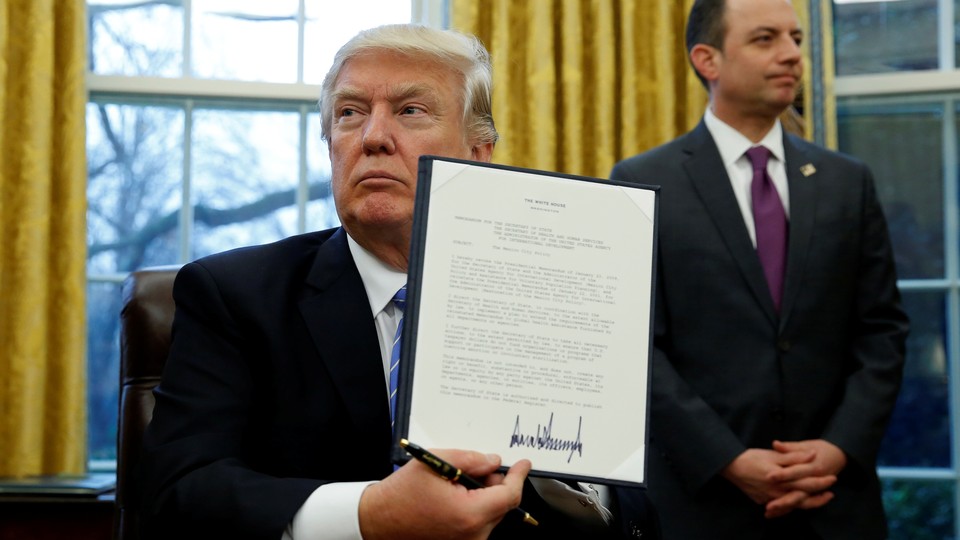 President Trump marked his first full business day in office with three major executive orders, each one aimed at fulfilling campaign promises he made last year.
His most significant order immediately withdrew the U.S. from the Trans-Pacific Partnership, a multilateral free-trade agreement between the U.S. and eleven other Pacific Rim countries. The pact, aimed at counterbalancing China's growing economic clout in east Asia, was among the Obama administration's signature foreign policy achievements and a cornerstone of the pivot to Asia.
But the agreement also drew its share of domestic criticism on both sides of the campaign aisle. Both Democratic nominee Hillary Clinton, who initially supported it, and her primary rival Bernie Sanders criticized the pact for not doing enough to support American workers. Trump was among its most vociferous critics, at one point calling it "a continuing rape of our country."
Trump also followed previous Republican administrations by reimposing the Mexico City policy. Known as the "global gag rule" by its critics, the policy blocks U.S. taxpayer funds from going to international family-planning organizations that provide abortion-related services, even if they use non-U.S. funds to offer advice on where to obtain an abortion.
First developed by the Reagan administration in 1984, the policy is applied along sharply partisan lines: Both Presidents Bush imposed it during their tenures, while Presidents Clinton and Obama reversed it shortly after taking office. Because presidents are traditionally inaugurated two days before the January 22 anniversary of the Roe v. Wade decision, the choice to apply or rescind the Mexico City policy carries additional symbolic weight early in their terms.
In his third order, Trump also imposed a hiring freeze throughout the federal government on non-military workers. The freeze also follows in Reagan's footsteps, who imposed a similar blanket ban shortly after taking office in 1981. On the campaign trail, Trump made the federal hiring freeze part of his broader pledge to tackle corruption and waste in Washington, D.C.,  by "draining the swamp."