Why Trump's Conflict-of-Interest Plan Won't Prevent Conflicts of Interest
"This isn't the way the presidency has worked since Congress passed the Ethics in Government Act in 1978," the director of the U.S. Office of Government Ethics said on Wednesday.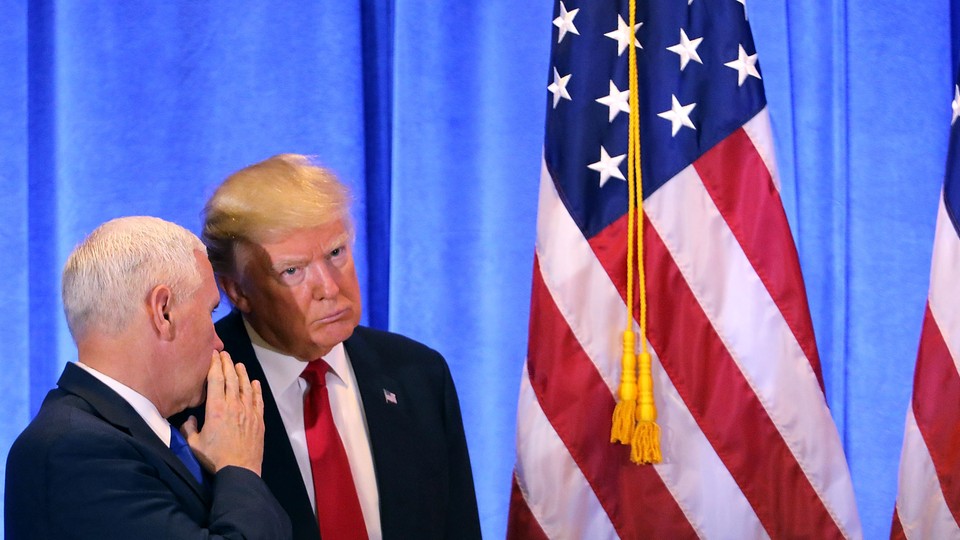 Updated on January 11 at 5:56 p.m. ET
President-elect Donald Trump announced at a press conference Wednesday that he is transferring control of his company to his sons, a plan that falls far short of what ethics experts have advised for the president-elect to prevent conflicts of interest as a result of his business entanglements.
The steps announced Wednesday won't resolve Trump's potential conflicts of interest, according to Norman Eisen, the former White House ethics czar under President Obama. "Mr. Trump's ill-advised course will precipitate scandal and corruption," Eisen said in an e-mail, arguing that when he assumes the presidency, Trump will be poised to violate a provision of the Constitution intended to prevent foreign governments from buying influence in the U.S. government.​
Later on Wednesday, U.S. Office of Government Ethics Director Walter Shaub denounced Trump's plans in no uncertain terms. "This isn't the way the presidency has worked since Congress passed the Ethics in Government Act in 1978 in the immediate aftermath of the Watergate scandal," he said at a forum convened by the Brookings Institution in Washington, D.C.
The criticism Trump faces from ethics experts is bipartisan: Richard Painter, the former chief ethics lawyer for President George W. Bush, also criticized Trump's stated plans during the forum. "The plan we heard today is not compliant with the law," Painter warned. "The president-elect has nine days to fix this problem."
Trump ran on the promise that his success as a businessman would translate into a successful presidency. But in the aftermath of the election, Trump has faced pressure to resolve potential conflicts of interest posed by his business dealings. On Wednesday, he explained that his "two sons ... Don and Eric are going to be running the company." He added: "They are going to be running it in a very professional manner. They're not going to discuss it with me."
A lawyer working on Trump's behalf, Sheri Dillon, elaborated on the set-up: "Through the trust agreement, he has relinquished leadership and management of the Trump organization to his sons, Don and Eric, and a longtime Trump executive Allen Weisselberg. Together, Don, Eric, and Allen will have the authority to manage the Trump Organization, and will make decisions for the duration of the presidency without any involvement whatsoever by President-elect Trump."
Dillon went on to say that "an ethics adviser will be appointed to the management team" as part of the trust agreement, that "Trump will resign from all officer and other positions he holds with the Trump organization entities," and that Trump has created "a new position at the Trump Organization: the position of chief compliance counsel, whose responsibility will be to ensure that the Trump businesses are operating at the highest levels of integrity." Additionally, Trump will "voluntarily donate all profits from foreign-government payments made to his hotels to the U.S. Treasury." Dillon added: "This way it is the American people who will profit."
Notably, however, the plans do not meet the criteria that ethics experts have advised: Trump will not sell and fully divest from his business assets or put them into a blind trust. The point of a blind trust is to set up an impermeable barrier between the person placing their holdings into the trust and the person managing the trust. By giving his sons and an employee control over the trust instead, Trump virtually guarantees that the buffer between himself and his business interests will be porous. Trump may insist that his sons won't discuss the business with him, but there is no way for the American public to know that for certain. With his family members in control of the organization, Trump is far more likely to find out the details of business transactions, even if only inadvertently, as opposed to if he had placed his assets into a blind trust.
In Politico, Eisen, along with Painter and Harvard Law professor Laurence Tribe, outlined criteria by which to judge Trump's plans to avoid conflicts of interest. The article makes a series of recommendations, including that Trump should "make a clean break from ownership of his businesses, not just operations," "divest into a true blind trust," and "use a truly independent trustee, not a family member."
Reacting to Wednesday's announcement, Eisen emphasized that Trump failed to adhere to any of those ethical guidelines in outlining his new plan. "Mr. Trump did not make a clean break with his business-ownership interests as his predecessors for four decades have done; did not establish a blind trust or the equivalent as bipartisan experts and [Office of Government Ethics] called for; entrusted trust responsibility in his family and a current employee, rather than in an independent trustee. … And offered an inadequate and scantily-detailed ethics wall."
Dillon argued that setting up a blind trust or selling the business weren't feasible options on Wednesday. "Selling first and foremost would not eliminate possibilities of conflict of interest," she said, adding that "if President-elect Trump sold his brand he would be entitled to royalties for the use of it" and "further, whatever price was paid would be subject to criticism and scrutiny" and questions of pay-for-play. Dillon also argued that you "cannot have a totally blind trust with operating business."
In addition to the other ethics concerns he raised, Eisen argued that the decision to direct Trump hotel revenue from foreign governments to the U.S. Treasury fails to at all comply with the Emoluments Clause of the Constitution, which legal experts have explained is intended to prevent corruption as a result of payments from foreign governments.
Trump's plan "did not screen all 'emoluments … of any kind whatever,' as required by the Constitution, but only some revenues, and only from his hotels," Eisen wrote over e-mail. He elaborated: "The Emoluments Clause doesn't only cover some hotel revenues, as the Trump team wrongly believes, but applies to a much broader range of foreign-government benefits that Trump is collecting, and will continue to collect, from foreign governments. On January 20, that will be in direct violation of the Constitution."
As a result of lingering ethics questions, Trump's long-awaited press conference will not put to rest concerns over his potential conflicts of interest.
Now, the question is how much pressure from Congress or the public Trump will continue to face, and whether he will see fit to take any additional action. Office of Government Ethics Director Shaub noted on Wednesday that "there's still time to ... come up with something that will resolve these conflicts." He went on to add, however, that "nothing short of divestiture will resolve" the potential conflicts facing Trump.
Prior to Wednesday's press conference, Pew Research found that a majority of Americans are indeed concerned that Trump will be exposed to potential conflicts of interest. If that concern does not lessen, the president-elect may feel compelled to do more.