The Republicans Trying to Slow Down Obamacare Repeal
GOP Governors John Kasich of Ohio and Rick Snyder of Michigan urge lawmakers to protect the Medicaid expansions they say are working in their states.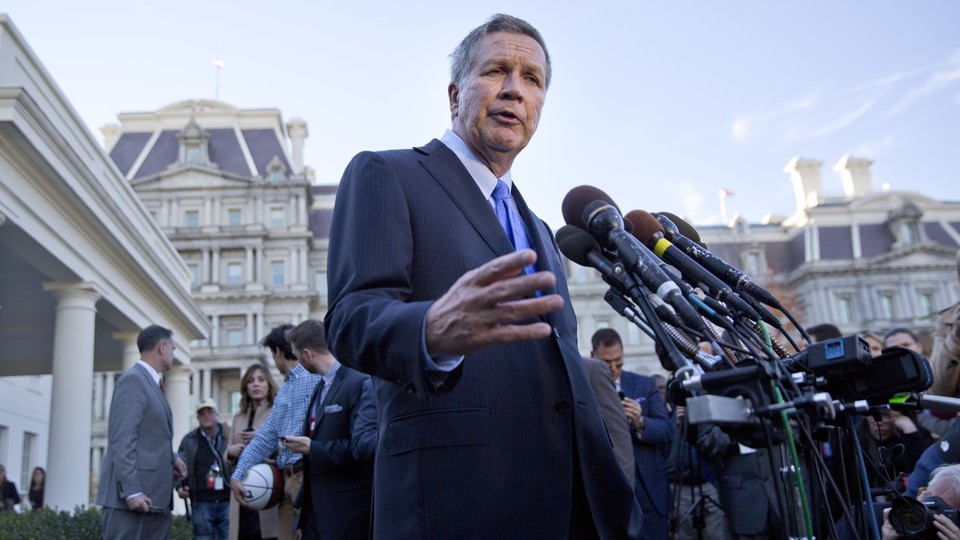 Congressional Republicans knew their push for an immediate repeal of the Affordable Care Act would draw howls of protest from Democrats. But they are now hearing warnings from elected officials who may be harder for them to ignore: Republican governors.
In the last week, GOP Governors John Kasich of Ohio and Rick Snyder of Michigan have raised concerns about the impact a full repeal of the health law would have on their states, which rely on billions of dollars in additional federal funding to cover an expansion of Medicaid they carried out as part of Obamacare. Kasich in particular questioned the plans by Republican leaders in Congress to scrap the law without immediately replacing it.
"It's a serious matter," Kasich told reporters in Ohio last week. "Our hospitals needed Medicaid expansion. It has worked very well in this state." The former GOP presidential candidate noted that about 700,000 Ohioans had secured coverage under the law, many of whom, he said, have serious health problems. "There's room for improvement, but to repeal and not to replace, I just want to know what's going to happen to all these people who find themselves left out in the cold," Kasich said.
Snyder similarly touted Michigan's embrace of the Medicaid expansion, which has covered 642,000 people in the state, as well as other elements of the ACA that the state has incorporated. "I think it's important that as they look at the Affordable Care Act ... I hope they carefully look at the success we've had in Michigan, because we didn't just do Medicaid expansion," Snyder told The Detroit News.
The governors' comments underscore a dynamic that has long been obscured by the polarizing debate over the Affordable Care Act in Washington. While opposition to the law is nearly unanimous among Republicans in Congress, the politics of health care are far more complicated in the states. After the Supreme Court ruled that states can opt out of the Medicaid expansion once mandated by Obamacare, some GOP-led states chose to expand the program while others did not. And in states that did participate, their Republican governors have sought to take credit for its success in reducing the ranks of the uninsured. "There has also been a huge drop in the number of people showing up at hospitals without insurance, which is a positive trend that has saved millions of dollars in Michigan's health-care system," Snyder said in a statement. "The program has been a great success and a model for other states to follow."
Under the terms of Obamacare, the federal government covered the full cost of expanding Medicaid for three years through 2016, and while states must now begin to chip in, they will still rely on Congress for the bulk of funding going forward. "It's highly unlikely" that states like Michigan and Ohio will be able to cover their newly insured residents if the Affordable Care Act is repealed, said Edwin Park, vice president for health policy at the liberal Center on Budget and Policy Priorities. Ohio and Michigan would stand to lose a combined $86 billion in federal funds under repeal, according to an analysis released last month by the Urban Institute.
While Kasich and Snyder are the first GOP governors to speak out, others could follow. Because of the party's success in state-level elections during the Obama era, there are Republican governors in two-thirds of the states, including more than a dozen that expanded Medicaid. Unlike Kasich and Snyder, some GOP governors, like Asa Hutchinson in Arkansas, inherited Medicaid expansions that were initiated by a Democratic predecessor. Hutchinson has made clear that he opposed Obamacare, and he's pushing the incoming Trump administration to allow Arkansas to tighten eligibility rules for Medicaid. "We have to work with what we have right now,"said his spokesman, J.R. Davis. As for what Congress might do, Hutchinson is in wait-and-see mode. "You don't want to overreact," Davis said.
Will Republican governors have any influence over their GOP colleagues in Washington? "On the margins, a little bit," predicted Doug Heye, a party strategist who served as a top aide to former House Majority Leader Eric Cantor. Governors tend to make their voices heard in one-on-one conversations with members of their state delegations. So Kasich would likely try to lobby Senator Rob Portman or Representative Pat Tiberi, a senior member of the House Ways and Means Committee. (The governor might have had more success a couple years ago, when Ohio's own John Boehner was still speaker.) And Snyder would have to lean on Representative Fred Upton, who until last month served as chairman of the Energy and Commerce Committee, which has jurisdiction over Medicaid.
It's more rare for a governor to be able to sway Congress as a whole. One example, however, came in early 2013, when New Jersey's Chris Christie publicly shamed then-Speaker Boehner after he abruptly scrapped a vote on legislation providing aid for Hurricane Sandy recovery just before Congress adjourned. Members of the state's House delegation then threatened to withhold their support for Boehner as speaker unless Boehner promised to reschedule the vote. The bill passed, and New Jersey got its money.
Kasich, who served in the House for 18 years until 2001, now has a national profile as a result of his presidential run. But he better hope his relationship with Congress is better than his one with Trump; the president-elect on Friday succeeded in ousting Kasich's ally, Matt Borges, as chairman of the Ohio Republican Party. Working in the governors' favor, however, is the fact that Trump would not have won the presidency without his victories in Ohio and Michigan—both states that voted for President Obama in 2012.
House GOP leaders formally sought input on health-care reform from governors and state insurance commissioners in a letter in late November. The Senate Finance Committee sent a similar letter to Republican governors, and Kasich will participate in a roundtable the panel is holding on the future of Medicaid next week. Eliminating the program's expansion under Obamacare is only part of the changes that Republican leaders envision for Medicaid. Speaker Paul Ryan and Trump's nominee for health secretary, Tom Price, have called for turning it into a block grant for the states. But that reform is likely to be far more politically controversial than repealing the Affordable Care Act.
States would not immediately lose Medicaid funding under the GOP's "repeal and delay" strategy, which calls for Obamacare to stay on the books for as long as four years while Republicans try to pass and implement a replacement. But neither congressional leaders nor the Trump transition are offering any firm commitments to the governors. "President-elect Trump is committed to working with a wide range of stakeholders, including governors, to ensure that all Americans have access to stable and predictable health plan choices," Trump spokesman Philip Blando said in a statement. Jennifer Sherman, a spokeswoman for Republicans on the Energy and Commerce Committee, said: "We support making Medicaid sustainable, prioritizing the most vulnerable, and empowering states with flexibility to create solutions for their populations."
The Republican governors are just the latest headache for GOP leaders who are looking to make repeal of Obamacare one of the first bills that Trump signs as president. An increasing number of party lawmakers have raised concerns about voting on repeal before a replacement is ready. At least four Republicans in the Senate have signaled their unease with the strategy (to varying degrees), and the party can afford only two defections if it hopes to undo the law with a simple majority. One of those is Senator Rand Paul, whose home state of Kentucky expanded Medicaid and saw a large reduction in the number of people without insurance.
Another Republican-led state that expanded Medicaid was Indiana. Its governor at the time was Mike Pence, the man who on January 20 will be sworn in as vice president.