Trump's Last Vacant Cabinet Post
The president-elect has yet to name a secretary of agriculture, a delay that has caused controversy and illustrated the difficulties governing will pose.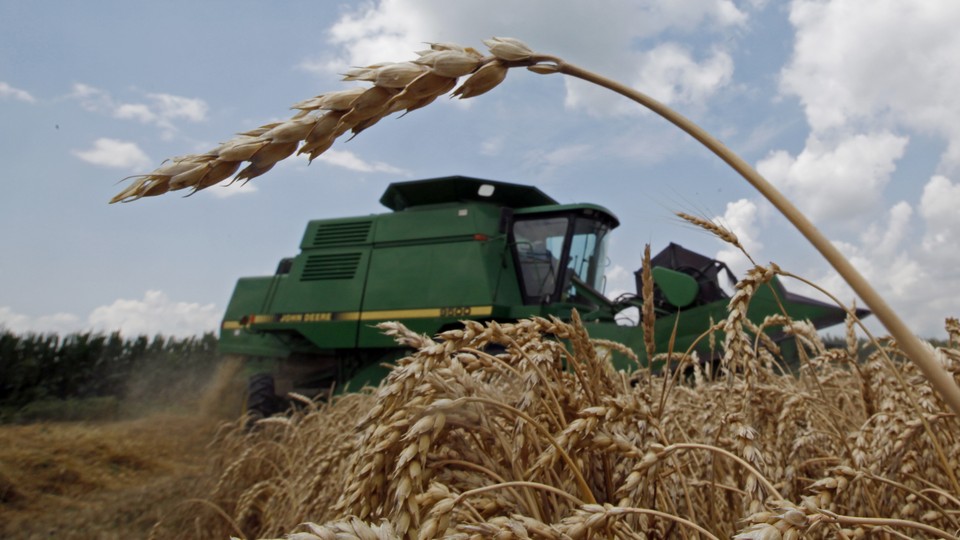 Three days before Donald Trump is to be inaugurated as America's new president, just one Cabinet agency lacks a nominee to lead it: the Department of Agriculture.
The pick has become mired in politics and drama, unsettling the agriculture industry and potentially imperiling Trump's standing with some of his most ardent supporters—the residents of rural America. In the process, it has become a case study in the difficulty Trump will face as he begins to govern, as his sweeping promises and catchy slogans run up against competing interests.
Already, the delay in picking an agriculture secretary has caused alarm. "The lack of quick and decisive action on picking a new Secretary of Agriculture by the Trump administration has given rise to charges that agriculture is not a high priority for the incoming president," columnist Gary Truitt wrote recently in Hoosier Ag Today. "While this may or may not be true, the fact that this was the last cabinet post to be filled has raised concerns and will produce some challenges for the new nominee."
More than two weeks ago, multiple news outlets reported that Trump was set to pick Sonny Perdue to lead the Agriculture Department, or USDA. Perdue, a former governor of Georgia, is well regarded in agriculture circles. A former veterinarian who grew up on a farm and owns agribusiness holdings, and the cousin of U.S. Senator David Perdue, Sonny Perdue is an immigration hawk who once led lawmakers in a prayer for rain during a drought.
But Perdue has not been announced for the post, and Trump has continued to receive a parade of other contenders. When he named David Shulkin to head veterans affairs last week, USDA became the last unfilled Cabinet position.
After Perdue's appointment was floated, reports indicated that the Trump team wanted to pick a woman or Hispanic for the position instead, in order to add diversity to the Cabinet. Elsa Murano, the former president of Texas A&M, and Abel Maldonado, former lieutenant governor of California, have been prominently mentioned. Both have experience with agriculture: Murano, an expert on food safety, was a USDA undersecretary under George W. Bush, while Maldonado is the child of immigrant farmworkers and owns a vineyard. But the idea that the administration might use the USDA post to "balance" the overwhelmingly white and male Cabinet has sparked controversy in agricultural circles.
"I would say there has been anguish," Gary Baise, a D.C. lawyer who helped Trump marshal rural and agricultural support during the campaign, told me. "Agriculture is too important to use as a dumping ground for political correctness."
Baise and others warn that Trump owes a debt to rural voters, from among whom he drew his strongest support in the election. They are not the only ones affected by agricultural policy, of course—everybody eats, and more than 40 million low-income Americans rely on the food stamps the USDA administers. But agriculture, from family farmers to big agribusiness, looms especially large in the landscape, economy, and culture of rural areas.
And rural voters went overwhelmingly for Trump. His 27-point margin over Hillary Clinton among voters in rural areas was 7 points better than Mitt Romney's margin over Barack Obama four years ago. Many commentators have seen the election's outcome as the result of a larger-than-ever divide between rural and urban America.
"Rural America would be really disappointed," Baise said, if Trump is seen as not keeping faith with the agricultural community. The smart money is still on Trump picking Perdue, according to Baise, a well-connected Republican ag-politics veteran who helped Trump assemble his agriculture advisory team. The Trump transition team did not respond to a request for comment. A source in Perdue's orbit said he still wants the job and is mystified by the delay.
For now, the ag world watches and waits for an agriculture secretary to be named. On Friday night, they will gather at Washington's Grand Hyatt for a black-tie inaugural ball—the "Piggy Prom"—formally known as the Inaugural Gala Celebrating American Agriculture.
But the difficulty for Trump won't end once he chooses a USDA head. Farmers and farm experts are also wary of some of his signature policy promises. As the top ag journalist Jerry Hagstrom wrote recently in National Journal Daily, "The selection of Agriculture secretary may be simple in comparison with figuring out both the right policies and the right politics for rural America and agriculture."
Trade is one flash point: Trump's protectionist proclamations run counter to agricultural producers' reliance on export markets. The American Farm Bureau Federation strongly backed the Trans-Pacific Partnership, which Trump vocally opposed. Trump has decried the U.S.'s yawning trade deficit with China, but agriculture is the rare sector in which the U.S. enjoys a China trade surplus—exports to China are currently the only thing keeping soybean prices afloat.
Tariffs or a trade war with China could hurt American farmers' bottom line. "Rural America turned out for Trump," a top agribusiness lobbyist told me. "But now their pocketbooks could be on the chopping block." (Ag watchers were encouraged, however, by Trump's tapping of Iowa Governor Terry Branstad to serve as ambassador to China.)
Immigration is another tricky area: Agriculture relies on foreign workers, from crop pickers to meatpacking-plant workers, and the farm lobby has been advocating for years for immigration reform that protects and increases the flow of such workers. If the Trump administration seeks to deport the millions of undocumented immigrants currently in the U.S., to reduce legal immigration levels, or to eliminate guest-worker programs, agriculture would be hit hard.
Finally, agricultural observers are closely watching a series of pending mergers in Big Ag, such as the proposed purchase of St. Louis-based seed giant Monsanto by the German company Bayer. Trump met with the CEOs of Bayer and Monsanto last week, a meeting the executives called "productive." On Tuesday, the Trump transition team announced that the companies had committed to billions in research-and-development spending and thousands of U.S. jobs if the merger is approved.
But some of Trump's big agricultural backers oppose such proposed mergers, including Bruce Rastetter, an Iowa agribusiness mogul and prominent Republican donor. "It's wrong for U.S. agriculture and really farmers around the world, this consolidation," Rastetter told the Wall Street Journal. His public criticisms have attracted wide notice in the ag world.
Whether deals like the Bayer-Monsanto merger—the purchase of a major U.S. company by a foreign buyer—are approved under Trump is being closely watched. "That decision will be huge in sending a signal to the agriculture community, which is very leery of that kind of concentration," Baise, the D.C. ag lawyer, told me. If Trump goes down the "wrong track" with agriculture personnel and policy, there could be political consequences, he said: "He should be very concerned that American agriculture might rise up against him."