The GOP's 200-Day Plan
Republicans want to pass a new healthcare law, a new tax code, and an infrastructure bill—all in the first six months of President Trump's term.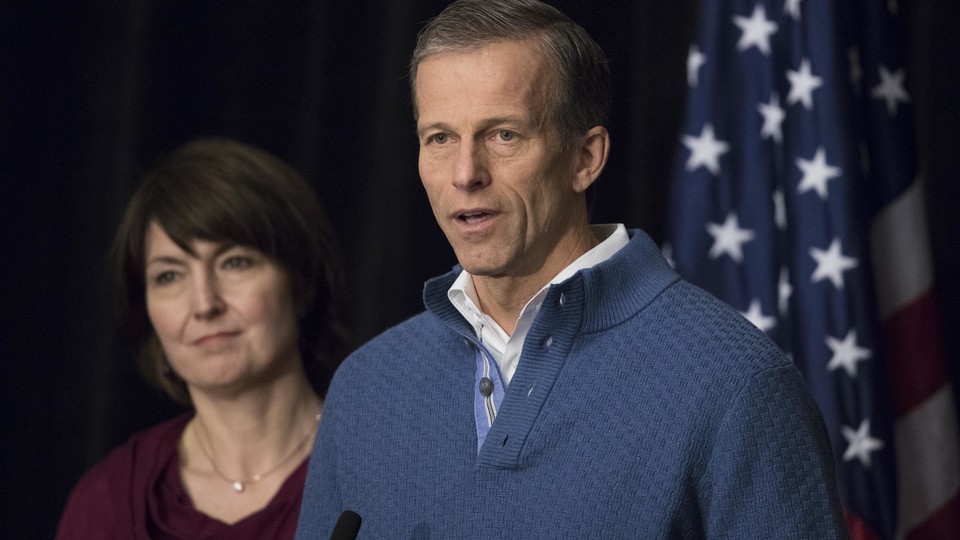 PHILADELPHIA—By the time Congress breaks for its month-long recess in August, Republican lawmakers hope to report to their constituents that they have done the following: Repealed and at least partially replaced the Affordable Care Act, reshaped the entire federal tax code, funded a massive wall along the Southern border, installed a new conservative justice on the Supreme Court, raised the debt ceiling, and scrapped a slew of Obama-era regulations on the environment, energy production, labor laws, gun sales, and more.
Oh, and they'd also like to pass a major infrastructure bill demanded by President Trump.
For a Congress that has struggled even to keep the government running in recent years, the 200-day agenda that House Speaker Paul Ryan and Senate Majority Leader Mitch McConnell laid out to their members in Philadelphia on Wednesday was remarkably ambitious—and perhaps wholly unrealistic. But its scope is reflective of a Republican Party newly energized by Trump's election and its control, for the first time in a decade, of both Capitol Hill and the White House.
Shut off both from reporters and protesters outside, GOP lawmakers gathered at a downtown hotel here for an annual series of private meetings to hash out their agenda for the year. Each January, the watchword of these corporate-funded conferences is unity. Can a fractious party stick together? Will conservatives buck the leadership? Will the fast-moving, right-wing House conference clash with the slower-paced, more establishment Senate?
This year, Trump is both the unifying force and the unifying challenge—a president, finally, who is ready to sign Republican priorities into law but one who is also driven by conflict, improvisation, and his own prized policies. Lawmakers arrived in Philadelphia ready to trumpet the party's agenda only to confront reporters demanding their reaction to the president's flurry of tweets and executive orders. "I haven't seen the proposal yet," Representative Cathy McMorris Rodgers said at one point, in a statement that seemed to apply equally to Trump's order on immigration, his call for an investigation into voter fraud, and his reported plan to revive CIA "black sites" and the use of torture.
Trump won't speak to congressional Republicans until Thursday, but his presence greeted them when they arrived, in the form of socks with the president's likeness that lawmakers reportedly found in their hotel gift bags, according to Politico. And as Ryan made clear in his presentation, Trump is quickly exerting his influence on the party's agenda. According to two Republicans in the room, the speaker told lawmakers that when he presented his plan to prioritize healthcare legislation, tax reform, and the repeal of regulations in the administration's first 200 days, Trump signed off on the agenda but made one request: He wanted Congress to pass his infrastructure plan as well.
The ask was significant, because Trump's call to spend as much as $1 trillion to rebuild roads, bridges, and airports has generated little enthusiasm among conservatives, who are worried it will mimic the Obama administration's stimulus bill they assailed as a boondoggle.
"The impression I got was that the speaker recognizes the importance of that to the president and that it is now part of our 200-day plan," said Representative Chris Collins of New York, a member of the president's transition team. "Without the president's input," Collins said, infrastructure would not have made the list.
Just before the meeting, Senator John Thune, the third-ranking Republican in the upper chamber, ticked off a list of items to reporters that notably omitted a major infrastructure bill. "Right now, we've got a very focused agenda, things that we want to get done in the next 200 days," Thune said. "How infrastructure plays into that we're not sure yet."
There's a broader consensus on the rest of the party wish-list—at least in principle. Lawmakers said the party hoped to approve legislation repealing Obamacare by April as part of a budget reconciliation package that can pass the Senate with a simple majority rather than a filibuster-proof 60 votes. That bill, Representative Diane Black of Tennessee said, would also include part of the GOP's replacement plan for the law. Next up would be a tax overhaul, which Republicans hope to pass by the beginning of August. Collins said there are also plans for a supplemental appropriations bill to pay for the Southern border wall—for which, of course, Trump will be demanding reimbursement from Mexico. And the House next week will begin passing legislation under the Congressional Review Act to undo major regulations enacted in the final months of the Obama administration.
Republicans will dive into more of the details on Thursday, with breakout sessions devoted to healthcare and taxes, among other issues. There's no shortage of skepticism even among Republicans about how much of their agenda they'll be able to pass in the next six months. The party remains divided on how to replace Obamacare, and tax legislation is notoriously difficult to pass. Ascendant Democrats arguably had an even longer list of priorities when Obama took power in 2009. A health-care bill that was supposed to be done by August took another six months and barely passed at all. Climate-change legislation stalled in the Senate, as did many other bills.
Republicans now have a much narrower, 52-48, majority in the Senate than the 60 seats Democrats had for much of 2009. And while Ryan appealed to lawmakers to set their sights high, McConnell reminded them that the Senate can only move so fast and that Republicans would find no help from Democrats in their drive to replace Obamacare and cut taxes.
"What I hope to get out of this retreat is the setting of some kind of realistic expectations," Representative Charlie Dent of Pennsylvania said.
And is the agenda realistic?
"I think we're biting off a lot," Dent replied. "I can't imagine all that would be signed into law within 200 days."
The point, other Republicans said, is that now is the time to try. "There's a real sense of the very unusual opportunity we've been given," said Representative Liz Cheney of Wyoming, a freshman Republican (and daughter of the former vice president), "and an understanding we have to move quickly."