Republicans Grapple With the Risk of Overreach
The GOP launched the 115th Congress with an embarrassing misstep on ethics.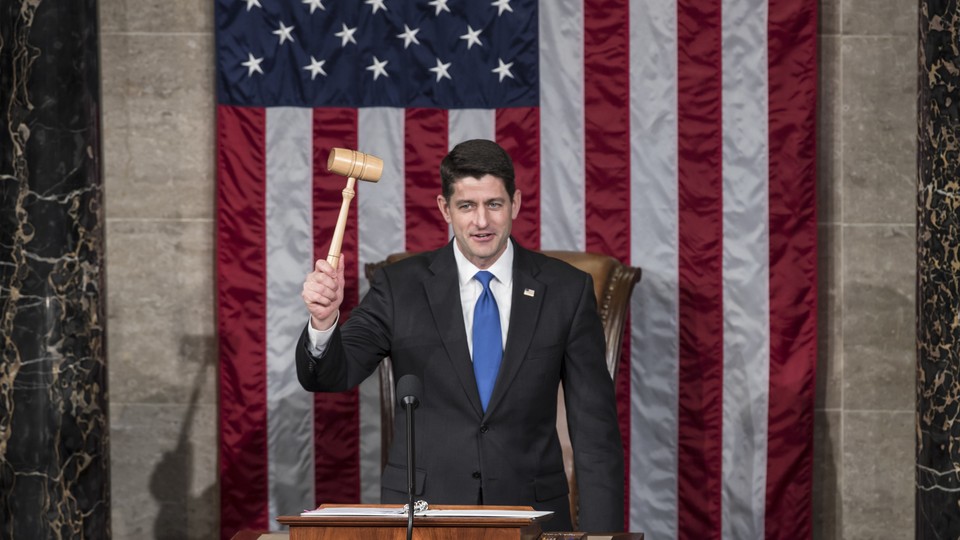 "Let us not be timid," Paul Ryan exhorted members of the House on Tuesday, moments after 239 Republicans had, in near-unanimous fashion, re-elected him as speaker. He was girding his party for what he called "the opportunity of a lifetime"—the chance to remake Washington under President-elect Donald Trump and unified Republican control of government.
Ryan needn't have worried about his members' gumption: They had committed their first act of political overreach before the 115th Congress was even sworn in.
The night before, a majority of House Republicans had voted behind closed doors to gut the Office of Congressional Ethics, a decade-old independent body that had arisen out of the last era of GOP scandal. They had acted against the better judgment of their leaders, including Ryan, who had accurately warned them that such a move would undermine the party's effort to open the new Congress in a mood of unity and optimism. A predictable uproar ensued, and with a modest push from Trump, Republican lawmakers hastily reconvened to rescind their amendment barely five minutes before the 115th Congress gaveled into session.
The episode was, in a sense, a test of political boundaries for a party that sees itself as having won a broad mandate from the voters. If Trump could get away with all manner of offensive comments, damaging revelations, ethical malfeasance and still get elected president, what would stop lawmakers from neutering a pesky ethics office that had ensnared many of them (and Democrats, too!) in investigations? As it turned out, Trump's victory did not mean the end of public scrutiny; it did not immunize politicians from nasty headlines or angry phone calls, emails, and tweets.
Republicans backed away from their ethics gambit, but as Ryan made clear, they are intent on acting swiftly on an ambitious policy agenda to dismantle key parts of the Obama presidency and replace them with long-sought conservative reforms. "We have a lot to do—and a lot to undo," House Majority Leader Kevin McCarthy wrote in a message to lawmakers over the weekend. GOP leaders plan to devote the next two weeks to teeing up legislation that Trump can sign in his  first weeks in office. The House will vote this week on bills to prevent Obama from issuing a slew of new regulations on his way out of office and to ensure Congress has a say in major new regulations going forward. The first day in the Senate brought the introduction of a budget resolution that will lay the groundwork for repealing core pieces of the Affordable Care Act. The two chambers hope to send the actual repeal bill—sans an Obamacare replacement—to Trump's desk in the next month or so.
"The people have given us unified government," Ryan said in his call-to-arms opening address. "And it wasn't because they were feeling generous. It's because they wanted results. How could we live with ourselves if we let them down? How could we let ourselves down?"
If Republicans are feeling pressure to deliver results for their voters, so too are Democrats under pressure to deliver a fight for theirs. The beginning of a new Congress usually brings a brief respite from the usual partisanship. Young children clog the Capitol halls as lawmakers bring their families to their swearing-in, the two chambers gavel in with rituals of pomp and circumstance, and newly-elected members learn the way to their offices (and to the bathrooms).
But on this opening day, Democrats in both the House and the Senate were digging in for battle. In a mini-protest of Republican rules designed to punish actual member protests, Democratic House members embellished their speaker votes for Nancy Pelosi by adding the preamble, "Because the people's House should be ethical, accountable, and open to free debate..." During her ceremonial introduction of Ryan upon his election as speaker, Pelosi digressed to warn Republicans that if they tried to repeal the Affordable Care Act, cut Medicare, or otherwise roll back Obama's legacy, "Democrats will stand our ground." And in the Senate, the new Democratic leader, Charles Schumer of New York, used his own opening remarks to warn both Trump and the Republican majorities that Democrats would hold them accountable across the full range of promises that they made during the campaign. "We will hold Trump accountable to the values that truly make America great," Schumer said. "But we'll fight him tooth and nail when he appeals to the baser instincts that diminish America and its greatness—instincts that have too often plagued this country and his campaign."
Democrats are banking on Republicans falling short—that the party unity on display in Ryan's election on Tuesday will quickly fade, that the slim GOP majority in the Senate will stumble and bicker, that an inexperienced and impatient president will grow frustrated with his party's struggle in Congress. And most of all, Democrats are waiting for Republicans to overreach, to interpret a narrow presidential victory as an endorsement of conservative dogma and push forward with far-reaching changes to entitlements, the tax code, and consumer protections. That, they believe, would invite a public backlash—much like the one that greeted Republicans on Tuesday after their ill-considered ethics maneuver.
Republicans may have learned that the law of political gravity still applies to them. But their chastening on ethics isn't likely to humble them on policy. GOP leaders have been waiting for this moment for a decade, and don't expect them to be timid.
---
Related Videos