The Atlantic Politics & Policy Daily: Hidden Fences
Donald Trump signed an executive order mandating the construction of a wall on the U.S.-Mexico border.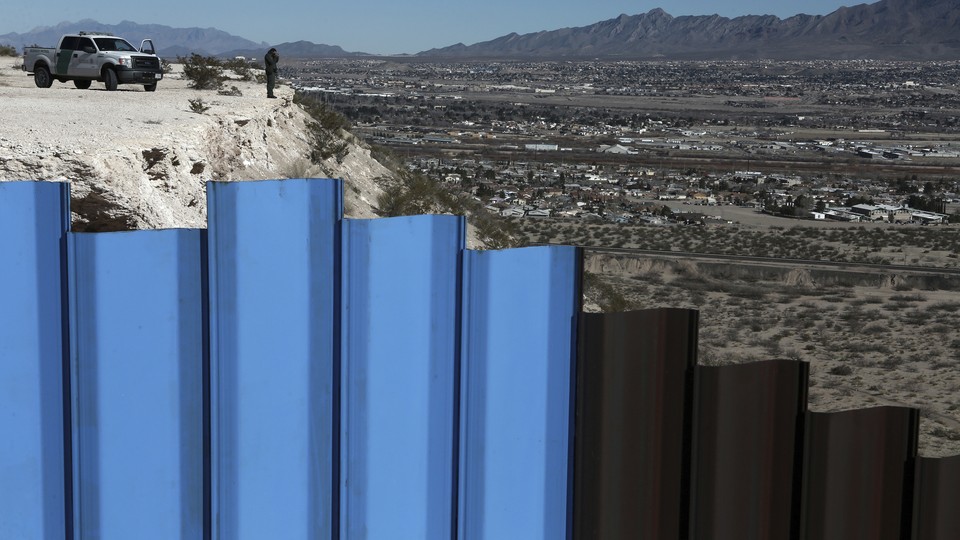 Today in 5 Lines
President Trump said on Twitter that he will order a "major investigation" into unsubstantiated allegations of voter fraud. Trump signed two executive orders on border security and immigration enforcement, whose provisions include the construction of a wall on the U.S.-Mexico border and a crackdown on so-called "sanctuary cities." In an interview with ABC News, Trump said he was told by officials that torture "absolutely" works, and said the U.S. has to "fight fire with fire." The president also said he'll announce his pick to fill the vacant Supreme Court seat on February 2. The Dow Jones Industrial Average closed above 20,000, an all-time high.
---
Today on The Atlantic
The Crackdown: Donald Trump signed an executive order Wednesday that says the administration will withhold federal grants from so-called "sanctuary cities," which limit cooperation between local authorities and federal immigration agents. But in doing so, the administration might jeopardize support for other services. (Priscilla Alvarez)

Welcome to Breitbart News: The right-wing outlet became a beacon for pro-Trump news during the election. But since November, the organization has hired a number of journalists from major news outlets in an attempt to relinquish its outsider status and become part of the mainstream. (Rosie Gray)

Taking Action: Donald Trump, and some of his Cabinet picks, "have repeatedly cast doubt upon the reality of human-made climate change, questioned the repeatedly proven safety of vaccines"—prompting one organization to help scientists who want to run for office. (Ed Yong)
Follow stories throughout the day with our Politics & Policy portal.
---
Snapshot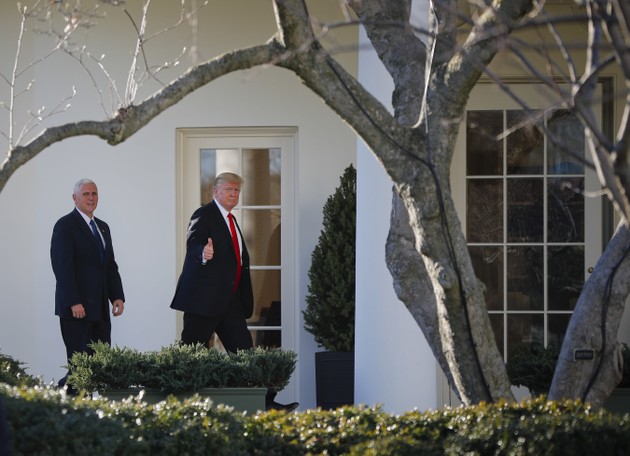 ---
What We're Reading
Scrub the Site: The Trump administration reportedly told the Environmental Protection Agency to take down a web page containing links and research on climate change. "If the website goes dark," one employee told Reuters, "years of work we have done on climate change will disappear." (Valerie Volcovici)
'All-Out War?': Many Democrats on Capitol Hill seem to have concluded that the best method for resisting Trump is by choosing their battles carefully. But the Democratic base is clamoring for a fight on all of Trump's early moves. (Jennifer Bendery and Sam Stein, The Huffington Post)
What's Sexism Got to Do With It?: While the overtly sexist commentary during the 2016 election has received widespread attention, Carl Bialik writes: "An important obstacle to the first woman president remains: the hidden, internalized bias many people hold against career advancement by women." (FiveThirtyEight)
Democratic Fault Lines: The Democratic Party has "no clear leader and no unified policy direction" after the 2016 election, writes Asma Khalid, forcing them to contend with the racial and economic factors that lead to their defeat and how they balance these issues to regain power in the future. (NPR)
A New Political Order: Donald Trump's victory was a welcome sign to French presidential candidate Marine Le Pen, who has a similar right-wing populist platform. Here's why a possible Le Pen victory could spell the end of social democracy. (James Angelos, The New York Times Magazine)
---
Visualized
Are Women Worried About Contraception?: Data from AthenaHealth shows an uptick in IUD-related appointments between October and December. Did Donald Trump's election spark a "birth control boom?" (Sarah Kliff, Vox)
---
Question of the Week
On Monday, President Trump issued a proclamation declaring January 20, the day of his inauguration, to be a "National Day of Patriotic Devotion." In 2009, former President Obama declared his inauguration to be a "Day of Renewal and Reconciliation."
If you were elected president, what would your Inauguration Day be called?
Send your answers to hello@theatlantic.com, and our favorites will be featured in Friday's Politics & Policy Daily.
-Written by Elaine Godfrey (@elainejgodfrey) and Candice Norwood (@cjnorwoodwrites)