The Atlantic Politics & Policy Daily: A Song of Spicer and Ire
During a press briefing, White House Press Secretary Sean Spicer said, "I think sometimes we can disagree with the facts" but "our intention is never to lie to you."
Today in 5 Lines
President Trump signed three executive orders, including a withdrawal from the Trans-Pacific Partnership, a trade deal he pledged to kill during his presidential campaign. In his first appearance before the press corps since Saturday's contentious address, White House Press Secretary Sean Spicer said, "I think sometimes we can disagree with the facts" but "our intention is never to lie to you." The Senate is expected to confirm Kansas Representative Mike Pompeo to lead the CIA and Marco Rubio said he would back Rex Tillerson, the nominee for secretary of state, all but guaranteeing that he'll win Senate confirmation. Citizens for Responsibility and Ethics in Washington, a watchdog group, filed a lawsuit alleging that the Trump is in violation of the Constitution because his businesses accept payments from foreign governments. Authorities said at least 19 people are dead after tornadoes swept through Georgia, Mississippi, Florida, and the Carolinas.
---
Today on The Atlantic
An Act of Dishonor: On Saturday, President Trump visited the Central Intelligence Agency headquarters to, seemingly, mend fences after criticizing the intelligence community. Instead, writes Andrew Exum, he delivered a speech "that was offensive in both style and substance" in front of the Agency's Memorial Wall.

Coping With Trump: Members of Congress are not sure what to expect in the Trump era, and both parties face challenges ahead: While Democrats must work to prevent opposing legislative victories, Republicans "must learn to function stripped of their unifying identity as anti-Obama warriors." (Michelle Cottle) 

When Millions Protest: Saturday's Women's March was an unprecedented display of opposition against an American president. But, Conor Friedersdorf argues, "the political future depends on where Trump opponents focus their energy and whether they are adept at expanding their coalition."
Follow stories throughout the day with our Politics & Policy portal.
---
Snapshot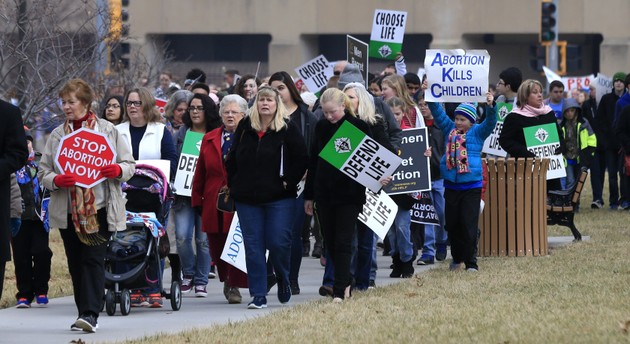 ---
What We're Reading
8 Years Later: Now that President Obama is out of office, The Washington Post looks at whether he managed to come through on 40 of the major promises he made during his two presidential campaigns. (Kim Soffen)
What's Hillary Clinton's Next Move?: The former secretary of state and Democratic nominee is studying the reasons for her November loss and deciding how she can best help the Democratic Party. Is a fundraising role her most logical next step? (Gabriel Debenedetti, Politico)
Just in Case: The contentious political climate in the United States has lead "wealthy survivalists" in Silicon Valley, New York City, and elsewhere to get ready for the end of society as we know it. Their preparation methods include buying remote plots of land and having laser eye surgery. (Evan Osnos, The New Yorker)
'A Lesson for Congress': In the quest to repeal and replace the Affordable Care Act, congressional Republicans should look to attempts in 2016 by Kentucky Governor Matt Bevin, who also promised to kill the law but ended up with "a taxpayer-funded insurance program that looks a lot like Obamacare." (Margaret Newkirk, Bloomberg)
Worst Fears: President Trump may not immediately target the Obama administration's Deferred Action for Childhood Arrivals program, but his plans to deport undocumented immigrants with criminal records will inevitably "sweep up many DACA students who will unlikely have the safeguards to protect themselves." (Franco Ordonez, McClatchy DC)
---
Visualized
In Case You Missed It: Check out these panoramic images of the Women's March on Washington. Don't forget headphones. (Kim Soffen, Kevin Uhrmacher, and Samuel Granados, The Washington Post)
---
Question of the Week
On Monday, President Trump issued a proclamation declaring January 20, the day of his inauguration, to be a "National Day of Patriotic Devotion." In 2009, former President Obama declared his inauguration to be a "Day of Renewal and Reconciliation."
If you were elected president, what would your Inauguration Day be called?
Send your answers to hello@theatlantic.com, and our favorites will be featured in Friday's Politics & Policy Daily.
-Written by Elaine Godfrey (@elainejgodfrey) and Candice Norwood (@cjnorwoodwrites)