The Atlantic Politics & Policy Daily: Paint the Town Gold
The inaugural festivities are underway for President-elect Donald Trump.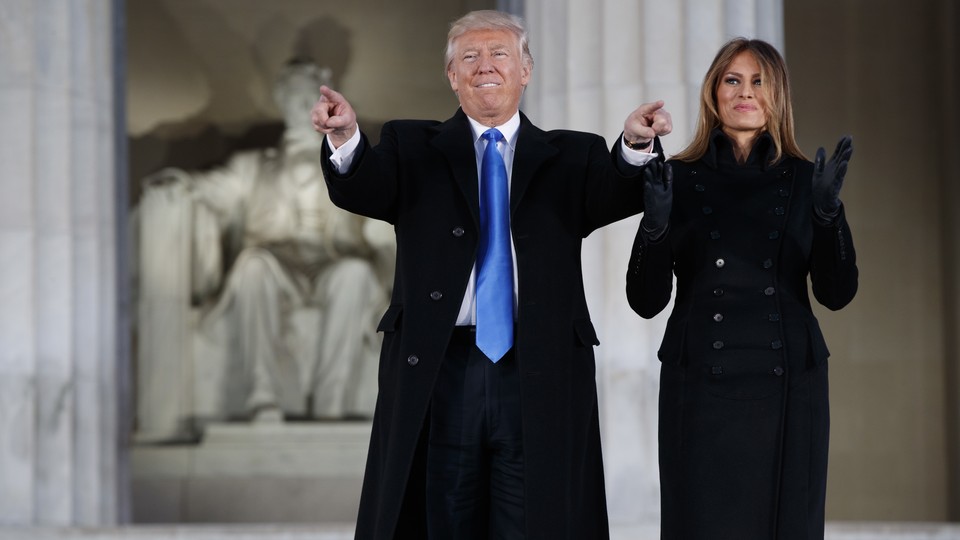 Today in 5 Lines
The inaugural festivities are underway: Donald Trump and Mike Pence participated in a wreath-laying ceremony at Arlington National Cemetery, and the "Make America Great Again! Welcome Celebration," starring singer Toby Keith and the band 3 Doors Down, kicked off at 4 p.m. near the Lincoln Memorial. During his Senate confirmation hearing, Rick Perry, Trump's choice to lead the Department of Energy, said he regrets "recommending its elimination" over five years ago. Steven Mnuchin, the nominee for treasury secretary, said he supports raising the debt ceiling in his testimony before the Senate Finance Committee. Senate Minority Leader Chuck Schumer said Senate Democrats plan to confirm just two of Trump's Cabinet nominees on the day he takes office: General James Mattis, the nominee for defense secretary, and General John Kelly, Trump's choice to head the Department of Homeland Security. During his last day in office, President Obama commuted the prison sentences of 330 drug offenders, bringing the total number of commutations granted during his presidency to 1,715.
---
Today on The Atlantic
Can't Take Anymore: A growing number of congressional Democrats are refusing to attend Donald Trump's inauguration Friday. Clare Foran spoke with lawmakers to discuss the message they hope to send and whether the protest could disrupt the peaceful transition of power.

What to Expect: The festivities for the United States's 58th presidential inauguration have officially begun. For a summary of the upcoming events, take a look at this comprehensive guide. (Megan Garber)

A New Direction: Generations of U.S. presidents have vowed to spread the values of liberty around the world. But Trump, Peter Beinart writes, could signal a shift in that foreign policy strategy, as "no president-elect in modern American history has talked less about America's obligations to the rest of humanity."
Follow stories throughout the day with our Politics & Policy portal.
---
Snapshot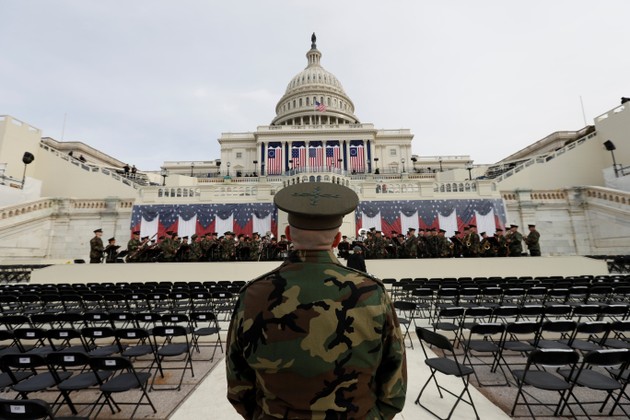 ---
What We're Reading
'Obama's Parting Gift': Carvell Wallace shares his experiences as a black child living in Appalachia, and how President Obama shaped his perception of racism. "When I was alone among white kids, I wondered if I had any power or beauty within me. With Michelle and Barack in the White House, I knew I did," he writes. (The New Yorker)
'A Slow Start': In the days leading up to his inauguration, Donald Trump's transition team has barely interacted with members of the National Security Council—and no one in the Obama administration knows whether Trump's team has read the national security briefings they prepared. (Mark Landler, The New York Times)
Who's No. 1?: While Donald Trump may appear to be the most powerful Republican in the country, that's only because Senate Majority Leader Mitch McConnell has allowed him to be, argues Mark Joseph Stern: "And as soon as he tires of the current arrangement, McConnell can swiftly reclaim the power he has ceded." (Slate)
Facing the Unknown: The future of the Democratic Party is unclear, writes Edward-Isaac Dovere: After interviewing several party leaders, he concluded that "there is no comeback strategy—just a collection of half-formed ideas, all of them challenged by reality." (Politico)
At Home With Al: In an interview with The Hollywood Reporter, former Vice President Al Gore discussed both his and Hillary Clinton's election losses—and said he's "ready to do battle" with Trump on climate change.
---
Visualized
'Fired Up, Ready to Go': This animation illustrates the origin story of President Obama's popular campaign chant—and shows "how one voice can change a room." (Dan Fipphen and Elyse Kelly, The Atlantic)
---
Question of the Week
President Obama told The New York Times that reading books like The Three-Body Problem and The Underground Railroad helped him "slow down and get perspective" during his eight years in the White House.
Which books inform your daily life and help you keep things in perspective?
Send your answers to hello@theatlantic.com, and our favorites will be featured in Friday's Politics & Policy Daily.
-Written by Elaine Godfrey (@elainejgodfrey) and Candice Norwood (@cjnorwoodwrites)