The Atlantic Politics & Policy Daily: Survey Says ... Housing Policy!
President-elect Trump met with Family Feud host Steve Harvey at Trump Tower, and Harvey said he plans to work with Housing and Urban Development Secretary nominee Ben Carson.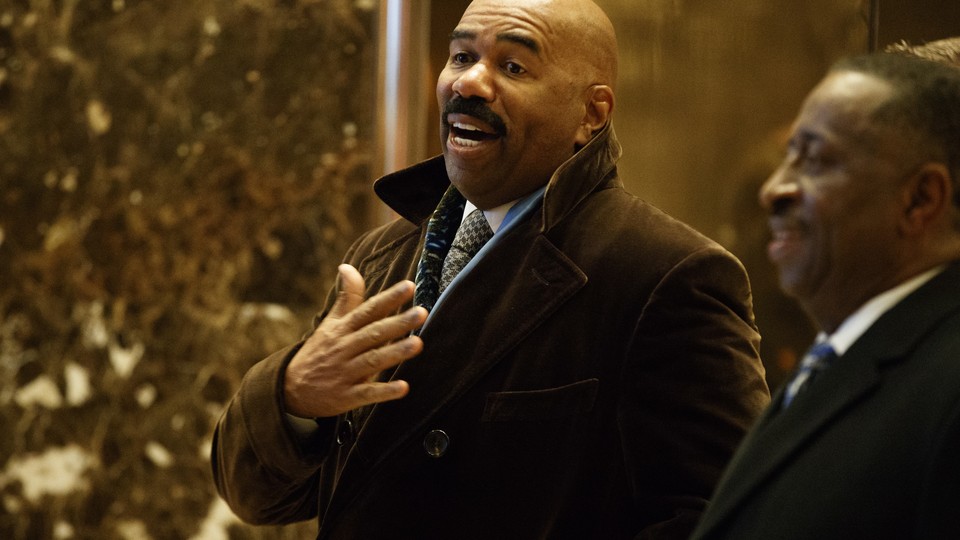 Today in 5 Lines
The U.S. House of Representatives voted to approve the budget resolution that will instruct committees to write legislation repealing the Affordable Care Act. The Justice Department concluded in a report that the Chicago Police Department engaged in a "pattern or practice" of excessive force, particularly against African-American and Latino residents. President-elect Donald Trump met with Family Feud host Steve Harvey at Trump Tower, and Harvey said he plans to work with Housing and Urban Development Secretary nominee Ben Carson to make "positive change in the inner cities." FBI Director James Comey reportedly refused to provide any information about whether the agency is investigating Trump's ties to Russia during a private briefing for members of Congress. Takata agreed to pay $1 billion in a settlement with the Justice Department over a fraud case involving defective airbags, and three company executives will face criminal charges.
---
Today on The Atlantic
Not So Easy: Early Thursday morning, "the GOP senators passed a budget resolution to begin the process known as reconciliation" to start repealing the Affordable Care Act. Vann R. Newkirk II explains how this process works and why it may be a challenge for Republicans.

Holding the Power: After taking insults from Donald Trump throughout the 2016 campaign, Florida Senator Marco Rubio now "holds the key vote on Trump's nomination of former ExxonMobil CEO Rex Tillerson to be secretary of state. And he knows it." Will he seek revenge? (Russell Berman)

'The End of Government Oversight?': Congressional Republicans will work diligently in the coming months and years to get rid of the business regulations they think are squelching economic growth. Here's what they're planning to do. (Alexia Fernandez Campbell)
Follow stories throughout the day with our Politics & Policy portal.
---
Snapshot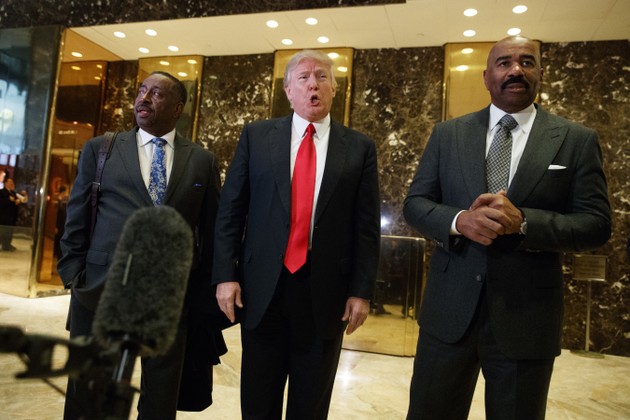 ---
What We're Reading
Under Fire: Walter Schaub, the director of the Office of Government Ethics, has publicly criticized Trump's plan to put his sons in charge of his businesses. Now Schaub is facing the threat of subpoena from the House Oversight Committee chairman, who wants him to participate in an official interview. (Darren Samuelsohn and Josh Gerstein, Politico)
The War on Trump: On the dossier claiming to expose Trump's ties to Russia, Glenn Greenwald argues the U.S. intelligence community threatens Democracy by unleashing "its tawdriest and most aggressive assault yet on Trump: vesting credibility in and then causing the public disclosure of a completely unvetted and unverified document." (The Intercept)
How He Survived: Albert Woodfox was held in solitary confinement at Louisiana State Penitentiary for 43 years—more than any other inmate in U.S. history. Now the 69-year-old must find a way to get on with life outside of prison. Rachel Aviv shares his story. (The New Yorker)
Governing by Twitter: With the election of Donald Trump, we have entered a world where "an impulsive president-elect" can create global chaos by sending unfiltered 140-character statements, writes Kurt Eichenwald. The problem? "Tweeting is not leading." (Newsweek)
Keeping an Open Mind?: From a ban on Muslims to combatting climate change, President-elect Trump's Cabinet nominees appear to disagree with him on some of his most significant policy declarations. Will Trump still have the last word? (Jennifer Steinhauer, The New York Times)
---
Visualized
'I've Got 9 Problems': This illustrated list outlines the major foreign-policy challenges Donald Trump will face during the next four years. (The Washington Post)
---
Question of the Week
This week, as the Senate grilled several of the president-elect's Cabinet nominees, we asked what questions you'd be most nervous to answer in your own confirmation hearing. Here are three of our favorites:
From reader Moriah Lee: "I'd be afraid to answer whether or not I knew my marriage would last before I got married."
Jeffrey Spangler's most-dreaded question: "Have you ever knowingly told a lie while under oath in any sort of proceeding, whether or not you may still be punished for doing so?"
And from Richard Friedman: "Are you now, or have you ever been, in agreement with any thought articulated, however poorly, by Donald J. Trump?"
Stay tuned for next week's Question of the Week contest.
-Written by Elaine Godfrey (@elainejgodfrey) and Candice Norwood (@cjnorwoodwrites)