The Atlantic Politics & Policy Daily: Trump Insists He Is Popular
White House Press Secretary Sean Spicer doubled down on the president's claims that he lost the popular vote due to voter fraud.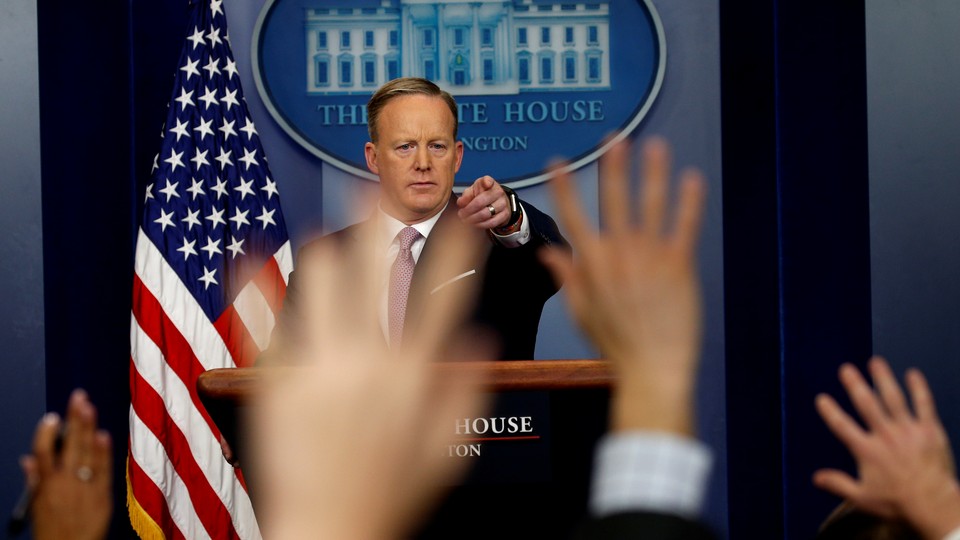 Today in 5 Lines
President Trump signed two executive orders to advance the construction of the Keystone XL and Dakota Access oil pipelines. The administration has instituted a temporary "media blackout" at the Environmental Protection Agency. White House Press Secretary Sean Spicer doubled down on Trump's claims that millions of votes were cast illegally in the presidential election, but did not offer more detail. Lawmakers on Capitol Hill questioned Representative Tom Price, the nominee for health and human services secretary, Representative Mick Mulvaney, Trump's pick to head the Office of Management and Budget, and Linda McMahon, Trump's choice to lead the Small Business Administration. House Speaker Paul Ryan invited Trump to address a joint session of Congress on February 28.
---
Today on The Atlantic
Checking Things Off: Donald Trump "has shown a perverse ability to overshadow his own message with chaos and disorder," writes David A. Graham. But the Trump administration appears to be off to a successful start by securing a number of victories that work toward his campaign promises.

The Right to Choose: As the GOP struggles to find a replacement for the Affordable Care Act, a group of Republican senators introduced legislation Monday that would give states the option of "preserving Obamacare, securing federal support for a more conservative health-insurance system, or opting out of any assistance from Washington." (Russell Berman)

What's in a Name?: The idea of the United States as the leader of the "free world" continues to hold resonance today. Dominic Tierney defines the concept, traces its history, and questions whether it still applies to a world in which Donald Trump is the U.S. president.  
Follow stories throughout the day with our Politics & Policy portal.
---
Snapshot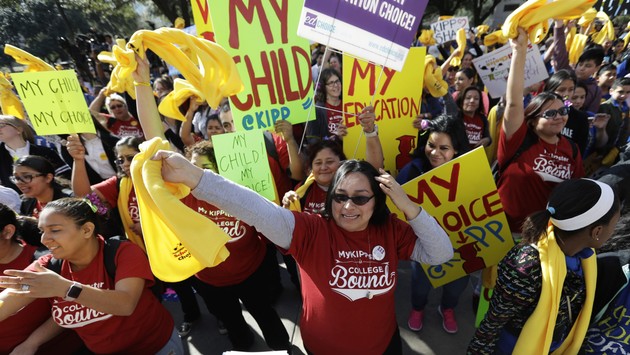 ---
What We're Reading
Becoming an American: Andrew Sullivan shares his experience toward becoming an American and what he saw in Donald Trump's candidacy as "a unique threat to the America I loved, a dangerous turn in the tumultuous history of this experiment in self-government." (New York)
Back to Life: Can a terrorist assimilate back into normal civilian life? Researchers, who have developed controversial "deradicalization" programs in Europe and North America, believe it's possible. (Brendan I. Koerner, Wired)
'Fury, Tumult and a Reboot': Interviews with White House officials reveal that the president's first days on the job have been rife with power struggles—"from the new administration's communications shop to the expansive role of the president's son-in-law to the formation of Trump's political organization." (Ashley Parker, Philip Rucker, and Matea Gold)
'After the Women's March': The women's marches held across the country were empowering for their participants, writes David Brooks, but it focused on Planned Parenthood and pink hats instead of "a modern, forward-looking patriotism based on pluralism, dynamism, growth, racial and gender equality and global engagement." (The New York Times)
The Art of Dealing With Trump: After being under an unusual amount of scrutiny from Donald Trump on Twitter, American auto companies are now working to understand the president by making connections in his administration, monitoring his Twitter account, and even studying his book. (Mike Colias, Christina Rogers, and Joann S. Lublin, The Wall Street Journal)
---
Visualized
The Obama Years: Take a guess at how the Obama presidency fared with unemployment, illegal immigration, national debt, and health care; then compare your perception to the actual data with these interactive charts. (Larry Buchanan, Haeyoun Park, Adam Pearce, The New York Times)
---
Question of the Week
On Monday, President Trump issued a proclamation declaring January 20, the day of his inauguration, to be a "National Day of Patriotic Devotion." In 2009, former President Obama declared his inauguration to be a "Day of Renewal and Reconciliation."
If you were elected president, what would your Inauguration Day be called?
Send your answers to hello@theatlantic.com, and our favorites will be featured in Friday's Politics & Policy Daily.
-Written by Elaine Godfrey (@elainejgodfrey) and Candice Norwood (@cjnorwoodwrites)