The Atlantic Politics & Policy Daily: The 45th President of the United States
Donald Trump was sworn in on Friday.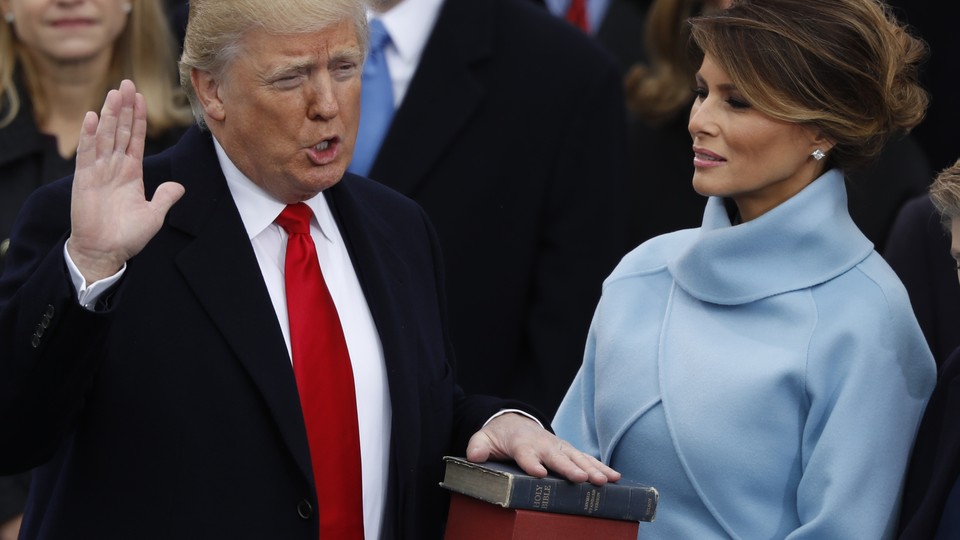 Today in 5 Lines
Donald Trump was sworn in as the 45th president of the United States. During his inaugural address, Trump pledged to put "America first." After the swearing-in ceremony, the Obamas left for Palm Springs desert where they will vacation, and former Vice President Joe Biden and Jill Biden departed for Delaware. The Senate approved retired General James Mattis to lead the Department of Defense and is expected to confirm retired General John Kelly as homeland security secretary. Nearly 100 protestors have been arrested in Washington, D.C.
---
The Atlantic's Inauguration Day Coverage:
Follow stories throughout the day with our Politics & Policy portal.
---
Snapshot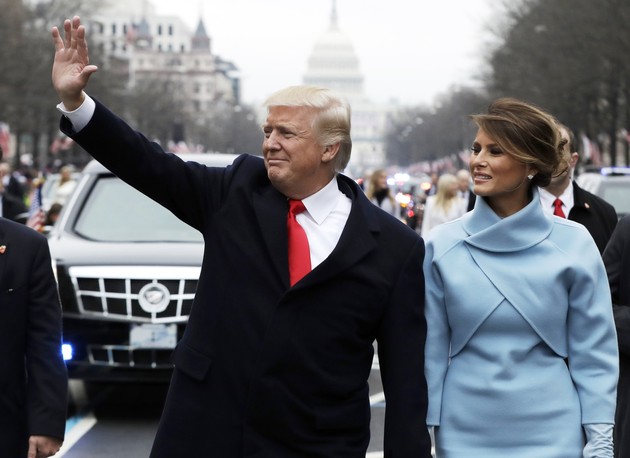 ---
What We're Reading
The Lies Politicians Tell: All presidents lie, but President Donald Trump is in a different league, writes Maria Konnikova. When people are overwhelmed with falsehoods, "our brains pretty quickly become so overworked that we stop trying to sift through everything," which may have lasting effects. (Politico)
Looking Back: President Trump is taking on a very different country than President Obama did eight years ago, one that has improved in many areas. NPR's Danielle Kurtzleben breaks down the ways the United States has changed—for better and worse.
The New Agenda: Trump reportedly has a long list of executive orders he plans to issue immediately after taking office. Here are the ways he can shape immigration, climate change, health care, and trade policy in his first few days as president. (Dylan Matthews, Vox)
Reading Between the Lines: If you missed the inauguration, or want more insight on President Trump's inaugural address, then check out this transcript of his entire speech with added analysis from The Washington Post's Aaron Blake.
---
Visualized
What's in Store?: James Fallows has been a journalist with The Atlantic for nearly 40 years, but he says "the administration of Donald Trump is less charted, more unprecedented, more uncertain than any I've experienced before." Watch this animated video for his thoughts on the new president and the road ahead.
---
Question of the Week
This week, we asked you to share which books inform your daily life and help keep things in perspective. Here are some of our favorite responses:
Reader Gail Driscoll enjoys Barack Obama by David Maraniss, Jon Meacham's American Lion, and J.D. Vance's Hillbilly Elegy, which she says "exposes the complexity of the problems facing much of the Rust Belt."
And reader Neel Lahiri picked The Book of Awesome by Neil Pasricha, writing: "For all that is wrong with society, it pays off to keep the small but important joys of life in mind. Reading a page a day is pure catharsis, and helps me remain calm even when the world is not."
Visit our Notes section for more great responses, and stay tuned for next week's Question of the Week contest.
-Written by Candice Norwood (@cjnorwoodwrites)