The Atlantic Politics & Policy Daily: Patrón on the Rocks
It was a busy day for U.S.-Mexico relations.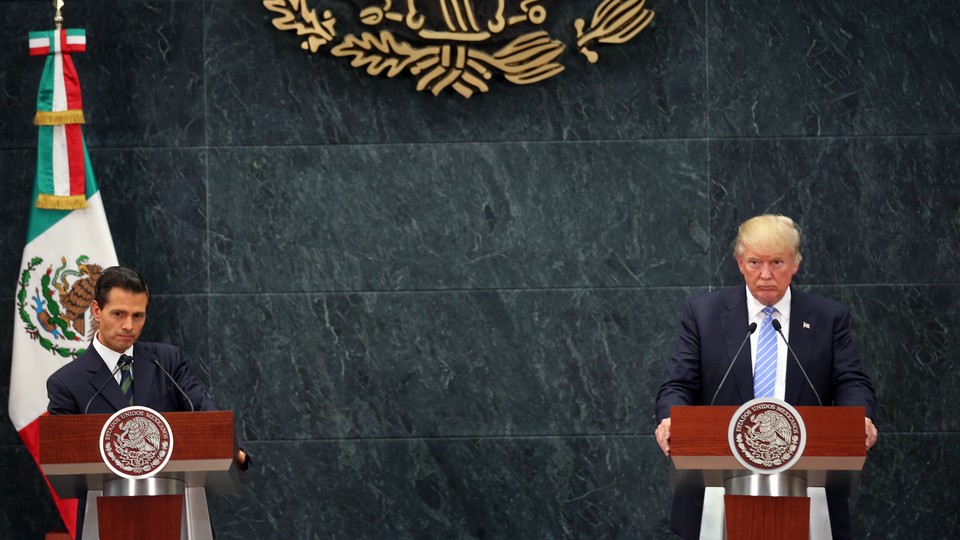 Today in 5 Lines
President Trump told Republican lawmakers at their annual policy retreat that "this Congress is going to be the busiest Congress we've had in decades," but he fell short of offering details. House Speaker Paul Ryan said the U.S.-Mexico border wall will cost $12 to $15 billion and that Congress will pay for it. The White House proposed a 20 percent tax on all imports to the United States as a way to pay for the border wall, but then appeared to walk it back. Mexican President Enrique Peña Nieto canceled his meeting with Trump, which was scheduled for next week. The State Department said several senior management officials are leaving the agency, but it remains unclear whether the officials were asked to leave by the Trump administration or if they resigned by choice.
---
Today on The Atlantic
'Can Trump Bring Back Torture?': The Trump administration is looking into bringing back torture, according to a draft order published by The New York Times and The Washington Post. The move conflicts with attempts by previous administrations to back away from the practice, but will he succeed? (Adam Serwer)

Bucking Tradition: The Trump administration's draft executive order to reduce immigration from certain Muslim-majority countries represents "a sharp break from longstanding U.S. practices." Matt Ford spoke with an immigration law expert to discuss the possible consequences of the order.

'The End of the American Century': Throughout its history, the United States has been "a global model and guarantor of freedom and rule of law and fairness," writes Richard Stengel. That time came to an end with the Trump administration, which intends to prioritize the country over global cooperation.
Follow stories throughout the day with our Politics & Policy portal.
---
Snapshot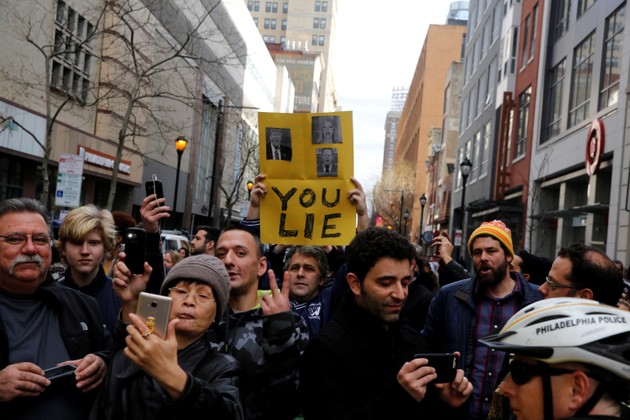 ---
What We're Reading
Mr. Popular: Trump's first major television interview as president, writes Jenna Johnson, "revealed a man who is obsessed with his own popularity and eager to provide evidence of his likability, even if that information doesn't match reality." (The Washington Post)
Trump's Warrior: Donald Trump's counselor, Kellyanne Conway, is a controversial, much derided, political star who became the "personification of the campaign's defiance of the truth and its as-though-otherworldly ability to sidestep it." (Michael Wolff, The Hollywood Reporter)
In Rich Company: "Although Trump ran as a populist, railing at the elite on behalf of blue-collar workers, he surrounded himself during his campaign with plutocrats," writes Max Abelson. Now as president, his choice of investment banker Wilbur Ross to lead the Department of Commerce signals the "era of billionaire rule." (Bloomberg)
All Bark and No Bite?: Donald Trump's executive orders may already be in jeopardy. According to Politico, in some cases, lawmakers and agency heads, "who will be critical for their success," weren't consulted. (Isaac Arnsdorf, Josh Dawsey, and Seung Min Kim)
Trump's Voter-Fraud Example: The president claims that Hillary Clinton won the popular vote due to massive voter fraud. Here's how one "off-the-cuff yarn" helped ignite his suspicions. (Glenn Thrush, The New York Times)
---
Visualized
Man With a Plan: Donald Trump has moved forward on a number of key campaign promises, including repealing the Affordable Care Act and building a wall along the U.S.-Mexico border. Stay updated on the status of these efforts here. (Josh Keller and Adam Pearce, The New York Times)
---
Question of the Week
On Monday, President Trump issued a proclamation declaring January 20, the day of his inauguration, to be a "National Day of Patriotic Devotion." In 2009, former President Obama declared his inauguration to be a "Day of Renewal and Reconciliation."
If you were elected president, what would your Inauguration Day be called?
Send your answers to hello@theatlantic.com, and our favorites will be featured in Friday's Politics & Policy Daily.
-Written by Elaine Godfrey (@elainejgodfrey) and Candice Norwood (@cjnorwoodwrites)