The Atlantic Politics & Policy Daily: Obama Out
The president will deliver his farewell address at McCormick Place convention center in Chicago.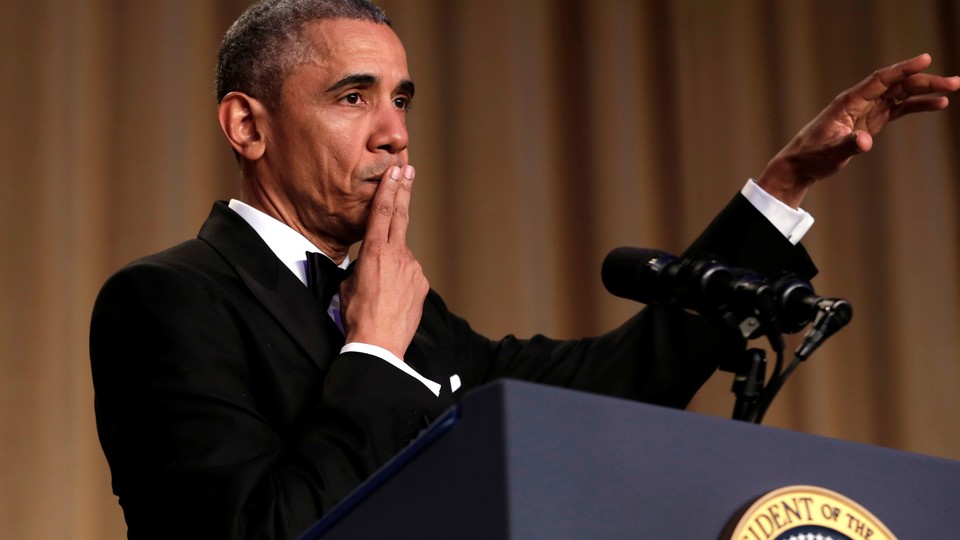 Today in 5 Lines
Members of the Senate Judiciary Committee questioned Alabama Senator Jeff Sessions, Donald Trump's pick for attorney general, on his civil-rights record during the first day of Senate confirmation hearings. Retired General John Kelly, Trump's choice to head the Department of Homeland Security, said he has "high confidence" in the U.S. intelligence community's conclusion that Russia interfered in the presidential election. Republicans postponed Senate confirmation hearings for Betsy DeVos, the nominee for education secretary, Representative Mike Pompeo, the nominee for CIA director, and Andrew Puzder, the nominee for labor secretary. James Clapper, the director of national intelligence, said findings on Russian interference in the 2016 election come "from a wide range of sources, including human sources, technical collection, and open-source information." Dylann Roof was sentenced to death for fatally shooting nine black parishioners at Emanuel African Methodist Episcopal Church in South Carolina in 2015. President Obama will deliver his farewell address at McCormick Place convention center in Chicago at 9 p.m. ET.
---
Today on The Atlantic
A Tough Choice: Conservative women who oppose Donald Trump have a decision to make: "Should they stay in a political party they feel betrayed by, or should they leave the GOP?" While some feel compelled to leave the party, others are still holding out hope for the incoming administration. (Clare Foran)

When Conservatives Attack: Meryl Streep quickly received pushback from Republicans for her criticism of Donald Trump at Sunday night's Golden Globes. But, Conor Friedersdorf writes: "Every American ought to be glad that Streep delivered the core of her message, knowing as we do that A-list celebrities have the president-elect's attention."

Taking a Gamble: Repealing parts of the Affordable Care Act that "massively" contribute to state and local economies "would remove millions of jobs and contract economic activity across states," according to several reports. Despite the research, experts cannot determine the exact effects of a repeal. (Vann R. Newkirk II)
Follow stories throughout the day with our Politics & Policy portal.
---
Snapshot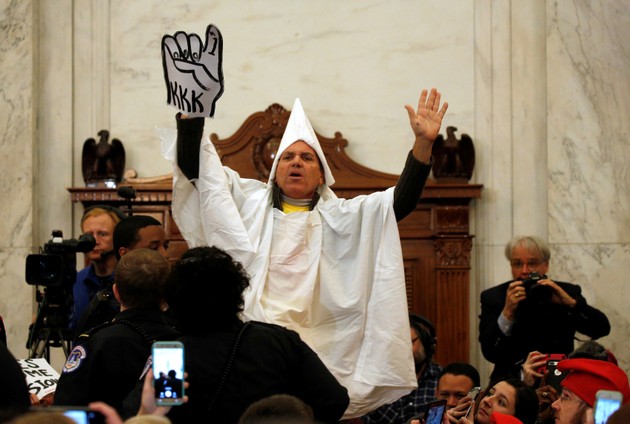 ---
What We're Reading
The Legacy Will Live On: Despite Republican criticism and proposals to dismantle key policies of Barack Obama's administration, Jonathan Chait argues that the president "enacted careful, deep, and mostly popular solutions" that won't be easy to do away with. (New York)
Across the Pond: A number of reports show that the United Kingdom saw a surge in hate crimes following the "Brexit" vote last June. Seven months later, the United States has experienced a similar trend following the 2016 election. Can America learn from the British response to the uptick? (Patrick G. Lee, ProPublica)
Easier Said Than Done: Ahead of his inauguration, President-elect Donald Trump, along with his family and advisers, has attempted to find ways to avoid potential conflicts of interest, but his approach is "unlikely to eliminate all of the potential pitfalls stemming from the complex web" of his private interests. (Drew Harwell and Rosalind S. Helderman, The Washington Post)
Behind the Movement: On January 21, thousands of protesters will head to the nation's capital—and to other major cities across the country—to participate in the Women's March. Meet the women who organized it. (Julia Felsenthal, Vogue)
More Trouble at Fox?: The New York Times reports that Fox News quietly settled sexual harassment claims brought by a former employee against host Bill O'Reilly last July. Documents obtained by the Times show that when the employee "rebuffed his advances, he tried to derail her career." (Emily Steel and Michael S. Schmidt)
---
Visualized
The Road Ahead: Senate confirmation hearings for Donald Trump's Cabinet picks began Tuesday. Check out this graphic to see the process nominees typically go through in order to be confirmed. (Kevin Uhrmacher, The Washington Post)
---
Question of the Week
Senate confirmation hearings for President-elect Trump's Cabinet nominees began on Tuesday. What's the one question you'd be afraid to answer honestly at your own confirmation hearing?
Send your answers to hello@theatlantic.com, and our favorites will be featured in Friday's Politics & Policy Daily.
-Written by Elaine Godfrey (@elainejgodfrey) and Candice Norwood (@cjnorwoodwrites)