The Atlantic Politics & Policy Daily: Obama Surprises Biden With the Medal of Freedom
The president gave the vice president the nation's highest civilian honor.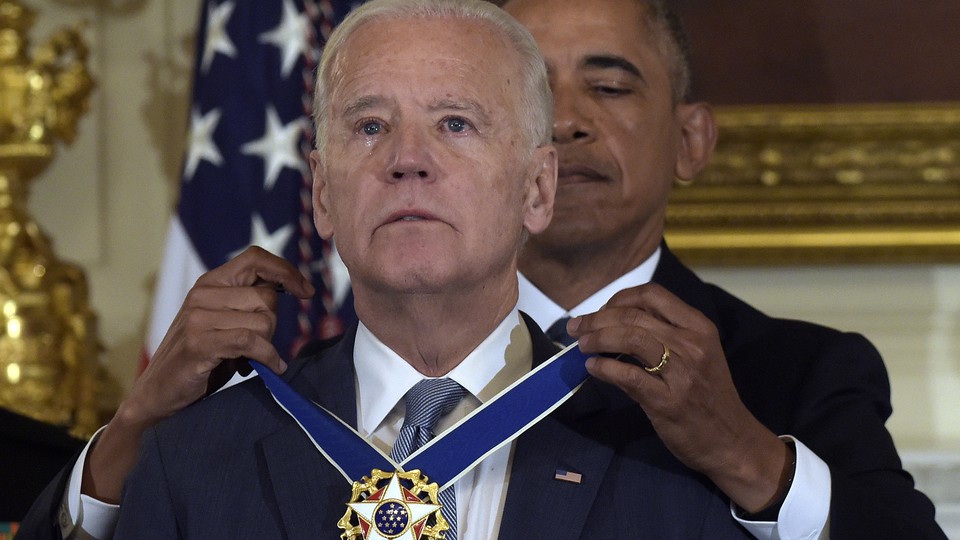 Today in 5 Lines
In a late-night vote, the Senate voted 51 to 48 to approve a budget resolution that begins the process of repealing the Affordable Care Act. During his confirmation hearing, Representative Mike Pompeo, Donald Trump's choice for director of the Central Intelligence Agency, said he would "absolutely not" reinstate the use of enhanced interrogation techniques. Under questioning, Ben Carson agreed to set up a system for identifying conflicts of interest between the Trump Organization and housing and urban development projects should he be confirmed as Secretary of Housing and Urban Development. And the Senate Armed Services Committee voted to grant retired Marine Corps General James Mattis a waiver from the law that bars recent military retirees from running the Pentagon so that he can serve as Trump's secretary of defense. U.S. Justice Department Inspector General Michael Horowitz announced that he will investigate allegations of misconduct involving the FBI's handling of its investigation of Hillary Clinton's email server, including director James Comey's public disclosure related to Clinton's emails 11 days before the election. And President Obama honored Vice President Joe Biden with the Presidential Medal of Freedom.
---
Today on The Atlantic
Manhandling the Media: "America's political press corps is feeling anxious, territorial, threatened," writes McKay Coppins. And Trump showed Wednesday, during his first news conference in months, that he is prepared to take advantage of this weakened state by pitting reporters against each other.

A 'One-Stop Shop': Richard Spencer, "one of the best-known leaders of the white nationalist movement that has adopted the name 'alt-right,'" had a rough few months following some unflattering press. Now, he hopes to start fresh by setting up a "hub" for his group in northern Virginia. (Rosie Gray)

Bad Branding?: In the wake of Republican calls to repeal the Affordable Care Act, Olga Khazan questions whether its attachment to President Obama affects public and partisan distaste for the law. "Would a health-care law by any other name be such a political lightning rod?"
Follow stories throughout the day with our Politics & Policy portal.
---
Snapshot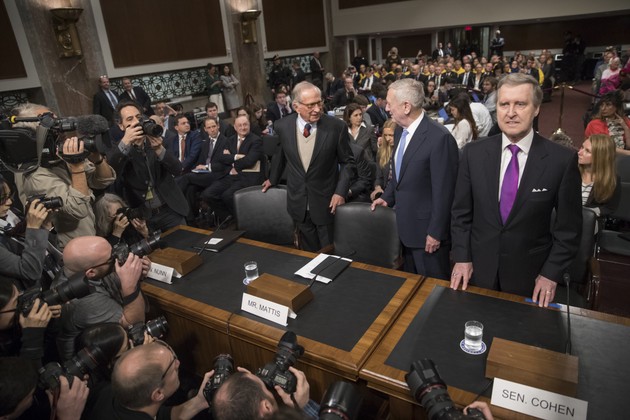 ---
What We're Reading
Who Is Christopher Steele?: On Wednesday, the president-elect blasted claims made against him in a dossier published by BuzzFeed, but why did American intelligence agencies feel the need to show its contents to President Obama? It might have something to do with the credibility of the dossier's alleged author. (Nick Hopkins and Luke Harding, The Guardian)
Notes From Trump Country: Trip Gabriel spoke with Iowa Trump supporters who aren't following the "hour-by-hour developments of the presidential transition"—and generally feel pretty optimistic about the incoming administration. (The New York Times)
Safety Comes at a Price: By the time Trump takes office, his security team will have cost New York City up to $35 million—an amount that could be underestimated, writes Polly Mosendz. The expenses for this may change after Inauguration Day, but Bloomberg breaks down the projected numbers.
A Word on Obamacare: Vox's Sarah Kliff spoke with House Democratic leader Nancy Pelosi about the Affordable Care Act's record. Her one regret about the law? "That other Democrats didn't step up to the plate to defend it—leading to what she called a sea of misinformation about her signature legislative achievement."
A Survival Guide for Trump: Veterans of the Obama White House explain what the transfer of power actually looks like. According to one former senior adviser, "You walk in and there's a computer there with a Post-it note with your password, and you're in charge of the government. Full stop." (Nancy Gibbs and Michael Duffy, Time)
---
Visualized
Checking Resumes: See how Donald Trump's Cabinet nominees compare to those of Presidents Barack Obama and George W. Bush. (The Los Angeles Times)
---
Question of the Week
Senate confirmation hearings for President-elect Trump's Cabinet nominees began on Tuesday. What's the one question you'd be afraid to answer honestly at your own confirmation hearing?
Send your answers to hello@theatlantic.com, and our favorites will be featured in Friday's Politics & Policy Daily.
-Written by Elaine Godfrey (@elainejgodfrey) and Candice Norwood (@cjnorwoodwrites)