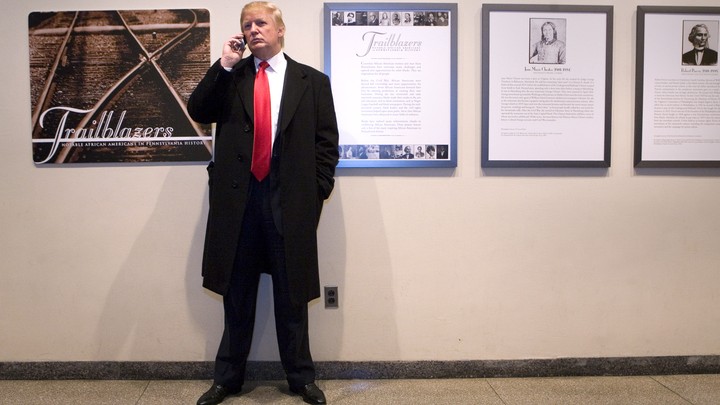 Today in 5 Lines
In a joint press conference with British Prime Minister Theresa May, President Trump emphasized the "special relationship" between the United States and the United Kingdom, and called the country's decision to leave the European Union a "fantastic thing." Mexican President Enrique Peña Nieto and Trump spoke by phone amid tensions over the construction of a wall on the southern border. At the Pentagon, Trump signed an executive order implementing "new vetting measures" to keep "radical Islamic terrorists" out of the country after General James Mattis was sworn in as secretary of defense. Vice President Mike Pence became the highest-ranking U.S. official to address rally-goers at the anti-abortion March for Life in Washington, D.C., telling them "life is winning." In her first day at the United Nations headquarters, Nikki Haley, the new U.S. ambassador to the UN, warned: "For those who don't have our backs, we're taking names."
---
Today on The Atlantic
What Do the Mercers Want?: Robert and Rebekah Mercer, the high-profile, father-daughter duo of Republican megadonors, both hate the Clintons. But beyond that, it's not clear what their motives are behind supporting Trump. (Rosie Gray)

Pragmatic, Not Ideological: Donald Trump pledged to deport the estimated 11 million undocumented immigrants in the United States during his presidential campaign. But a recently released study found that the majority of Americans—in both red and blue states—do not prefer deportation as a means of solving the country's illegal immigration problem. (Robert P. Jones)

America, Interrupted: President Trump's recent executive orders are setting the country back to a time of "closed borders, limited trade, intolerance to diversity, arms races, and a go-it-alone national race to the bottom." Here's why. (Jeremi Suri)
Follow stories throughout the day with our Politics & Policy portal.
---
Snapshot
---
What We're Reading
Trump's First Week: The president made several provocative and unorthodox moves during his first few days in office. Here's a guide to his first actions as president, rated according to their immediate impact and significance for the future. (Michael Grunwald, Politico)
Republicans Are Worried: An audio recording obtained by The Washington Post reveals several GOP lawmakers' concerns with the rapid push to repeal Obamacare without a replacement at the ready. (Mike DeBonis)
A Web of Wealth: Betsy DeVos, the nominee for education secretary, and her husband, Dick DeVos, are billionaires whose "vast wealth touches nearly every state in the union, from Hawaiian forests to Texan oil towns." BuzzFeed highlights a few of the family's financial holdings. (Molly Hensley-Clancy)
Meet Neil Gorsuch: The appellate court judge is reportedly a leading contender to be Donald Trump's Supreme Court nominee. Newsweek takes a look at where Gorsuch stands on key legal issues. (Michele Gorman)
'I Wish He'd Stop': In Iowa, Trump supporters are excited that the president is "jumping right on" so many of his campaign promises. But many are frustrated that he still seems so obsessed with his popularity—and Twitter. (Thomas Beaumont, Associated Press)
---
Visualized
'Why Don't Democrats Take Religion Seriously?': If Democrats want to be the party of inclusion, they can't just talk about race and gender, Emma Green explains. They have to start speaking to religious voters. (The Atlantic)
---
Question of the Week
On Monday, President Trump issued a proclamation declaring January 20—the day of his inauguration—"National Day of Patriotic Devotion." In 2009, former President Obama declared his own inauguration to be a "Day of Renewal and Reconciliation."
So this week, we asked what you'd call your Inauguration Day if you were elected president. We got dozens of thoughtful—and hilarious—responses. Here are some of our favorites:
Sue R. suggested a "Day of Reflection, Compassion, and Service."
Dan proposed a "National Day of Pinot Noir, French Bread, and Salami."
Victoria Medaglia wants a "National Dance in the Streets With Men in Kilts Day."
Several readers went with "National Ice Cream for Everybody Day."
And Bert Woodall said he would call his Inauguration Day simply "Martha."
Visit our Notes section for more great responses, and stay tuned for next week's Question of the Week contest.
-Written by Elaine Godfrey (@elainejgodfrey) and Candice Norwood (@cjnorwoodwrites)
We want to hear what you think about this article. Submit a letter to the editor or write to letters@theatlantic.com.
Elaine Godfrey
is a staff writer at
The Atlantic
, where she covers politics.