The Atlantic Politics & Policy Daily: Good Night, and Good Luck
President Obama concluded his final press conference by wishing the press "good luck."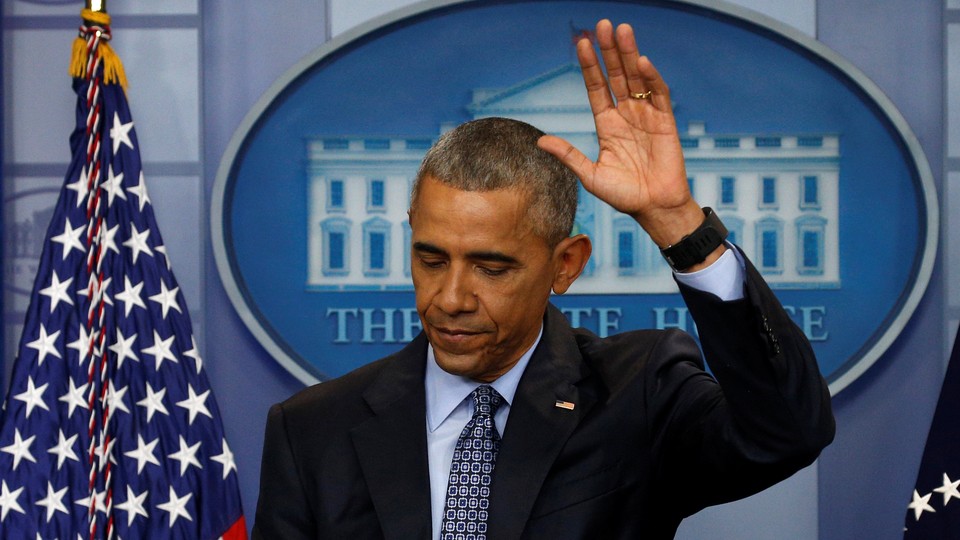 Today in 5 Lines
During his Senate confirmation hearing, Tom Price, Trump's choice for secretary of health and human services, faced questioning about his trading in medical-company stocks, and commerce secretary nominee Wilbur Ross vowed to renegotiate the North American Free Trade Agreement. Lawmakers questioned Scott Pruitt, the nominee to lead the Environmental Protection Agency, on his climate-change beliefs. And South Carolina Governor Nikki Haley, the nominee for U.S. ambassador to the UN, condemned Russia's alleged interference with the presidential election. During his final press conference, President Obama said he would speak out publicly if he feels America's "core values" are being threatened, and concluded by wishing the press "good luck." The National Oceanic and Atmospheric Administration released a report saying 2016 was the hottest year on record, which is the third time in three consecutive years.
---
Today on The Atlantic
Too Little, Too Late: Donald Trump claims that his economic policies will protect workers in manufacturing by limiting layoffs caused by outsourcing. But, Andrew McGill writes, the president-elect's proposed solution may have come 10 years after it needed to. Here's why.

'Ethics Train Wreck': Four legal experts weigh-in on whether Trump will violate the foreign emoluments clause meant to limit foreign conflicts of interest for government officials—and they explain where his supporters' defenses fall short. (Richard W. Painter, Laurence H. Tribe, Norman L. Eisen, Joshua Matz)

The Wrong Focus: Conor Friedersdorf defends the decision to grant clemency to Chelsea Manning, a former Army analyst charged with leaking state secrets. He writes: "Manning isn't the only one who broke a bond of trust, yet her critics seldom acknowledge the wrongdoing she uncovered or call for it to be punished."
Follow stories throughout the day with our Politics & Policy portal.
---
Snapshot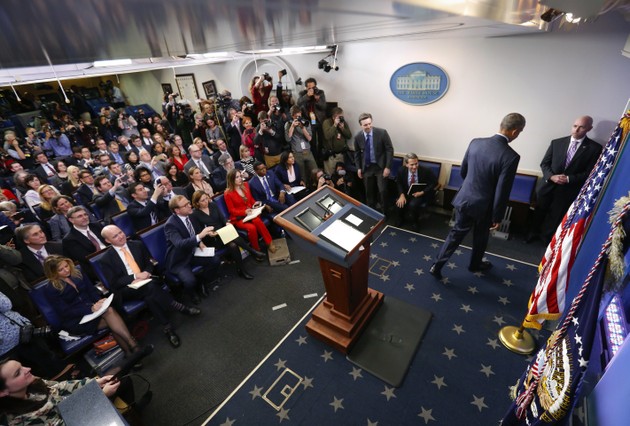 ---
What We're Reading
The Making of MAGA: On November 7, 2012, when Mitt Romney lost the presidential race to Barack Obama, Donald Trump had an epiphany: He would run for president—under a slogan that he says stands for "jobs" and "military strength." (Karen Tumulty, The Washington Post)
'Trump's Wake-Up Call': In an interview with Axios's Mike Allen and Jim VandeHei, President-elect Trump walked back on a few of his recent statements about health care and tax reform and seemed "humbled" by the intelligence briefings he received on global threats.
A Proxy War: Betsy DeVos's confirmation hearing was about more than just DeVos: "This is a story about a changing America," writes Matt Lewis, and "what could happen to public schools and teachers' unions might ironically parallel the plight of the coal miners and factory workers who voted for Donald Trump." (The Daily Beast)
Dear Mr. President: For eight years, President Obama committed to reading 10 letters each day from the hundreds that poured into the White House. Some were filled with love, some with hate, others with desperation—and the White House staff had to choose the ones that made the cut. (Jeanne Marie Laskas, The New York Time Magazine)
The New White Flight?: "White people say they want diversity—but their actions show it's only of a certain kind," writes Alvin Chang, who uses a number of studies and graphics to break down how white America is self-segregating from the country's diversifying suburban areas. (Vox)
---
Visualized
'Transfer of Families': For a five-hour period on the morning of Inauguration Day, the White House will be transformed from the Obama family's former residence to the Trump family's new home. Take a look at these photos to learn how it all happens. (Bonnie Berkowitz, The Washington Post)
---
Question of the Week
President Obama told The New York Times that reading books like The Three-Body Problem and The Underground Railroad helped him "slow down and get perspective" during his eight years in the White House.
Which books inform your daily life and help you keep things in perspective?
Send your answers to hello@theatlantic.com, and our favorites will be featured in Friday's Politics & Policy Daily.
-Written by Elaine Godfrey (@elainejgodfrey) and Candice Norwood (@cjnorwoodwrites)