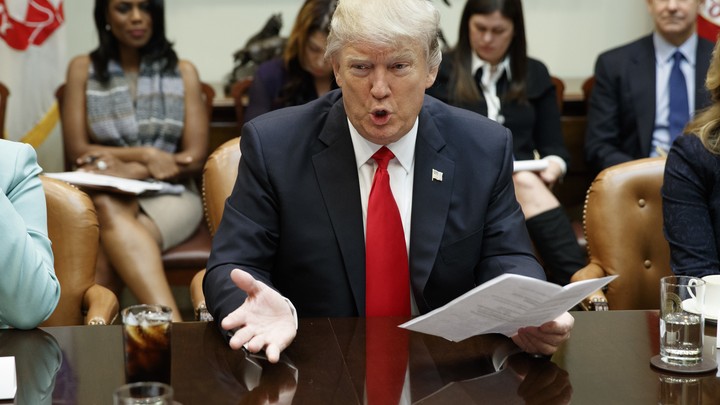 Today in 5 Lines
President Trump signed an executive order that requires agencies to repeal two regulations for every new regulation they implement. White House Press Secretary Sean Spicer defended Trump's executive order on immigration and said that U.S. State Department officials circulating a memo opposing the order should "get with the program or they can go." Spicer also announced that Israeli Prime Minister Benjamin Netanyahu will visit the White House on February 15. Trump said on Twitter that he plans to announce his Supreme Court nominee on Tuesday at 8 p.m. Kevin Lewis, spokesman to former President Barack Obama, said in a statement that Obama is "heartened by the level of engagement taking place in communities around the country" and reiterated that he "fundamentally disagrees with the notion of discriminating against individuals because of their faith or religion."
---
Today on The Atlantic
Changing Course: Olga Khazan spoke with Mark Hetfield, the director of a refugee resettlement organization, about President Trump's executive order that, among other things, suspends refugee admission for 120 days. The policy, Hetfield said, has "diminished America from being a stellar example of refugee resettlement to a disgraceful one."

Stay Mad: Donald Trump's outbursts during his first week in office may stem from his childhood in Queens, New York, McKay Coppins argues: "Trump seems convinced that there's some destination he can reach, some victory he can achieve, that will finally silence the din of elite ridicule."

Flirting With Trouble: "Holocaust denial is alive and well in the highest offices of the United States," Deborah Lipstadt writes. The White House statement released on Holocaust Remembrance Day is evidence of that, as it noted "innocent victims" rather than mentioning Jews or anti-Semitism.
Follow stories throughout the day with our Politics & Policy portal.
---
Snapshot
---
What We're Reading
Seeking Care: Two major health centers, Johns Hopkins Medicine and Cleveland Clinic, report that at least 20 patients were scheduled to come to the U.S. for health care from countries listed under President Trump's executive order on immigration. Now, those hospitals are rushing to find a solution. (Dylan Scott, STAT)
'One Hell of a Politician': Maryland Governor Larry Hogan is a Republican leading a blue state. Here's how he became the second-most popular governor in America. (Luke Mullins, Washingtonian)
Grassroots to Government: Just nine days into his presidency, Trump's executive actions have sparked a "surge of spontaneous activism that some Democrats say they have not seen since the Vietnam War." Can the party keep up with its impassioned base? (Jonathan Martin, The New York Times)
Praying for an Alternative: Education secretary nominee Betsy DeVos is a Christian school graduate and has cited religious motivations for her school-reform beliefs. While she would appear to be an ideal choice for the evangelical community, many members are speaking out against her. (Laura Turner, Politico)
Meet Ann M. Donnelly: The U.S. federal judge issued an emergency ruling Saturday night that temporarily prevents the government from turning away refugees, visa holders, and legal U.S. residents at airports nationwide. Here's how she did it. (Polly Mosendz, Bloomberg)
---
Visualized
The Right Fit: Donald Trump is expected to announce his Supreme Court nominee on Tuesday night. These graphics show the frontrunners for the position, how they compare to the late Justice Antonin Scalia, and the path to receiving confirmation. (Darla Cameron, The Washington Post)
---
Question of the Week
On Sunday, the New England Patriots will take on the Atlanta Falcons at Super Bowl 51 in Houston, Texas. If Capitol Hill had its own football team, what would it be named?
Send your answers to hello@theatlantic.com, and our favorites will be featured in Friday's Politics & Policy Daily.
-Written by Elaine Godfrey (@elainejgodfrey) and Candice Norwood (@cjnorwoodwrites)
We want to hear what you think about this article. Submit a letter to the editor or write to letters@theatlantic.com.