The Atlantic Politics & Policy Daily: Back-to-Back Sessions
The Senate continued confirmation hearings for Donald Trump's Cabinet picks.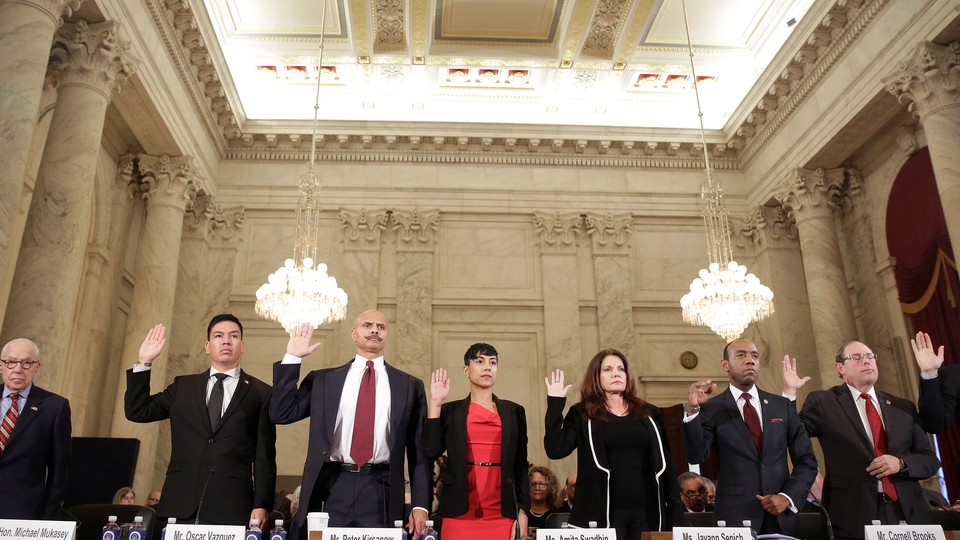 Today in 5 Lines
During his first press conference in several months, President-elect Donald Trump vehemently denied Tuesday's reports alleging that Russia had compromising information about him, calling it "fake news." Trump also announced that his sons will take over the Trump Organization once he becomes president, a move ethics experts say doesn't satisfy conflict-of-interest concerns; and Trump again refused to release his tax returns, saying "the only ones who care about my tax returns are reporters." Representative John Lewis and Senator Corey Booker testified against Senator Jeff Sessions during the second day of his Senate confirmation hearing to serve as U.S. attorney general. Rex Tillerson, Trump's choice for secretary of state, was critical of Russia during his hearing, saying the country "poses a danger" to the United States; and transportation secretary nominee Elaine Chao said she hopes to "unleash the potential" of private investment for federal infrastructure projects.
---
Today on The Atlantic
Seek the Truth: "BuzzFeed's decision to publish a dossier full of serious accusations against President-elect Donald Trump on Tuesday raised serious questions," writes David A. Graham, one of which concerns the journalism ethics of publishing a document full of unverified claims.

A Plan in Jeopardy?: Republicans are facing a number of obstacles in their quest to repeal the Affordable Care Act, such as finding a suitable alternative that won't leave millions of Americans without insurance. Still, the GOP is moving forward with its plan—for now. (Russell Berman)

Divided We Fall: Trump's critics will need to come together to minimize the damage they fear he will impose, argues Conor Friedersdorf. "Yet large swaths of the right and left, including extremely thoughtful, well-intentioned observers of the American scene, are behaving as if such cooperation is impossible." Why?
Follow stories throughout the day with our Politics & Policy portal.
---
Snapshot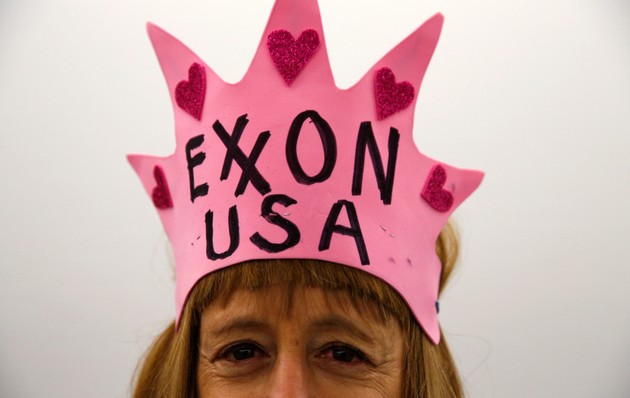 ---
What We're Reading
More on Trump's Business Plans: The president-elect says he will turn all business operations over to his two sons once he assumes the presidency and won't enter into any new deals with international partners. But ethics experts say Trump is still facing "a constitutional crisis." (Maggie Haberman, Julie Hirschfeld Davis, and Eric Lipton, The New York Times)
On the Defense: The cyber hack on the Democratic Party was instigated by an "elite" unit of hackers "linked to the Russian military intelligence service, known as the GRU, and its targets span the globe and parallel the interests of the Russian state." The party never stood a chance against them. (Tim Johnson, McClatchy DC)
A Look Inside: Marie Claire spoke with former "skin chicks," female members of the white supremacist movement. While the cause is male-dominated, feelings of rage and a desire for community may be contributing to a growing number of women joining the movement. (Kate Storey)
Thanks, Obama: Although reviews of his presidency will be mixed, writes Ezra Klein, Americans will miss several things about Barack Obama, namely "his decency. His scandal-free administration. The seriousness with which he approached his job. The faith he had in the American political system, and in Americans." (Vox)
Solving a Mystery: Raheel Siddiqui, a Muslim Marine recruit, fell to his death during basic training in Parris Island, South Carolina, in March 2016. The Marine Corps ruled the death a suicide, but Siddiqui's family thinks differently. Did a night of hazing go wrong? (Alex French, Esquire)
---
Visualized
Before and After: Serving as commander in chief of the United States has taken a visible toll on President Obama. Click on these images to see how the president has aged over the past eight years. (Alan Taylor, The Atlantic)
---
Question of the Week
Senate confirmation hearings for President-elect Trump's Cabinet nominees began on Tuesday. What's the one question you'd be afraid to answer honestly at your own confirmation hearing?
Send your answers to hello@theatlantic.com, and our favorites will be featured in Friday's Politics & Policy Daily.
-Written by Elaine Godfrey (@elainejgodfrey) and Candice Norwood (@cjnorwoodwrites)