The U.S. Supreme Court Puts North Carolina's 2017 Elections on Hold
After a lower court ordered unusual legislative contests this year to mitigate unconstitutional racial gerrymandering, the justices temporarily stayed the order.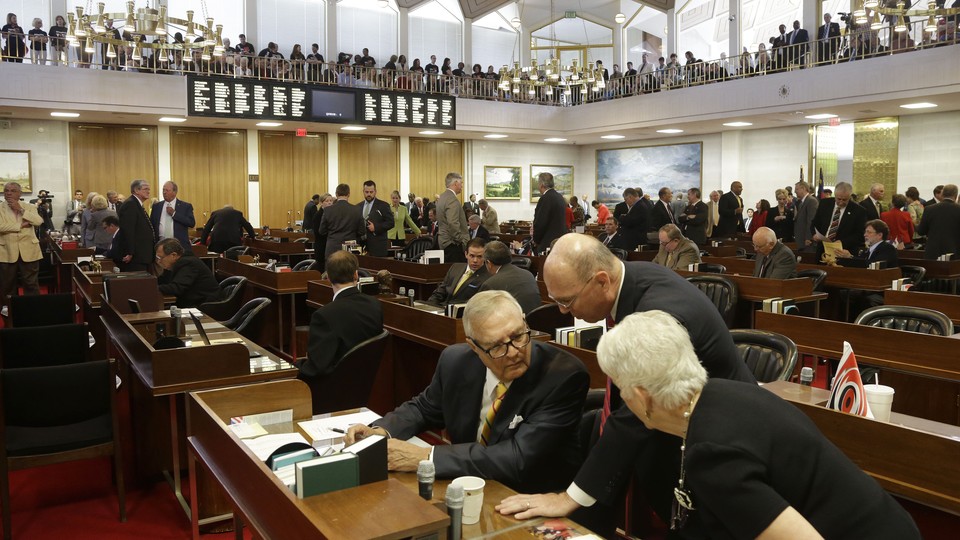 DURHAM, N.C.—The Supreme Court has a message for North Carolina voters: Don't get too excited about those rare, off-year legislative elections quite yet.
In late November, a federal court ruled that the state must hold unusual elections for the state legislature in 2017, in order to mitigate a districting plan that the court had ruled was an unconstitutional gerrymander. Consequently, the judges also ruled that the terms of state legislators in affected districts would be shortened to a single year. And since redrawing the maps for unconstitutional districts would affect other ones, too, there was a possibility for a slew of off-year elections. But in one of his final acts as governor, Republican Pat McCrory appealed to the U.S. Supreme Court.
The Court hasn't taken up the case yet, but it issued an order on Tuesday granting a stay on the elections. In other words, the Court has not yet decided whether or not to hear the case, but in the meantime, while it makes a decision, the elections will not move forward. The order is unsigned.
The elections could still happen—if the justices affirm the lower court's ruling, or if they decline to hear the case, the stay would expire and the race would be back on. Otherwise, the Court could decide to make its own judgment. The Court in December heard arguments relating to a lawsuit over whether redistricting for U.S. Congress seats in North Carolina was unconstitutional gerrymandering.
The lower court's order for off-year elections, combined with the foreshortened terms for some representatives, were an unusual move for a court. The state had ordered that it needed more time to redraw districts that the court was giving it, but the judges rejected that argument. "This gives the State a total of seven months from the time the districts were held to be unconstitutional, which is longer than it took the 2011 legislature to redistrict the entire state," a court order said.
It is unclear what political effect elections might have. Off-year elections typically have very low turnout. The General Assembly has been the site of several pitched partisan battles, including two in the closing days of 2016—one a special session in which GOP lawmakers stripped the incoming Democratic governor of some powers, and another in which an attempt to repeal H.B. 2, the state's controversial transgender "bathroom bill," fell apart amid acrimonious debate.