What's Behind the New Wave of Transgender 'Bathroom Bills'
Lawmakers in Texas, Kentucky, and Virginia are the latest to propose legislation that replicates North Carolina's controversial law—despite the risk of backlash.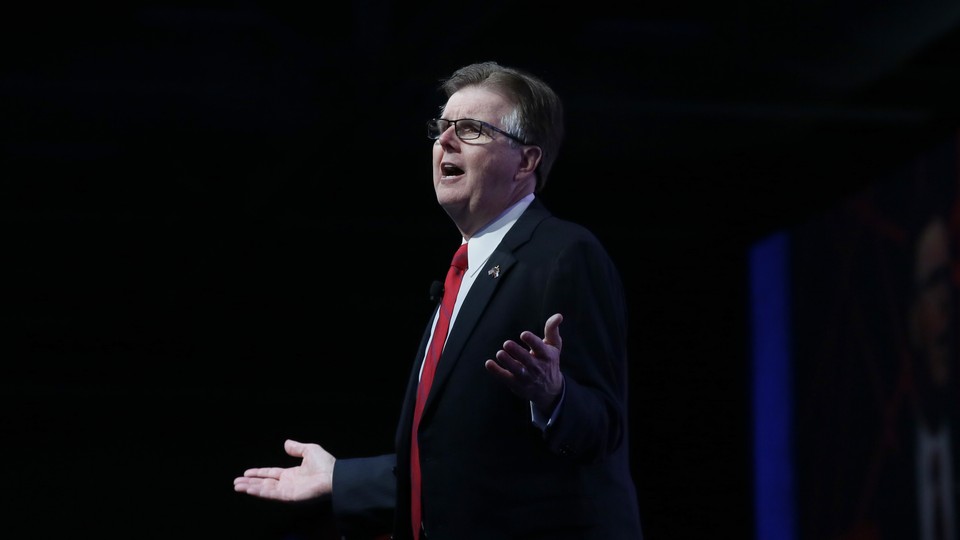 In North Carolina, the lessons of H.B. 2, last year's controversial transgender "bathroom bill," seem clear. The law states, among other things, that transgender people must use bathrooms corresponding to the biological sex on their birth certificates when using public accommodations.
The law inspired huge boycotts, cost the state an estimated hundreds of millions of dollars in lost economic growth, drew a lawsuit from the Department of Justice, and was a central cause of Republican ex-Governor Pat McCrory's defeat in his reelection bid. In late December, an attempt to repeal the law failed amid partisan acrimony—but over how to repeal the bill, not whether to repeal it.
But in several states, legislators have taken a different lesson: They've seen what happened in North Carolina and decided that their states need something like it. Lawmakers in Texas, Virginia, and Kentucky have all filed similar bills, reflecting an alternative political calculus on transgender rights. While the language is slightly different across the bills, they share several essential characteristics: They define biological sex based on an individual's birth certificate, and then say that people must use public accommodations—especially in public schools—corresponding to that sex.
The legislation comes at a dramatic political moment, when the future of transgender law is in flux. The Obama administration reacted fiercely to North Carolina's law, filing suit against the state and then issuing guidance saying that all schools should allow students to use bathrooms corresponding to the gender with which they identify, saying Title IX mandated it. But a federal judge blocked that order in August. Backlash to the administration's order, combined with the expectation that a Trump Justice Department will take a far different tack on transgender issues and interpretation of Title IX, seem to have inspired legislators to push their own legislation, even at the risk of incurring the harsh business backlash that accompanied H.B. 2. In fact, part of the strategy behind the new wave of bills is a calculation that while boycotts may be effective on a state-by-state scale, they will fall apart if many states enact such legislation.
The Texas bill, styled S.B. 6, is perhaps the most viable of the bills proposed so far, given GOP majorities in the legislature and Governor Greg Abbott's previous positive statements about bathroom bills. It covers school districts, open-enrollment charter schools, state agencies, and some other districts. Like North Carolina's H.B. 2, the bill is designed to preempt local governments from passing their own ordinances governing transgender restrooms, and like that law, it does not affect private businesses. The bill was filed by Senator Lois Kolkhorst of Brenham, but its big booster is Lieutenant Governor Dan Patrick. (Kolkhorst's staff declined to make her available to speak on it.)
"We know it's going to be a tough fight," Patrick said at a news conference in Austin on Thursday. "The forces of fear and misinformation will pull out all the stops, both in Texas and nationally. But we know we're on the right side of the issue, and we're on the right side of history."
It's difficult to forecast the fate of proposals like these. A bathroom bill in South Dakota last year appeared to be on a fast-track to enactment before Governor Dennis Daugaard, a Republican, surprised some observers by vetoing the bill after meeting with transgender people. Still, the other two bills proposed this year seem to face serious hurdles.
Kentucky's bill is similar to Texas's. The bill in sponsored by Representative Rick Nelson, a Democrat from Southeastern Kentucky. Nelson did not respond to a request for comment, but he told the Louisville Courier-Journal, "I just want to make sure those bills are out there in case the other side decides not to do them. I support them and think they're pretty good." He appeared to be alluding to the dearth of support among Bluegrass State Republican leaders for such a bill.
Although Governor Matt Bevin joined states that sued over the Obama administration rule on transgender restrooms, he mocked the idea of a bathroom bill in his own state during a December press conference. "Is it an issue? Is there anyone you know in Kentucky who has trouble going to the bathroom? Seriously?" the Republican said. "The last thing we need is more government rules. I'm cutting red tape, not creating it. Making government rules for things that don't even need government rules would be silly."
Virginia's bill is sponsored by Bob Marshall, a GOP delegate who has, as Slate chronicles, a colorful record of legislation to his name. (The Republican speaker of the House of Delegates dismissed Marshall's latest bill to the Richmond Times-Dispatch as "Bob being Bob.") The proposal uses slightly different language, though it achieves the same goal.
The unusual element of the Virginia bill is one of the final clauses, which would force school authorities to out any students who came out as transgender at school to their parents. Principals would be required to notify parents without 24 hours of any request to be "recognized or treated as the opposite sex, to use a name or pronouns inconsistent with the child's sex, or to use a restroom or changing facility designated for the opposite sex."
Virginia's bill also faces strong headwinds. The state's governor, Terry McAuliffe, is a Democrat, and last year, a similar bill died last year in the GOP-controlled House of Delegates, with Republicans citing pending federal legislation.  The Fourth Circuit Court of Appeals ruled in April that a school district in Virginia should allow Gavin Grimm, a transgender teenager, to use the men's bathroom. That case is now headed to the Supreme Court.
But pending court decisions have not discouraged conservatives from continuing to propose the laws. Richard Mast, senior litigation attorney with Liberty Counsel, a social-conservative legal nonprofit, said the Obama administration guidance, which said that schools risked federal funds if they did not follow the federal interpretation of "sex discrimination" to include gender identity, had produced a backlash. "It was heavy-handed, in that they were threatening and bullying school districts into loss of funds," Mast said.
Mast said Liberty Counsel had been providing model language for legislation to lawmakers, among other efforts to lobby for such laws. He said Texas's bill was "very similar language to what we have provided" to legislators, school boards, and others around the country.
"People want to maintain privacy," he said. "They want to be assured that their safety, particularly of children is maintained in restrooms like this." Mast said Liberty Counsel recommended providing single-stall restrooms to students with gender dysphoria.
If these bills are born out of a frustration with rapidly changing norms, the ones on the table now also appear to be driven by the chance to make a political splash, from Marshall's attempt to resurrect last year's failed bill to Nelson's bid to bring up a proposal that Kentucky's Republican leadership has already rejected. Dan Patrick is seen as a politician with designs on higher office, and even a failed S.B. 6 could help raise his profile and solidify his conservative bona fides.
Chase Strangio, an attorney with the American Civil Liberties Union who works on LGBT issues, says the lawmakers introducing bills now were "people who are committed to targeting the trans community."
"We saw last session bills across the country attempting to do the same thing," Strangio said. "We were overwhelmingly successful in stopping them, and we're incredibly optimistic that we'll be able to stop the majority of them this session."
But the advent of a Trump administration should be favorable for bathroom-bill advocates. The president-elect himself offered vague and contradictory statements about North Carolina's law during the campaign, but a Department of Justice headed by Senator Jeff Sessions, his nominee for attorney general, is expected to be much less friendly to expansions of LBGT rights.
Any state attempting to institute a bathroom law still faces headwinds. For one, a Supreme Court ruling could resolve the issue and obviate state laws. Another challenge is enforcement.
"We can only have the bright-line test of biological sex," Mast said, though he acknowledged that such bills rely heavily on self-regulation. A viral tweet from a transgender man named James Sheffield, sent during the H.B. 2 debate, highlighted the challenge: Though Sheffield says his birth certificate indicates he is a woman, he suggested that his beard would probably cause a ruckus in a women's room.
But the economic danger of such laws remains perhaps the most potent discouragement, even for policymakers who might sympathize with the goals of a bathroom bill. It's one likely reason that governors like Bevin are not eager to take up fights on the matter. North Carolina lost hundreds of jobs in intended expansions, various conferences, and multiple sporting contests, including the 2017 NBA All-Star Game and multiple NCAA and ACC college-sports events.
Texas stands to lose in many of the same ways. The Texas Association of Business, a generally conservative organization, warned in December that a bathroom bill could cost the Lone Star State as much as $8.5 billion and 100,000 jobs.
Richard Mast argued that such boycotts will become unworkable as more states pass bathroom laws. "You can't boycott half the country," he said.
But not everyone is so sure. Texas State Representative Eric Johnson, a Democrat from Dallas, said S.B. 6 was a misguided bill that capitalized on lack of understanding about transgender people, and he predicted that Democrats and Republicans would come together to keep the bill from going anywhere.
If that didn't happen, though, his political case against it was concise. "It's going to cost us money and it's going to make us look like bigots," he said.