What America's Small-Town Mayors Think About Trump
The local leaders are breaking from tradition to weigh in on presidential politics.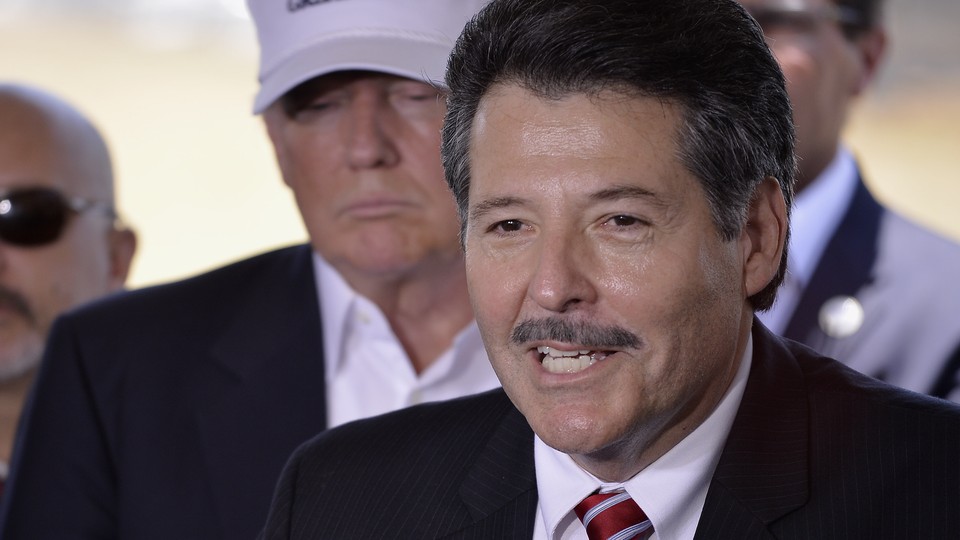 Just as a U.S. president delivers an inauguration speech or a State of the Union address, mayors across the country deliver State of the Village speeches. But while presidents can speak in broad strokes, mayors are expected to detail the town's accomplishments. As a result, these speeches are typically less aspirational and less rhetorically artful. Yet this year, a number of small-town mayors broke from tradition, as they weighed in on presidential politics.
Mayors did what they always do in their State of the Village speeches: They pointed as proudly as they could to whatever gains they had achieved. In Hope, Indiana, J.T. Doane, the town manager, announced that the town would get its first pharmacy in over 20 years. Interim Mayor Steve Waltrip highlighted the new A&W restaurant, among other new businesses, as a sign of rapid development in South Jacksonville, Illinois. Other mayors focused on safety in their speeches. Monroeville, Ohio Mayor Melissa Fries noted the installment of "four traffic speed calming signs." In Jefferson, Ohio, Village Administrator Terry Finger requested additional funds to replace the six traffic lights in town. And in Greenport, New York, Mayor George Hubbard said he's working with the owner of the only movie theater in town, Village Cinema, to keep it open Friday and Saturday nights year-round. "It would mean something else to do around here besides bars and restaurants," Hubbard said.
Mayors generally don't ruffle their flocks by talking partisan politics. There is no Democratic or Republican way to fill a pothole, goes the mayoral mantra. But, for the first time in the half-dozen years I've studied these speeches, some mayors felt compelled to comment on national affairs.
Laredo, Texas Mayor Pete Saenz told residents that he planned to attend the inauguration, and sounded a note of optimism: "It is our sincere hope and expectation that our federal leaders will be receptive to the needs of Laredo in regard to the full spectrum of issues that face our city, and most particularly, in regard to border security, trade, and transportation." Still, he reaffirmed his opposition to the construction of a wall on the U.S.-Mexico border and added that "we must safeguard NAFTA."
Other mayors pledged to protect residents from Trump's proposals, including his plan to implement a registry for Muslims and deport millions of undocumented immigrants. "We on the Maplewood Township Committee take our commitment to the Constitution very seriously. Our community will continue to be welcoming and open, embracing individuals of diverse racial, ethnic, religious and national backgrounds, and different ages and sexual orientation," said Maplewood, New Jersey Mayor Victor DeLuca. He added: "And we will not condition the provision of Township services or benefits on matters related to citizenship or immigration status and we will not take any action to profile or register individuals or groups based on religion, race, ethnicity, national origin or immigration status."
Ithaca, New York's mayor Svante Myrick decried "a federal government that is openly hostile to progressive governance," and said that President-elect Trump "has threatened to retaliate against cities like Ithaca—cities that have declared that they will not cooperate with federal attempts to round up and expel hard-working, law-abiding immigrants."
Of course, some mayors did back Trump. Bolingbrook, Illinois Mayor Roger Claar held a fundraiser for Trump last September. "There weren't a lot of people who stepped up for Trump in Illinois or in the Illinois Republican Party. I was embarrassed about that," Claar said. Pushback from residents following the rally, however, has prompted a slate of candidates to challenge Claar and a number of village trustees in the upcoming elections. I was unable to obtain a copy of Claar's January 12 speech about the state of Bolingbrook, Illinois. But Claar will be attending Trump's inauguration.
In Summit, New Jersey, Mayor Nora Radest refrained from mentioning Trump, opting instead to tout local cooperation in a divided nation: "I ran on a platform of communication and bipartisanship. I believed that we, as a city, could continue to build bridges to connect with one another, and that together, regardless of political party affiliation, we could accomplish great things. I have found both of these things to be true."
Rye City, New York Mayor Joe Sack, on the other hand, conceded that Trump's election didn't surprise him, but said, "with all due respect to the President-elect—Mr. Trump could not be elected mayor of Rye, or mayor of any other city for that matter."
Because the qualities and characteristics of a good and effective mayor, are the willingness and ability to listen to all perspectives, to sometimes absorb people's anger and frustration, and to try to build consensus.

Believe me, I'm only human, and there are plenty of times when I'd like to take a page out of the Trump playbook, and tell an unruly or unreasonable speaker or two where they could go, and what they could do.

That may be the new definition of what it means to be presidential. But it wouldn't be mayoral.

And it would certainly not be any way to treat my fellow neighbors and residents.
"We're all in this together," the mayor concluded. "And that's worth pointing out to students and grown-ups alike."
Most years, in discussing the state of the village, that goes without saying.