Rubio's Revenge?
The Florida Republican has the power to sink Rex Tillerson's nomination for secretary of state and deal an early blow to a president-elect who belittled him a year ago.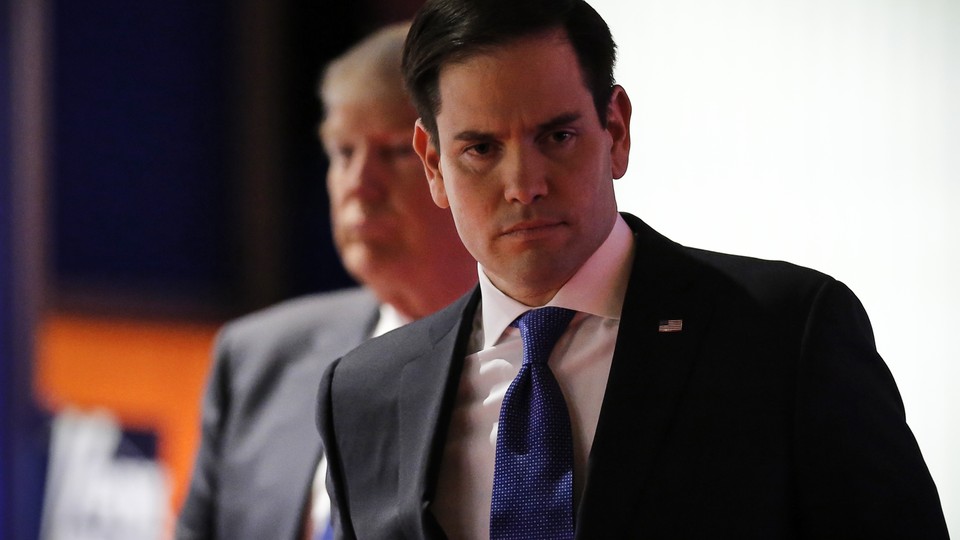 Donald Trump lobbed all manner of insults at Marco Rubio when the two Republicans were rivals for the presidency. The Florida senator was, most memorably, "Liddle Marco" in the vernacular of the taller Trump. He mocked him for his profuse sweating, for his "really large ears," for being no more than a typical D.C. politician. And to add injury to insult, Trump trounced Rubio in his home state's primary and went on to win Florida in the general election with almost no help from its junior senator.
Now, however, it's Rubio's turn to make Trump sweat.
Just reelected to a second six-year term in the Senate, the 45-year-old holds the key vote on Trump's nomination of former ExxonMobil CEO Rex Tillerson to be secretary of state. And he knows it.
Rubio sits on the Foreign Relations Committee, which must sign off on Tillerson before his nomination can go to the Senate floor for a final vote. The panel has 11 Republicans and 10 Democrats, so if all the Democrats oppose Tillerson—which they very well might—the defection of just one Republican will be enough to stall, and probably sink, his chances of confirmation.
After questioning Tillerson more aggressively than any other Republican on the committee (and a few Democrats), Rubio came away clearly dissatisfied with some of the answers—and undecided on his nomination. "This is a very important decision, and I recognize the partisan split on the committee and what it would all mean," he told reporters after the hearing. "So I have to make sure I am 100 percent behind whatever decision that I make, because once I make it, it isn't going to change." Tillerson's friendly relationship with Vladimir Putin and his past criticism of sanctions against Russia have raised concerns among senators in both parties. But it was Tillerson's refusal to condemn Putin and President Rodrigo Duterte of the Philippines for war crimes and human rights abuses that particularly irked Rubio.
Asked by CNN's Manu Raju whether he is prepared to be the one Republican to vote no, Rubio replied: "I'm prepared to do what's right. I'm not analyzing it from a partisan perspective."
Because of the GOP's slim majority in the Senate, Rubio is one of several Republicans Trump denigrated on his way to the White House who are now in a position to thwart his agenda, or at least to exert leverage in ways that could make life for the president-elect uncomfortable. And those personal rifts may make their more serious differences on policy tougher to paper over. Senator John McCain of Arizona was an early target for Trump, who dismissed the ex-POW's reputation as a war hero by saying, "I like people who weren't captured." McCain, a longtime Russia hawk, has criticized Trump's attitude toward Putin and is also undecided on the Tillerson nomination.
In the case of another former GOP presidential contender, Senator Lindsey Graham of South Carolina, it seems Trump isn't done teasing. "I've been competing with him for a long time. He is going to crack that 1 percent barrier one day," Trump joked during his press conference on Wednesday, making fun of Graham's poor showing during the primaries last year. (He did add that Graham is "a nice guy"—or at least, he said, that's what he's heard from others.) Graham on Thursday morning praised Rubio's line of questioning with Tillerson and said he shared his colleague's concerns about the nominee's responses. "When it comes to Russia, I want more clarity," Graham said on MSNBC's Morning Joe. "We'll see if he can clean up his answers." As to Tillerson's chances of confirmation, he said: "I think his nomination is salvageable from my point of view."
Then there's Senator Rand Paul of Kentucky, who began to make noise about potential Trump Cabinet picks shortly after the election. He vowed to oppose both Rudy Giuliani and John Bolton for secretary of state, citing their hawkish stances on U.S. military engagement abroad. Paul's hard line could have effectively killed their chances because, like Rubio, he holds a potentially decisive vote on the Foreign Relations Committee. (He seems more favorable toward Tillerson and has reportedly said he's leaning toward voting for him.) More recently, Paul has tried to upend the GOP leadership's strategy on repealing the Affordable Care Act by voting against a budget resolution aimed at fast-tracking the legislation. He's even appealed directly to Trump, boasting in a tweet that after speaking to him by phone, the president-elect "fully supports my plan to replace Obamacare the same day we repeal it." Trump hasn't acknowledged his conversation with Paul, and it's not yet clear whether the Kentucky senator's gambit will ultimately ease or complicate the party's drive to repeal and replace the health law.
Aside from having all clashed with Trump last year, Rubio, McCain, and Paul have something else in common: They each secured another six-year term in November, meaning they won't have to face voters again until after Trump runs for reelection in 2020. (Graham is up for reelection in 2020, too.) Their recent victories offer an extra measure of political protection from a Trump-inspired backlash, making it easier for them to oppose Trump as president even if he remains popular among Republicans. That dynamic doesn't exist in the House, where Republican lawmakers have become increasingly sensitive to the possibility of a primary challenge every two years.
"Politically, if you're in a ruby-red district, this is a president who's going to be very difficult to oppose," Representative Tom Cole of Oklahoma, a former head of the House GOP's campaign arm, told me in a recent interview.
Rubio doesn't have that worry, and even if he was on the ballot next year, he could point to the fact that his margin of victory in Florida was larger than Trump's (although that was probably thanks to support from Democratic and Independent voters more than Republicans).
Political considerations, of course, would only be one factor in Rubio's decision on whether to confirm Tillerson for a job that, as he told both the nominee and reporters, he considers to be the second most important in government, "with all due respect to the vice president." Over three rounds of questioning on Wednesday, Rubio laid out a substantive case for the importance of human rights in foreign policy. He pressed Tillerson repeatedly to call out clear violations by Putin, Duterte, and by the government of Saudi Arabia in its treatment of women. In each case, Tillerson stopped short of issuing the unequivocal denunciations Rubio wanted, and at one point he called Tillerson's reluctance to do so "discouraging." When Rubio, citing the Russian-backed atrocities in Aleppo, asked him directly if Putin is a war criminal, Tillerson replied, "I would not use that term."
The United States, Rubio told Tillerson near the end of the day-long hearing, needed to project "moral clarity" to the world. "We can't achieve moral clarity with rhetorical ambiguity," he said. Rubio then delivered an extended explanation of the questions he had asked Tillerson and why he felt so strongly about their importance for a candidate for secretary of state:
[The secretary of state] is the face of this country for billions of people, for hundreds of millions of people, as well, and particularly for people that are suffering and they're hurting.

For those people, those 1,400 people in jail in China, those dissidents in Cuba, the girls that want to drive and go to school, they look to the United States. They look to us and often to the secretary of state. And when they see the United States is not prepared to stand up and say, "Yes, Vladimir Putin is a war criminal; Saudi Arabia violates human rights. We deal with these countries because they have the largest nuclear arsenal on the planet, because China is the second largest economy in the world. Because Saudi Arabia is a strategic partner in what's happening in the Middle East. But we still condemn what they do." It demoralizes these people all over the world, and it leads people to conclude this, which is damaging, and it hurt us during the Cold War, and that is this: America cares about democracy and freedom as long—as long as it's not being violated by someone that they need for something else.

That cannot be who we are in the 21st century. We need a secretary of state that will fight for these principles. That's why I asked you these questions. That's why I ask those questions, because I believe it's that important for the future of the world that America lead now more than ever.
Sensing that Rubio's vote might be slipping away, Senator Bob Corker of Tennessee, the Republican chairman of the committee, used his closing remarks to appeal to Tillerson's critics to give him the benefit of the doubt on the issue of moral "clarity." "Senators," Corker said, "develop pretty strong opinions, and sometimes, we express those opinions in a very crisp, direct, strong manner, just to break through the clutter that we have to deal with to make a point."
A nominee coming in, on the other hand, wants to make sure that he's not getting out over his skis. He's working for a president that he doesn't know that well yet. He's trying to accommodate the fact that in fact he's going to be working in an interagency situation to come to conclusions. So I just hope that those things will be taken into account if there are questions about clarity.
Will Rubio actually torpedo Tillerson's nomination? A day later, he wasn't saying. "Senator Rubio is working through this process, and we don't have anything to announce at this time," spokesman Matt Wolking said. He wouldn't say whether Rubio planned to meet with Tillerson again before deciding how to vote.
Democrats opposed to Tillerson circulated a video highlight reel of Rubio's questioning. But they were also skeptical that Rubio, who endorsed Trump months after calling him "a con artist," would have the political courage to cross the president-elect. "Let's all fast-forward to the part where Rubio slinks into the Senate chamber to vote for Tillerson because Trump told him to," tweeted Dan Pfeiffer, a former top adviser to President Obama.
Indeed, it would be no small thing for Rubio to oppose Tillerson knowing that he alone could sink his nomination. It would deal an embarrassing early blow to Trump, who said on Wednesday that he had assembled "one of the great Cabinets ever put together." While nominees of every recent incoming president have had to withdraw for various reasons, the Senate hasn't rejected a top Cabinet nominee since it failed to confirm John Tower, President George H. W. Bush's pick for defense secretary, in 1989. Rubio's opposition would surely provoke Trump. But it would remind the president-elect that even though he defeated and belittled "Liddle Marco" a year ago, he can't take him for granted now.