Rubio Backs Tillerson Despite 'Reservations'
His support likely guarantees that President Trump's nominee will win confirmation as secretary of state.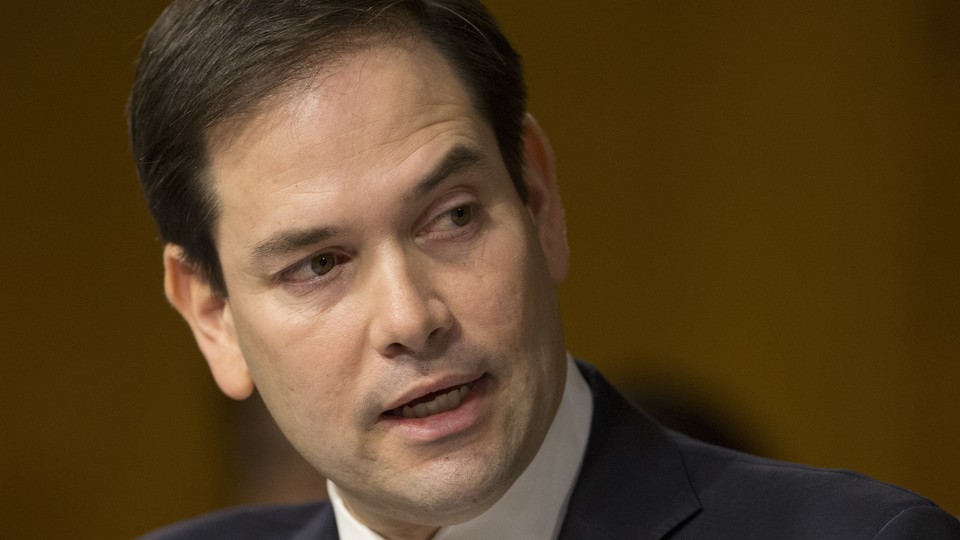 Updated on January 23 at 6:01 p.m.
Rex Tillerson has secured Senator Marco Rubio's support, all but guaranteeing that he'll have the votes he needs to win Senate confirmation as President Trump's secretary of state.
Rubio declared his position in a Facebook post Monday morning, hours before the Senate Foreign Relations Committee voted to sign off on the former ExxonMobil's nomination. The Florida Republican had been a key holdout on Tillerson after he clashed with him repeatedly during his confirmation hearing earlier this month. Rubio had said it was "discouraging," for example, that Tillerson refused to label Vladimir Putin a war criminal or to call out Philippines President Rodrigo Duterte for human rights violations.
Explaining his decision on Monday, Rubio said he remained troubled by those answers but that he had to balance his concern with Tillerson's "extensive experience and success in international commerce, and my belief that the president is entitled to significant deference when it comes to his choices for the Cabinet."
"Given the uncertainty that exists both at home and abroad about the direction of our foreign policy, it would be against our national interests to have this confirmation unnecessarily delayed or embroiled in controversy," Rubio wrote. "Therefore, despite my reservations, I will support Mr. Tillerson's nomination in committee and in the full Senate." He warned, however, that he would not give nominees to other senior posts at the State Department the same benefit of the doubt.
Because of the narrow partisan divide in the Senate, Rubio's vote in the Foreign Relations Committee was critical. Had he opposed Tillerson along with every Democrat, the vote would have been 11-10 against the nomination. Instead, the committee voted by the same margin to recommend Tillerson's confirmation. Chairman Bob Corker of Tennessee had said he would have sent the nomination to the full Senate regardless, a move that might have pressured Rubio to vote yes. On Sunday, two other GOP Russia hawks, Senators John McCain of Arizona and Lindsey Graham of South Carolina, announced their support for Tillerson, raising his chances for confirmation on the Senate floor. Rubio's vote removed almost all doubt in the outcome.
After the hearing, Trump advisers aggressively lobbied Rubio to support Tillerson. The senator met with Vice President Mike Pence and Tillerson, and received written responses to his follow-up questions from the nominee.
In supporting Tillerson, Rubio passed over the chance to pick a fight with the new president, who had mocked and belittled him during the Republican presidential primary. Recalling that Rubio had eventually endorsed a man he once called "a con artist," some Democrats predicted he would similarly fall in line on Tillerson.
"By ignoring his serious reservations about Tillerson's connections to Vladimir Putin, Marco Rubio is not only rolling over for Donald Trump,  he's earning the nickname Trump gave him: Little Marco," said Zak Petkanas, a senior adviser for the Democratic National Committee.