Robby Mook and Corey Lewandowski: A Bromance That Was Not to Be
The former Trump and Clinton campaign managers will be joining the paid lecture circuit—but not, despite one report, together.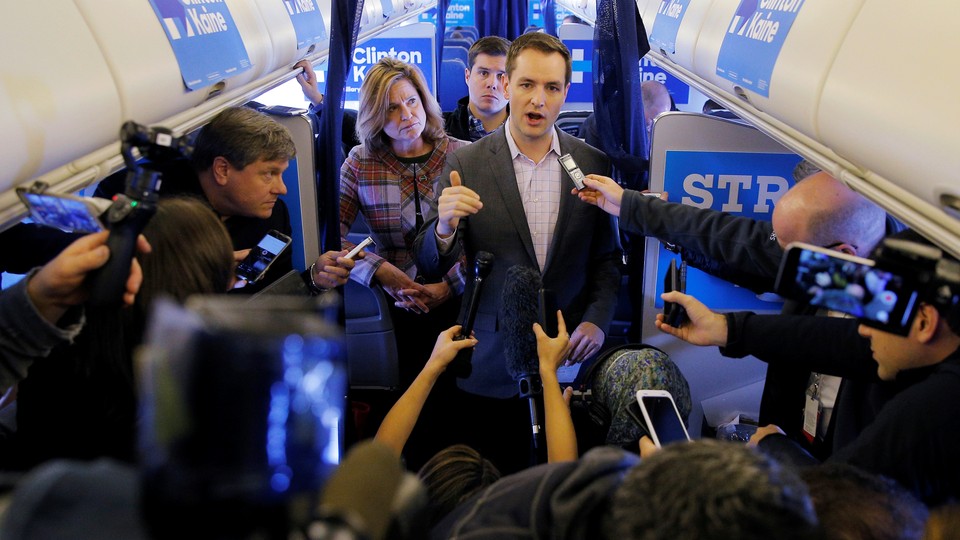 This post was updated on Wednesday, January 25 at 12:20 p.m.
The American corporate world has its golden parachutes; the American political world, however, has its golden microphones. Did you run a presidential campaign that, despite your best efforts, lost? Were you ousted from the winning campaign long before it did its winning?
Have no fear, friend. You have what many others do not: a safety net. Yours comes, in this case, in the form of Leading Authorities, a Washington-based speaking agency. The firm will happily employ you—both despite and very much because of your prior failings—to amuse, and perhaps even inspire, the masses with your thoughts on American democracy.
Early this morning, Buzzfeed reported that Robby Mook, Hillary Clinton's former campaign manager, and Corey Lewandowski, who filled the same role for Trump before his firing in June, would be teaming up, with the help of Leading Authorities, to offer paying audiences a "future-focused look at why Trump won."  The report was based on a page reporter Ruby Cramer had discovered, on Leading Authorities's website; that page has since been removed.
Matt Jones, a spokesperson for the firm, told Cramer that the page in question was the result of "marketing material" that "was generated by our team"—without, apparently, the input or consent of Mook or Lewandowski, who are individual Leading Authorities clients. Jones added: "There has been great interest in both Corey and Robby individually, but want to be clear that they have not teamed up. This was solely our team's idea," he said.
As Washington-specific speculative fiction, though, the team-up may not be a bad idea—at least, if you are Mook or Lewandowski. The particular revolving door Leading Authorities was proposing that Mook and Lewandowski merrily enter together—campaign manager-to-paid speaker, which is located just down the hall from the door that ushers political operatives into lucrative positions as lobbyists—typically finds its entrants, Buzzfeed notes, addressing corporate gatherings, academic gatherings, and trade conferences. And "the contracts can deliver tens of thousands of dollars for each speech."
And why get just one speaker, when you can get a sparring duo? Leading Authorities also manages, according to its website, the speaking engagements of several frenemied pairs: Mika Brzezinski and Joe Scarborough, Dana Perino and Donna Brazile, Stephanie Cutter and, yes, Corey Lewandowski. Bipartisan cooperation may be a rare commodity in the American political life of 2017; it's nice to know, though, that despite everything, for enough money it can still be bought.
Mook and Lewandowski, the ultimate political Odd Couple, would likely prove popular as co-speakers, and not just because of their recent experiences navigating this rockiest of campaign trails. The duo, the agency promised pre-deletion, would "debate the day's hot issues while sharing behind-the-scenes anecdotes from two of the most heavily-dissected campaigns ever run." They would be, in that, "an entertaining pair sure to keep any audience engaged."
Plus, the pair have a history of performative sparring. Late last year, they met on a stage at Harvard, as part of the Kennedy School of Government's once-every-four-years look-back at the campaign that had just concluded. The school assembled a large group of strategists and media members to gloat and/or self-flagellate about the 2016 campaign's outcome; participants included Kellyanne Conway, Andrea Mitchell, and Mandy Grunwald.
They also included, in a roundtable discussion, Robby Mook and Corey Lewandowski. And the sparks, they flew! According to The Daily Beast's assessment of that event:
During the Wednesday roundtable, whenever Clinton campaign manager Robby Mook spoke, Lewandowski could be seen fiddling with his smartphone while everyone else paid attention.

"[The Trump campaign] was something that the people were energized about," Lewandowski said. "We had groupies!"

"Holy shit!" he continued.

As the event went on, and as Lewandowski bragged more and more about the Trump win, Mook's glaring at the former Team Trump head became more and more visible to observers in the room.

"He looked like he wanted to strangle him," an audience member seated nearby recalled.
That strife could still be put behind them. Mook and Lewandowski may not have made it to the White House, but, hey, they could probably put on a good show: The Odd Couple, meets Crossfire, meets TED, meets American Ninja Warrior, meets … that golden, golden microphone.