The Republican Women Donald Trump Alienated
Conservative women who oppose the incoming president must decide whether to stay in the GOP or leave.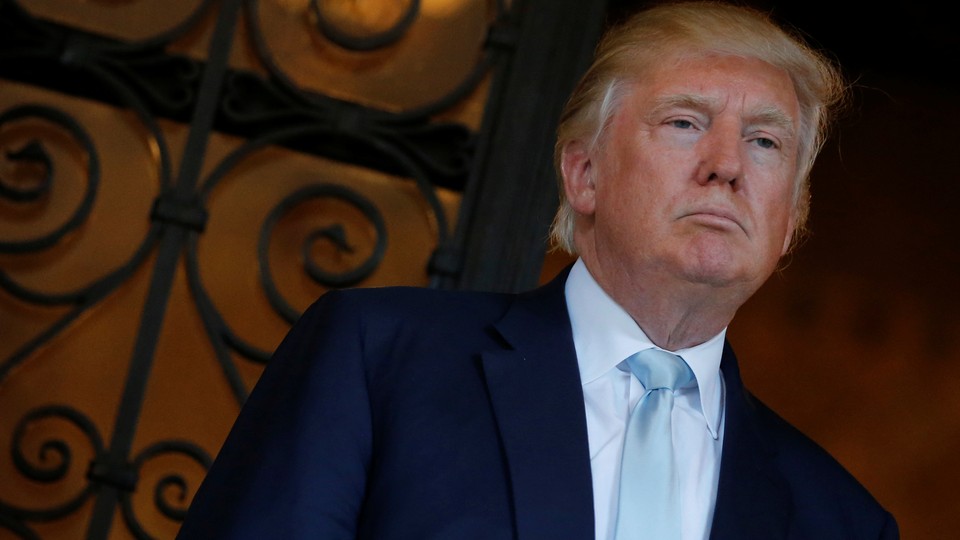 Melanie Watson can't stand the thought that Donald Trump will soon be president of the United States. The 53-year old Dallas, Texas resident voted against him, despite the fact that she describes herself as a lifelong Republican. And she wants nothing to do with the Republican Party now that it has become the party of Trump.
"The GOP failed this country, and I blame the GOP for Trump," Watson said in an interview. "I can't stay in a party that didn't stand up to Trump, and that's willing to support him as president."
Republican women who oppose Trump must decide: Should they stay in a political party they feel betrayed by, or should they leave the GOP? Some conservative women feel compelled to leave a party led by Trump, while others are deeply disappointed by the outcome of the election, but unsure of what to do next. Some Republican women hope that if they remain part of the GOP they may be able to save the party from being ruined by a president they believe is unworthy and unfit.
Victoria Lewis, a 41-year old from Atlanta who served as the Georgia state leader for Republican Women for Hillary, "seriously considered" leaving the party after the election, but ultimately decided against it. "I feel like there are enough people in this party who have not lost their minds, and I think I need to stick around and try to make sure there's still a place for them in the GOP," she said in an interview. (Jennifer Pierotti Lim and Meghan Milloy, the organizers of Republican Women for Hillary, are also staying in the party and have decided to turn their group into Republican Women for America).
Whether they leave the party or stay, anti-Trump conservative women are likely to find the GOP a less welcoming place than they once did. Republican women who believe Trump's words and actions disqualify him from the presidency must live with the reality that most Republicans don't agree.
"I think it has become a hostile party for women who don't buy into whatever Trump is selling," Lewis said. "If you're a Republican woman who can completely dismiss his misogyny, or look the other way, then there's absolutely a place for you. But if you aren't able to accept it, then the Republican Party has become a hostile place."
There were plenty of high-profile Republicans who spoke out against Trump during his presidential campaign. GOP national security experts argued that his temperament and lack of foreign policy expertise would put the country in jeopardy. Others suggested that Trump should not be considered a true conservative, that he supports big government and does not respect the Constitution.
For some anti-Trump Republican women, though, it has been particularly painful to see their party elect a candidate who dismissed his own caught-on-tape boasts of grabbing women "by the pussy" as "locker room talk," and who suggested that some of the women who accused him of sexual assault during his campaign weren't attractive enough to be believed.
"It was like women weren't important enough to stand up for," said Veronica Molina, a 37-year old from Texas who describes herself as a long-time Republican voter. "Trump was so disrespectful toward women, but that wasn't important enough to change people's minds. I thought it should have been."
Trump's indication that he would appoint Supreme Court justices who will overturn overturn Roe v. Wade, the landmark Supreme Court decision protecting a woman's legal right to abortion, has also alarmed some conservative women.
"I don't believe in abortion and I would probably try to talk anyone I knew out of it if they came to me for advice, but if someone decides that's what they want to do, I want them to have a safe way of doing it," said 57-year old Elisa Heredia Reese from Orange County, California. Though Reese "remains pretty much a conservative at heart," she plans to register as an Independent because she believes the Republican Party let her down by supporting Trump.
While a majority of women voted for Hillary Clinton, Trump won over 53 percent of white women. But Clinton still appears to have been successful in convincing some women who had voted Republican in past elections to vote for her: She won a majority of college-educated white women by a narrow margin—despite the fact that Mitt Romney won that group of voters in the 2012 election by 52 percent.
If more conservative or Republican-leaning women feel alienated by Trump over the next four years, the Democratic Party will have an opportunity to expand its reach, especially if it can make the case to disenchanted Republicans that Democrats represent their values better.
"I feel like the Republican Party left me, and now I don't know where I belong," Molina said. Though she says she still believes in what she describes as core GOP principles like fiscal conservatism, Molina feels like she no longer has a party. The idea of joining the Democratic Party seems strange, and she isn't sure she'd be willing to do it. But Molina says she'd consider making the switch if a new generation of Republican leaders willing to challenge Trump's hold on the party fails to emerge in the years ahead.
The election has led some women to fundamentally re-evaluate how they view the Republican Party.  "I never thought there was that much hatred or racism in the Republican Party, but I see it now," said Reese. Watson once believed the Republican Party stood up for the rights and liberties of every individual. She doesn't believe that anymore. "There is no way I can be associated with a racist, white supremacist, anti-woman party," she said. "The GOP as I knew it, is dead."
Some of those women fear what the future may hold under a Trump presidency. "What if he says something to set someone off and it starts a war?," Reese wondered aloud. "Even before he had any power, people in the party were afraid to stand up to him," Watson said. "I'm afraid things will get even worse now that he has real power."
Whether women alienated by the election remain part of the GOP or not may depend, in part, on the way Trump governs and what issues the GOP prioritizes in Congress. Anti-Trump women who leave the party may not be enough to sway an election. And the GOP may not need them for future success. The extent to which some anti-Trump Republican women feel distraught by the outcome of the election, however, shows that fallout from Trump's victory continues to be felt within the party, and may persist for a long time to come. It will be difficult, and in some cases impossible, to repair the damage Trump's rise has done to the faith some conservatives once had in the Republican Party.
---
Related Videos