How the Political World Is Reacting to Trump's Immigration Order
The executive order drew criticism from several prominent Republicans but support from party leaders. Democrats roundly denounced the policy.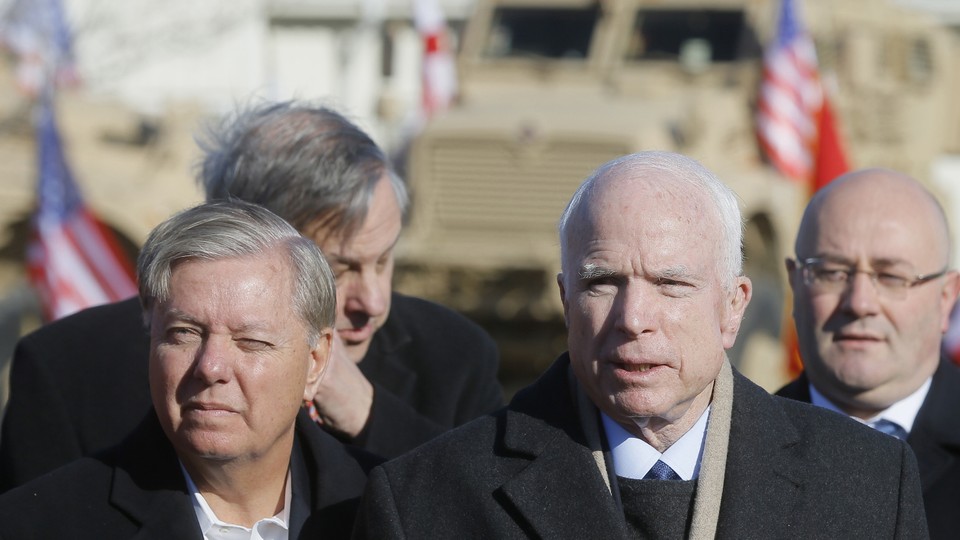 Updated at 11:40 p.m. on January 29
President Trump's executive order suspending immigration from seven Muslim countries has drawn mounting criticism from Republican members of Congress, as lawmakers questioned either its effectiveness in deterring terrorist attacks or its implementation across U.S. airports on Friday evening.
"It is clear from the confusion at our airports across the nation that President Trump's executive order was not properly vetted," Senators John McCain of Arizona and Lindsey Graham of South Carolina said in a joint statement on Sunday afternoon, citing reports that the White House failed to consult with several key Cabinet departments before issuing the directive that took effect immediately on Friday. "Such a hasty process risks harmful results."
The two senators, who frequently joined in criticism of Trump during his campaign, singled out green-card holders, military and diplomatic interpreters, and refugees who have already undergone "extreme vetting" as groups who should be exempt from the ban. "Ultimately," McCain and Graham said, "we fear this executive order will become a self-inflicted wound in the fight against terrorism."
Trump rebuked them on Twitter later in the afternoon, noting they had both aspired to occupy the office he now holds and calling them "sadly weak on immigration."  The senators, Trump wrote, "should focus their energies on ISIS, illegal immigration and border security instead of always looking to start World War III."
The president issued a separate statement on Sunday defending his actions that was milder in tone. But in a partial walk-back of the policy, administration officials clarified that permanent legal residents—holders of green cards—would mostly be exempt from the ban. "In applying the provisions of the president's executive order, I hereby deem the entry of lawful permanent residents to be in the national interest," Homeland Security Secretary John Kelly said in a statement early Sunday evening. "Accordingly, absent the receipt of significant derogatory information indicating a serious threat to public safety and welfare, lawful permanent resident status will be a dispositive factor in our case-by-case determinations."
Another senior Republican senator, Lamar Alexander of Tennessee, added his criticism on Sunday night. "This vetting proposal itself needed more vetting," he said in a statement. Some of the frustration that Trump's allies in Congress vented over the weekend may have stemmed from being kept in the dark. A senior Republican aide said the White House did not consult congressional leaders in drafting the executive order, nor did the administration brief them on its implementation on Saturday or Sunday.
Several other lower-ranking Republican legislators also distanced themselves from the executive order over the weekend, as protests swelled at major American airports and cities, including Washington, D.C. Democratic lawmakers have roundly denounced the ban as a violation of American values and the Constitution's protection against discrimination based on religion. Several, including Senators Elizabeth Warren of Massachusetts and Cory Booker of New Jersey, have joined the airport protests. Party leaders said dozens of Democratic members of the House and Senate would gather alongside Muslim refugees in front of the Supreme Court on Monday evening to demand that the president reverse his executive order. And in her first criticism of a specific Trump policy since her election defeat, former Secretary of State Hillary Clinton tweeted Sunday: "This is not who we are." (Her daughter, Chelsea, joined the protests in New York.)
I stand with the people gathered across the country tonight defending our values & our Constitution. This is not who we are.

— Hillary Clinton (@HillaryClinton) January 29, 2017
Despite the criticism from Democrats and some Republicans, however, Trump retained support from the quarter that mattered most: GOP congressional leadership. House Speaker Paul Ryan, who had repeatedly criticized Trump's proposed Muslim ban during the campaign, issued a statement Friday evening saying the president was "right to make sure we are doing everything possible to know exactly who is entering our country."
"Our number one responsibility is to protect the homeland," Ryan said. "We are a compassionate nation, and I support the refugee resettlement program, but it's time to reevaluate and strengthen the visa-vetting process. This is why we passed bipartisan legislation in the wake of the Paris attacks to pause the intake of refugees." Other Republicans noted that Trump's order goes well beyond the legislation that passed the House but was never signed into law by former President Barack Obama. "The president's executive order issued yesterday went beyond the increased vetting actions that Congress has supported on a bipartisan basis and inexplicably applied to green-card holders, people who are legally within our country who have followed the rules," Representative Barbara Comstock of Virginia said.
Senate Majority Leader Mitch McConnell offered more qualified support Sunday morning in an appearance on ABC's This Week. He backed a tightening of the vetting process for refugees, but he warned the administration to "be careful" not to create an overly broad restriction that would exclude or deter Muslims who have helped the United States in the war against terrorism. "If they're looking to tighten the vetting process, I mean, who would be against that?" McConnell said. "But I am opposed to a religious test. The courts are going to determine whether this is too broad."
Under follow-up questioning from Martha Raddatz, however, the Kentucky Republican ultimately stood with the administration. "Look, the president has a lot of latitude to try to secure the country," McConnell said. "And I'm not going to make a blanket criticism of this effort."
Republican critics of the executive order and its implementation included three senators who refused to endorse Trump during the campaign: Jeff Flake of Arizona, Susan Collins of Maine, and Ben Sasse of Nebraska. "President Trump and his administration are right to be concerned about national security, but it's unacceptable when even legal permanent residents are being detained or turned away at airports and ports of entry," Flake wrote on Medium. Sasse said in a statement that even though the order was technically not a Muslim ban, it was "too broad" and, as such, risked handing a recruiting victory to Islamic terrorists.
In the House, Representatives Justin Amash of Michigan, Charlie Dent of Pennsylvania, Comstock Elyse Stefanik of New York, Mike Coffman of Colorado, and Will Hurd of Texas were among the Republicans critical of the ban, with most of them saying it was overly broad. Many of them represent either swing districts or constituencies with large immigrant populations, or both.
Many other conservatives in Congress either stayed quiet over the weekend or voiced support for the executive order. Whether the GOP opposition builds to a legislative response is far from clear. Senator Chris Murphy, a Connecticut Democrat, said he would introduce a bill to overturn the order next week, but it will be up to McConnell whether it comes for a vote.