Q of the Week: What Books Inform Your Daily Life?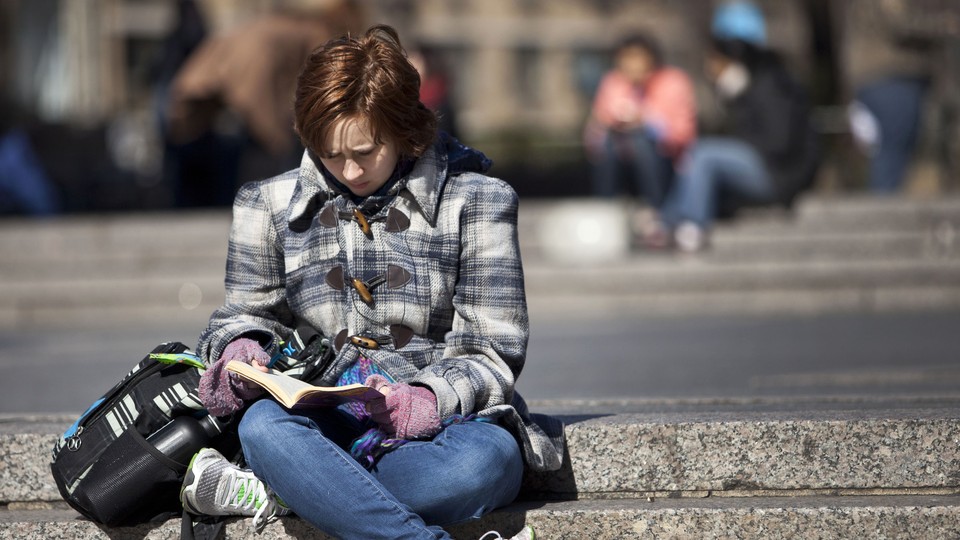 Editor's Note:
This article previously appeared in a different format as part of The Atlantic's Notes section, retired in 2021.
President Obama told The New York Times that reading books like The Three-Body Problem and The Underground Railroad helped him "slow down and get perspective" during his eight years in the White House.
This week, we asked our Politics & Policy Daily readers to share which books inform their daily lives and help keep things in perspective. Here are some of our favorite responses.
Tom Lucas suggested The Nightingale by Kristin Hannah:
The story of how French citizens faced so much difficulty during the Nazi occupation is relevant today when we talk about ISIS and how they took over cities in the Middle East.  I'm sure many of those citizens didn't want to take in the soldiers but were forced to do it in order to protect their families.  We are so far removed from this kind of suffering that it can be difficult to imagine, and understanding it more makes me appreciate how small our problems in America are by comparison.
Thomas Gierach suggested both fiction and nonfiction: Blood Meridian, by Cormac McCarthy, and Stamped From the Beginning, by Ibram X. Kendi.
Gail Driscoll enjoys Barack Obama: The Story by David Maraniss, Jon Meacham's American Lion, and J.D. Vance's Hillbilly Elegy—which she says "exposes the complexity of the problems facing much of the Rust Belt."
Marilyn Firth highlighted our own Ta-Nehisi Coates's Between the World and Me:
I found that after I read it, I filtered everything I saw on the news or on Facebook through the insights I had received from reading this book. I joined my local chapters of the NAACP and SURJ (Showing Up for Racial Justice). The name of SURJ is somewhat counter to what Coates says about race being an artificial construct of oppression which originated as a child of racism rather than the other way around, as most people believe. But SURJ is a resource for positive activism in a city that is predominantly populated by people who are known as "white."

Coates's book—coupled with Dee Brown's Bury My Heart at Wounded Knee, about our tragically cruel treatment of this country's Native population—are two books that will continue to inform my life by requiring me to always question the American dream, its shameful history, and the need to wake up from it, as Coates says. From these two books, I have learned to question constantly the assumptions we make about our country and our world and the roles we expect ourselves and others to play in them.
Paul Poletes also holds special appreciation for BTWAM:
Although I now live in a diverse neighborhood in Fairfax, VA, I grew up in South Dakota in the 1970s and 1980s.  I can (literally) count on one hand the number of non-white kids I went to school with.  Coates's childhood in an all-black part of Baltimore—a neighborhood where everyone lived in fear of both street gangs and the cops—had about as much in common with my childhood as kids growing up in Karachi or Moscow.  As a child my friends and I had almost nothing to fear—especially not the police, whom we saw as kindly, well-meaning protectors.  Sioux Falls was probably more diverse in the 1980s than Coates's childhood neighborhood, but barely (my neighborhood, on the other hand, wasn't—it was all white).  Only after I moved to Minneapolis for college did I meet people really different from me—one of my college roommates was black, while another was Muslim.

I've thought a lot about Between the The World and Me since November 8, especially when I hear the ubiquitous talk of liberal elites living in their coastal and big city bubbles.  Between the World and Me reminds me that everyone lives in their own bubble—urban, poor, rural, gay, Vietnamese, black, evangelical, Jewish, white, rich, Lutheran, Baptist, etc.  How many bubbles do I live in now?  I have no idea, but at least I'm better able to understand everyone else's bubbles too.
And lastly, Neel Lahiri picked The Book of Awesome by Neil Pasricha, writing:
For all that is wrong with society, it pays off to keep the small but important joys of life in mind. Reading a page a day is pure catharsis, and helps me remain calm even when the world is not.