These Pro-Lifers Are Headed to the Women's March on Washington
Is there room in the movement for people who morally object to abortion?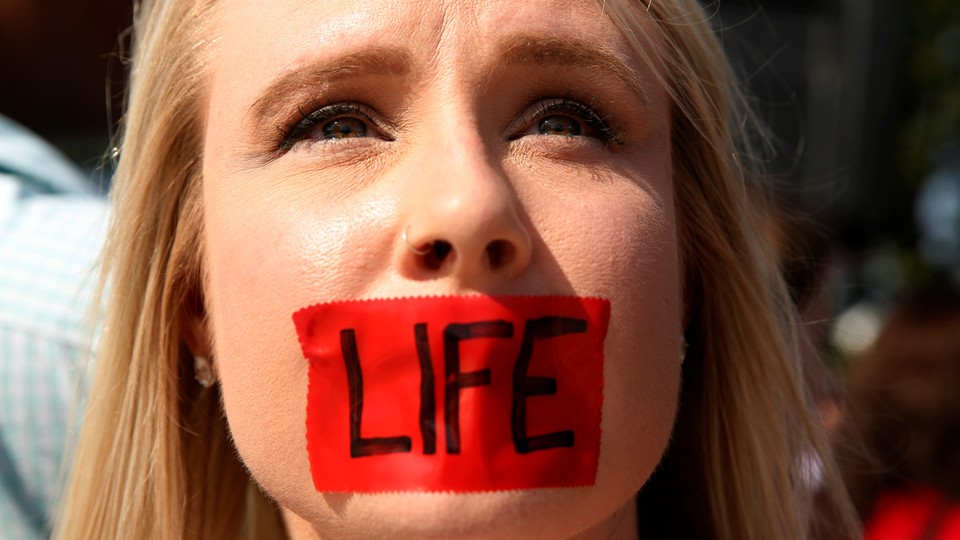 Updated on Monday, January 16 at 4:05 p.m.
Pro-life women are headed to D.C. Yes, they'll turn out for the annual March for Life, which is coming up on January 27. But one week earlier, as many as a few hundred pro-lifers are planning to attend the Women's March on Washington, which has been billed as feminist counterprogramming to the inauguration.
With organizations like Planned Parenthood and NARAL Pro-Choice America co-sponsoring the event, pro-life marchers have found themselves in a somewhat awkward position. What's their place at an event that claims to speak for all women, but has aligned itself with pro-choice groups? With roughly a week to go before the march, organizers also released a set of "unity principles," and one of them is "open access to safe, legal, affordable abortion and birth control for all people."
Some pro-lifers say they'll protest. A delegation from Students for Life of America will be there to march against the influence of "the abortion industry" in the women's movement, said Kristan Hawkins, the organization's president. And Jeanne Mancini, the president of March for Life, said she was planning to attend but doesn't know if she can now that the march's policy platform includes support for abortion.
But others are looking for solidarity. Many pro-life women felt just as outraged as pro-choice women about Donald Trump's conduct and comments, including the revelation that he once bragged about groping women without their permission. For their part, the organizers say pro-lifers will be welcome to march on January 21st. A pro-life group based in Texas, New Wave Feminists, was granted partnership status on Friday. "Intersectional feminism is the future of feminism and of this movement," said Bob Bland, one of the event's co-chairs. "We must not just talk about feminism as one issue, like access to reproductive care." (On Monday afternoon, after the publication of this article, the Women's March organizers removed the New Wave Feminists from their website and list of partners. "The Women's March's platform is pro-choice and that has been our stance from day one," the organizers said in a statement. "The anti-choice organization in question is not a partner of the Women's March on Washington. We apologize for this error.")
The pro-life movement is changing. Many young activists identify as feminists or atheists and reject a uniform alignment with the Republican Party, unlike their Phyllis Schlafly-style predecessors. Perhaps the Women's March on Washington is a sign that feminism is changing, too, ever so slightly: a first gathering of a truly "intersectional" movement which makes room for women with diverse convictions, including a moral opposition to abortion.
Some of the pro-life women going to the march are looking for solace in the wake of the election. "I was very concerned about the fact that in 2017, our presidential candidate was such a diehard misogynist," said Destiny Herndon-De La Rosa, the Texas-based president of a group called New Wave Feminists. "I get that he applied this pro-life label, but I don't know very many people who genuinely believe he's pro-life."
While the organizers say the march is not an anti-Trump protest, the fact that it's happening the day after inauguration is not a coincidence. The stated purpose is broad—to "send a bold message … that women's rights are human rights"—but Trump is clearly the context. In some ways, the march is not just about women; it's an affirmation of diversity. Bland gave a laundry list of groups whose voices will be at the center of the march, including people of color, those with disabilities, Muslims and "those of all diverse religious faiths," undocumented immigrants, and LGBT folks. "They have been particularly targeted during the election cycle, and now, there's a real concern that their rights will be stripped away," Bland said. "We're marching to say that we support them, and all women."
Nothing about this mission is incompatible with a pro-life viewpoint. In fact, some pro-lifers would argue that their work is explicitly focused on promoting the dignity of all people, including folks who don't fit a straight, white, conservative mold. A small group of marchers associated with the pro-life publication Life Matters Journal will be there to support "this actual affirmation of peace and human rights, not just for women, but for all people of any or no gender, ethnicity, religion, immigration status, age, or disability," said Rosemary Geraghty, a 20-year-old University of Pittsburgh student who works as the publication's the social-media coordinator. The only difference between her list and Bland's is that hers includes "the pre-born."
"Optics-wise, it looks terrible that any pro-life group would go out and protest women."
Other pro-life activists are attracted to the message of women's empowerment, but they're not interested in opposing the incoming president. "I'm not going to protest Trump's presidency. It's done. It's over," said Abby Johnson, a former Planned Parenthood clinic director who started an organization to help anti-abortion health-care workers find jobs that line up with their views. "But I do think he needs women to hold him accountable." She listed workplace inequality, the pay gap, and women's lack of access to health care as issues she wants to see highlighted under the next administration. "I'm just planning to go and join the march," she said. "I have no desire to protest or anything like that." Catherine Glenn Foster, a D.C.-area lawyer who also works as a senior fellow at the Charlotte Lozier Institute—the research arm of the pro-life advocacy group Susan B. Anthony List—said she's going neither to protest nor to stand in solidarity. "I would rather express that I'm committed to the march's ideals and would hold all of us to a greater realization of those ideals of non-violence for all," she said.
Some groups seem more interested in spinning up controversy than actually participating, though. Students for Life of America has invited hundreds of women to attend on Facebook, proclaiming that "we will not sit by as Planned Parenthood, our nation's abortion Goliath and a sponsor of this march, betrays women into thinking abortion is their only choice." Hawkins, who served in the Bush administration before taking the top job in the campus-based group, complained that Students for Life applied to be a partner in the march and never heard back, although they did receive an email encouraging all students to attend, she said. Bland said she was skeptical that any group would be rejected or ignored outright. The march has largely been put together by volunteers, many with little or no organizing experience, she said, and as a result, it's been a little chaotic.
Hawkins also objected to the high-profile pro-choice partners. The march originally had nothing to do with abortion, she said, but "they've allowed themselves to do is be bought out by big abortion." Some of the other pro-life women who are going expressly disagreed with this combative attitude, though. "Optics-wise, it looks terrible that any pro-life group would go out and protest women," Herndon-De La Rosa said.
"We're not just pro-lifers who are also feminists. We're feminists first and foremost."
While the pro-lifers I spoke with saw the pro-choice partnerships as a mistake, involving Planned Parenthood "was a no-brainer for us," said Bland. Especially with a fight over the Affordable Care Act ahead, "one of the challenges facing women in this incoming administration is access to reproductive care," she said. While pro-lifers might object to the organization's abortion services, 97 percent of what Planned Parenthood "offers are reproductive-health services that are desperately needed by women all over this country."
And yet, the march isn't primarily about reproductive rights, Bland said, or even narrowly committed to one view on issues like abortion. "We've had some really interesting discussions with conservative folks and folks who identify as pro-life," she said. While the organizers' general position is that "a woman's body is a woman's body is a woman's body," she said, "I can't tell you how many emails I received from women who identify as conservative who are marching with us on January 21 because there are so many other concerns." In all the emails they've gotten—close to 1 million, Bland estimated—women have expressed worries about cultural misogyny, the state of education and health care, and a desire for their own daughters to be able to lead. "There's a lot more going on than one single issue," she said.
Staunchly pro-choice advocates might argue that there's no room for anti-abortion views in any women's movement: "The ability to decide when or whether to have children is key to women's opportunity to be financially secure and pursue their dreams," wrote Planned Parenthood's president, Cecile Richards, in an op-ed for Time in 2015. But the pro-life women who are attending the Women's March on Washington are going to keep showing up.
"I know people want to say we don't exist, or we're an oxymoron," Herndon-De La Rosa said. "But we do exist, and we are true feminists. We're not just pro-lifers who are also feminists. We're feminists first and foremost."
The Women's March, in all its grassroots chaos, might be a feminist space where they're actually welcome—or, at least, where they can inconspicuously march along with everyone else. For her part, Bland said, she'll be glad to see women of all backgrounds show up. "That's what's really powerful about this: It's centering voices that have previously been either marginalized or silenced," she said. "I'm so grateful to have this opportunity to walk together with my sisters and brothers."