An Intelligence Report That Will Change No One's Mind
Multiple agencies have confidently concluded that Russian hackers intended to hurt Clinton and help Trump, but it's unlikely to persuade skeptics.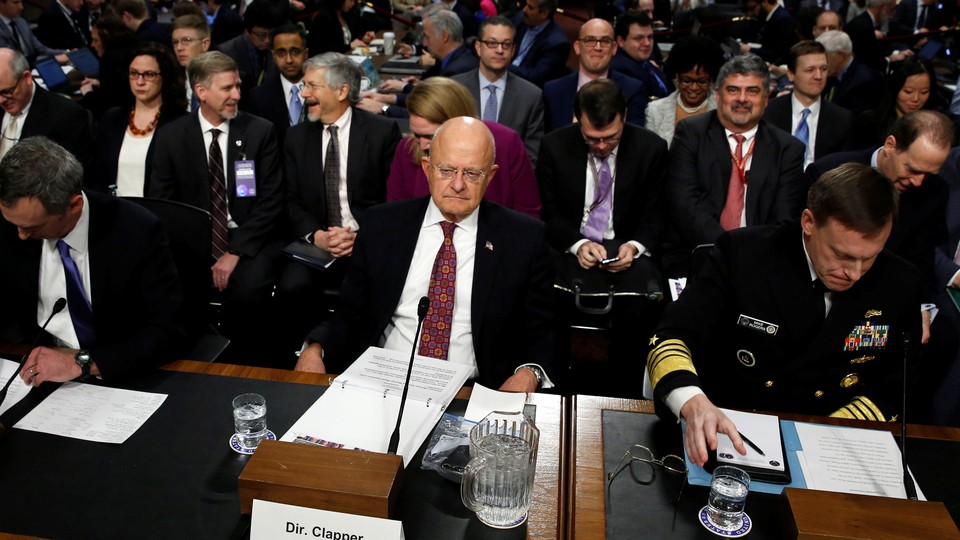 The Office of the Director of National Intelligence released its most detailed report on alleged Russian hacking aimed at interfering with the presidential election on Friday.
The 25-page report states that the CIA, FBI, and NSA have concluded that Russia was behind a series of attacks, as well as disinformation disseminated via various media, with the goal of undermining faith in U.S. elections and harming Hillary Clinton's presidential prospects and her prospective administration. They have concluded, however, that there was no meddling in vote tallying.
Although the unclassified report, which is based on a longer, classified report, uses the strongest language and offers the most detailed assessment yet, it does not or cannot provide evidence for its assertions. That virtually guarantees that it will not change many minds in the debate, which has become heavily partisan. The intelligence community is in effect telling readers, "trust us"—something the president-elect, among others, has been unwilling to do.
Donald Trump has repeatedly refused to accept the conclusion that Russia was behind the hacks, and has questioned the judgment of the intelligence community. The president-elect was briefed on ODNI's findings Friday, and based on a bland statement he released after the meeting, Trump apparently has not gotten any closer to crediting them. He appears to continue to view the debate as essentially a partisan one between Republicans and Democrats, and sniped at the Democratic National Committee's cyberdefenses in his statement.
"I have tremendous respect for the work and service done by the men and women of this community to our great nation," Trump said, but added:
While Russia, China, other countries, outside groups and people are consistently trying to break through the cyber infrastructure of our governmental institutions, businesses and organizations including the Democrat National Committee, there was absolutely no effect on the outcome of the election including the fact that there was no tampering whatsoever with voting machines. There were attempts to hack the Republican National Committee, but the RNC had strong hacking defenses and the hackers were unsuccessful.
While Trump stopped short of directly disputing the content of the report, his conclusions are sharply at odds with theirs. ODNI is blunt about Russia's role.
The report states with "high confidence" that Russian President Vladimir Putin not only sought to undermine U.S. democracy and Clinton, but that Putin and the Russian Government developed a clear preference for President-elect Trump." ODNI says that "when it appeared to Moscow that Secretary Clinton was likely to win the election, the Russian influence campaign began to focus more on undermining her future presidency." Trump's victory on November 8 came as a surprise to nearly everyone, including the Trump team.
According to ODNI, Russian pursued these goals through a blended strategy, including targeted hacks against political targets but also a propaganda rush employing "state-funded media, third-party intermediaries, and paid social media users or 'trolls.'"
The report notes that while some hacks also aimed at Republican targets, there was no comparable disclosure of documents. ODNI concludes that Russia's government, having obtained emails from Clinton campaign chair John Podesta and others, then distributed them through a website called DCLeaks as well as through WikiLeaks. (WikiLeaks has denied that Russia was its source for the documents.)
Republicans and Democrats in Congress have been much more willing to accept the intelligence committee's conclusions that Trump has. (As Politico's Gabriel Debenedetti noted, the ODNI conclusion closely mirrors what Hillary Clinton told donors in December.) Immediately following the report, Speaker Paul Ryan, a Republican, issued a statement that disagreed with Trump's suggestion of unclear responsibility while still asserting the legitimacy of Trump's election:
Russia has a track record of working against our interests, and they clearly tried to meddle in our political system. I strongly condemn any outside interference in our elections, which we must work to prevent moving forward.

We must also be clear that there is no evidence that there was any interference in the voting or balloting process. We cannot allow partisans to exploit this report in an attempt to delegitimize the president-elect's victory. Donald Trump won this election fair and square because he heard the voices of Americans who felt forgotten.
But for those less willing to take the intelligence assessment on faith, it's hard to imagine the report will convince them. A unusual coalition—ranging from Trump and his closest allies to the liberal journalist Glenn Greenwald, a longtime skeptic of U.S. intelligence agencies—have refused to accept the evidence without a smoking gun. The ODNI report does not, and for reasons of classification perhaps cannot, offer anything more than repeatedly, sternly worded judgment from the intelligence agencies. (Trump presumably received a classified version that may have offered more detail.)
ODNI goes to great pains to establish its credibility. The report states that "The tradecraft standards for analytic products have been refined over the past ten years," a timeline that picks up after the build-up to the Iraq War. It also offers an appendix explaining the jargon used to describe levels of certainty.
Peculiarly, the longest single section of the report is a lengthy appendix focusing on RT, the Russian state-owned television network, which was originally published by the CIA's Open Source Center in 2012. While the purpose of the appendix appears to be to demonstrate the way that Russia uses RT (previously known as Russia Today) to spread disinformation and the Russian government line, its length and its rather obvious conclusion—a Russian state-owned channel is a medium for Russian messaging—sit somewhat awkwardly beside the blunt but unspecified accusations in the short body of the report.
As the release of the ODNI report approached, there was an air of hope that it might put to rest the ongoing debate over who conducted the hacks and why. Director of National Intelligence James Clapper's tight-lipped answers about its contents during a Senate hearing on Thursday telegraphed that it might set the issue to rest. And who knows? Perhaps the classified version is full of specific, detailed, irrefutable evidence connecting the hacks to the Kremlin.
But as of now, the situation seems identical to what it was Friday morning: The president-elect rejects the intelligence community's assessment, Congress accepts it, and the spies cannot or will not publicly produce the evidence it would take to persuade the skeptics.