President Obama's Final Word: 'We're Going to Be Okay'
In his final press conference, the commander-in-chief reasserted his faith in progress and the American project.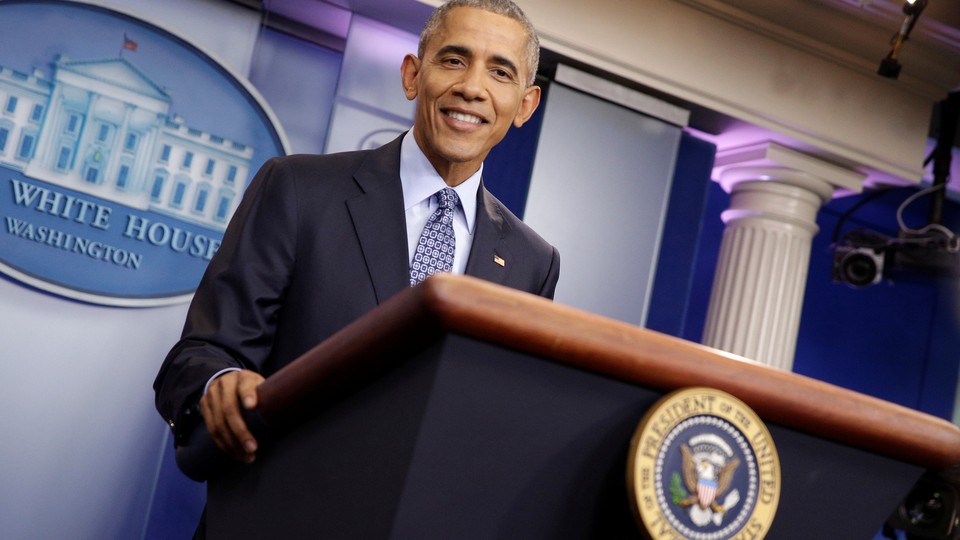 Barack Obama is the leader of the nation's progressive political party, but his belief in progress is more fundamental than a simple political label. "Hope" may have seemed a facile or even juvenile basis for a presidential campaign in 2008, but it was a sincere one, as Obama demonstrated one final time Wednesday afternoon in the final press conference of his presidency.
Speaking to reporters at the White House, he insisted that although the arc of history is long, passing even through a Donald Trump presidency, it does bend toward Obama's vision of justice. This faith that there is a right side of history has been a hallmark of his term in office, but it looks shakier than ever to many members of his party since the November election. As he did in his farewell address on Tuesday, Obama made the case for hope, even as he offered a series of warnings to, and about, the incoming Trump administration.
"I believe in this country. I believe in the American people," he said. "I think we're going to be okay."
It was telling that he offered that sentiment in response to a question about First Lady Michelle Obama's speeches during the presidential campaign, in which she portrayed the effects of a Trump victory as catastrophic for women, people of color, and others. Her husband, the eternal optimist, is more sanguine. "The only thing that is the end of the world is the end of the world," he said.
With his worldview rooted in that faith in the American project, Obama projected equanimity about Trump's approach. In the first days of his presidency, Obama offended Republicans when, in the midst of negotiations on policy, he reminded them, "I won." But the president on Wednesday offered the same courtesy to his successor that he had invoked for himself, asserting again that elections have consequences.
"The president-elect will have his own policy," he said, answering a question about Israeli-Palestinian policy. "The candidate for the ambassadorship [to Israel] obviously has very different views than I do. That is their prerogative. That is part of what happens in elections." At another point, he said, "Having won an election opposed to many of my initiatives, it is appropriate for him to go forward with his vision and his values."
But while he described his conversations with Trump as "cordial" and "substantive," he offered warnings that were both explicit and implicit.
In an interview with The Times of London, Trump suggested he would cut a deal with Russia, offering to undo sanctions levied after the illegal annexation of Crimea in exchange for nuclear-arms reductions. Obama criticized that, saying the United States had to stand up for sovereignty of nations like Ukraine: "This is a good example of the vital role that America has to continue to play around the world in protecting basic values."
As a word of advice to Trump, he emphasized the importance of hearing, and considering, good advice, and then acting upon it deliberately. "If you're going to make big shifts in policy, make sure you've thought it through. Actions typically create reactions. You want to be intentional about things."
Obama also asserted the importance of "treating people with basic respect." That could be read as a shot across the prickly president-elect's bow, though it came during a riff in which he was discussing the importance of fighting economic inequality. As he did last week, Obama advocated a class-based approach, cutting across racial barriers to include the struggling poor in both inner cities and struggling rural communities.
But the president also offered a list of the issues on which he would feel compelled to speak out. It is customary for former commanders in chief to absent themselves from politics for a time and give their successors area to maneuver, but Obama has said he would not sit quietly while some of what he sees as core American values were undermined. He sketched out those bright lines on Wednesday:  "systematic discrimination being ratified in some fashion"; any attempt to stifle dissent or the press; any effort to undermine the right to vote; or movement to deport undocumented immigrants who were brought to the United States as children.
The first two of those are somewhat abstract, but the second two are not. There are already, and have been for years, efforts to make voting more difficult, generally justified as an anti-fraud measure. Obama pointedly dismissed claims of voter fraud as "fake news," nodding to the many studies that have failed to come up with any evidence of major fraud. The second was a cornerstone of Trump's campaign promise to deport illegal immigrants, which would seem to set up a collision between the two men, though Trump has since backed off on the question of children somewhat.
Just this weekend, Trump aides floated the idea of kicking White House reporters out of the West Wing and into an adjoining building. The president replied to that idea in a preface in which he praised the press, saying, "Having you in this building has made this place work better. It keeps us honest."
He also told them, "You're not supposed to be sycophants. You're supposed to be skeptics. You're supposed to ask me tough questions." Reporters did not press him especially hard on Wednesday, though. He was not, for example, asked to name his biggest mistakes, a question that infamously stumped George W. Bush. Obama easily dodged a question about Democrats boycotting the election, bounced a question about prosecuting Julian Assange to the Department of Justice, and eagerly answered a question about his legacy of LGBT rights. Obama said he expected that the expansions in LGBT rights secured over the last eight years are irreversible. He also said he expected that the nation would not only see another African American president, but also a woman president, a Jewish president, a Hindu president, a Latino president. "I suspect we'll have a bunch of mixed-up presidents at some point that nobody really knows what to call, and that's fine," he said.
Obama prepares to leave office as one of the youngest and healthiest ex-presidents in American history, and curiosity runs high about how he will spend his time, especially with Trump's victory. Asked about his plans, he joked that he needed to make sure that his wife "is ready to re-up" on their marriage, and said he wants to spend time with his daughters. He added that he won't be running for office "anytime soon."
The most immediate priority, once he's had some time to process the last eight years, he said, is to work on his memoirs. "I wanna do some writing," he said, but first, "I want to be quiet a little bit and not hear myself talk so darn much." For many Americans, that will come as a relief. For many others, however, it will be hard to sustain the hope that Obama heralded eight years ago, and defended one last time Wednesday, in his absence.