Obamacare Repeal Moves a Step Closer to Reality
The House approves a budget resolution granting Congress the authority to scrap most of the health law with simple majority votes.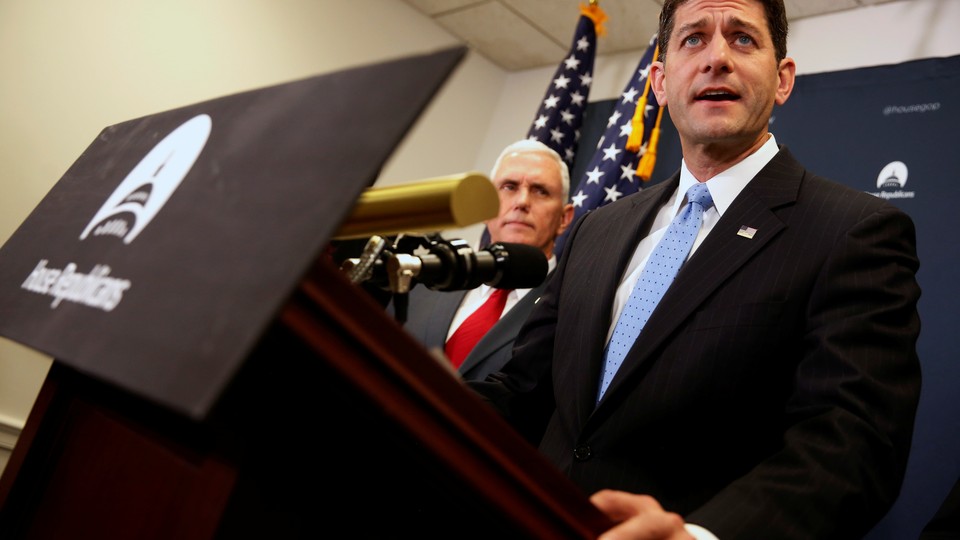 Republicans in Congress can now repeal most of the Affordable Care Act with a simple majority vote.
The House on Friday passed a budget resolution allowing Congress to bypass a Democratic filibuster in the Senate if and when they vote to gut the health law. The vote was 227-198, with nine Republicans joining all the Democrats in opposition. The Senate passed the same measure earlier this week on vote of 51-48. Because the resolution is a non-binding budget blueprint and not an act of law, it does not require a presidential signature.
What Congress approved this week was a necessary procedural step giving Republicans the power to repeal the tax and spending provisions of Obamacare, and the party demonstrated the ability to overcome some internal resistance to moving so quickly to dismantle the system enacted by President Obama and congressional Democrats.
But the next step will be much harder—actually repealing the Affordable Care Act. House and Senate committees must draft and pass legislation in accordance with the budget resolution, and party leaders will need to unify rank-and-file Republicans around a move that could generate significant political blowback from constituents anxious about how repeal will affect their health coverage. Under pressure from President-elect Donald Trump, GOP leaders have begun pledging to begin replacing Obamacare concurrently with repeal, but its not yet clear how they intend to do that given that the party has been unable to coalesce around specific healthcare legislation in the six years since the law was enacted.
The debate in the House on Friday provided a preview of the much more consequential fight to come. Republicans argued that the health law was already failing on its own and that they were moving urgently to "rescue" Americans struggling under rising premiums and fewer insurance options.
"My colleagues, this experiment has failed. This law is collapsing as we speak," Speaker Paul Ryan declared in a floor speech. "And we have to step in before things get even worse.
"This is nothing short of a rescue mission," he said. "By taking this step today, we are doing what is right. We are doing what is urgent. And we are keeping our promise to the American people."
To Democrats, this was all hogwash. They assailed Republicans for seeking to strip healthcare from more than 20 million people who have gained coverage under the Affordable Care Act with no plan ready to replace it. They said Republicans were misleading the public by criticizing the law's higher costs, pointing out that the rate of growth in prices had actually slowed during the past several years. Representative Nancy Pelosi, the Democratic leader and the architect of the ACA, denounced the GOP's "mythology" about the law and said they had nothing but a "non-existent, cut-and-run plan" to put in its place. "The Republicans are feeding their ideological obsession with repealing the ACA," she said, her hands slicing the air for emphasis.
After each Republican spoke, Democratic Representative John Yarmuth of Kentucky, the party's senior member on the Budget Committee, responded by reading statistics of the number of people who stood to lose coverage in their state because of repeal.
Republicans arranged piles of documents around their rostrum to demonstrate the many proposals they had put forward to replace Obamacare. Most of them involved a renewed emphasis on health savings accounts and creating state-run high-risk pools to cover people with pre-existing conditions while lowering costs for healthier consumers. "We have a plan," said Representative Rodney Davis of Illinois. "We're going to cover preexisting conditions because my wife's a cancer survivor and we have to do that!"
Representative Peter Welch, a Vermont Democrat, scoffed. "Wheres the plan?" he asked of Republicans. "You have a lot of paper over there, but it's not a plan."
A few Republicans rose to criticize the budget resolution, noting that while it paves the way for repeal of Obamacare it also assumes trillions of dollars in additional debt. "Reluctantly I will vote for this," said Representative Tom Garrett of Virginia, a newly-elected member. "I'll vote to pass this here today, but I refuse to call it a budget." In the end, most Republicans who shared Garrett's concerns supported the resolution anyway, moving repeal of the Affordable Care Act one step closer to reality.