'Let Them In'
In Washington, D.C., a crowd descended on the White House to protest President Trump's executive order on immigration.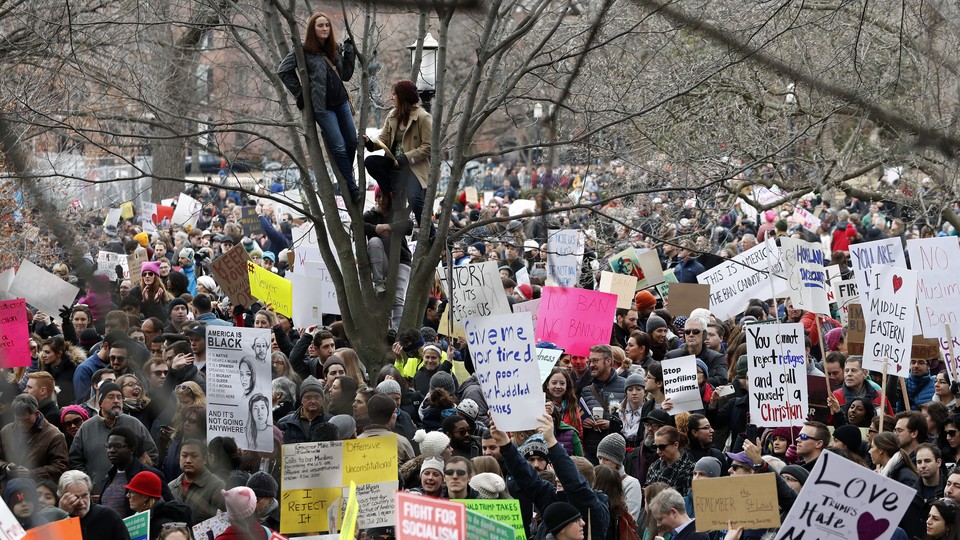 Just over one week ago, thousands of marchers filled Constitution Avenue for the Women's March on Washington, calling for full reproductive rights and celebrating modern feminism. The march had been planned for weeks, and it showed: Participants wore matching, knitted "pussy hats" and carried signs with expertly drawn, glittering uteri.
On Sunday, at a demonstration outside the White House, the posters were more hastily made, a sign of how quickly protesters had mobilized on those same well-marched avenues. People crouched on the street, scrawling messages on colored cardstock with Sharpie. "NO MUSLIM BAN," some posters said. Others proclaimed "Refugees Welcome!"
The protest was announced just a day before on Facebook in response to an executive order signed by President Trump on Friday. That measure restricts immigration from seven Muslim countries: Iran, Iraq, Syria, Libya, Sudan, Somalia, and Yemen. It also suspends the admission of all refugees for 120 days and bans all Syrian refugees indefinitely.
As soon as Trump signed the order, refugees, immigrants, and green-card holders arriving at airports across the country were detained. Large protests ensued at John F. Kennedy International Airport in New York and Dulles International Airport outside Washington, and immigration lawyers flocked to the aid of the detainees. So far, federal judges in four states have issued orders blocking the government from deporting some detainees, but as my colleague Matt Ford writes, the legal battles have just begun.
On this cold January afternoon, people took their protest to downtown Washington, filling Lafayette Square outside the White House. Bundled in coats and sweaters, they pushed as far as they could toward the fence separating them from Pennsylvania Avenue, repeating the mantra "No hate, no fear, refugees are welcome here" and chanting "Let them in."
A man named Tom sprinted by me on his way to the protest, wrapped in a giant American flag. "It's disgusting," Tom said of the immigration order. "It's politically misguided, but more than that, it's morally reprehensible." He brought the flag as a reminder, he said, that this country was built on immigrants.
Julie Looper, who's from the Washington area, said she was mostly worried about the message the order sends to other countries. "What we're showing the rest of the world now is we're hating," Looper said. "I don't want that to be what we represent to the world. America is welcoming. We want to be welcoming."
She and a friend were sitting on a concrete barrier, using it as a surface to write on big sheets of hot-pink cardboard. Looper held up her sign, a quote from Cher Horowitz, the main character in the 1995 movie Clueless: "It does not say R.S.V.P. on the Statue of Liberty!"
For many protesters, the ban is deeply personal. Shaun Zare, a manager at UPS, has lived in America since he was 16, but he was born in Iran. His parents, who are permanent residents of the United States, are out of the country, and he's not sure if they'll be allowed back in. "My wedding is about four months from now," Zare said. "So they're not going to be able to attend if Trump's going have this rule." (On Sunday evening, John Kelly, the secretary of Homeland Security, said that "lawful permanent residents" won't be barred from entry.)
Zare said he considers himself to be more American than Iranian, and that his American identity has always been about values, rather than race or political affiliation. "[Trump] is against everything that this country stands for," Zare said, "and we are here to protest that today."
Standing near the fence that blocked protesters from standing directly in front of the White House, a blond woman huddled with her two daughters. The woman, Mehrnoosh, was born in Tehran, but now she lives in Fairfax, Virginia. "I'm very sad," she told me, her voice trembling. "I've been crying for the past few days." Her sister, who still lives in Iran, was supposed to come visit, but now, she said, obtaining a visa could be a challenge.
Twenty-four-year-old Mariam Kanna came to the protest to voice her frustration over what she calls a "disgusting" move from the Trump administration. "I think that the majority of Americans, as evidenced by President Trump losing the popular vote, are opposed to this kind of thing," she said, holding a sign declaring herself a child of Iraqi immigrants. Kanna was born in the United States, but she's worried for family members living abroad who might struggle to come here because of the new immigration rules. "This executive order just directly impacts my family," she said. "I feel like my own government is rejecting me and people like me."
As we spoke, a group of protesters began to sing the Woody Guthrie song "This Land Is Your Land." The words rang out, soft and low, under persistent shouts of "Let them in!" The singers directed their signs and their words to the White House, a direct appeal to President Trump: "And all around me a voice was sounding," they sang. "This land was made for you and me."
"I think most people probably are horrified by what's happening, but the people at the highest level of our government seem to support this," Kanna said, looking around. "It's hard to see a way out right now."