Trump's Senior Adviser-in-Law
The president-elect names Jared Kushner, husband of his daughter Ivanka, to a White House post—but it's unclear if he can accept it.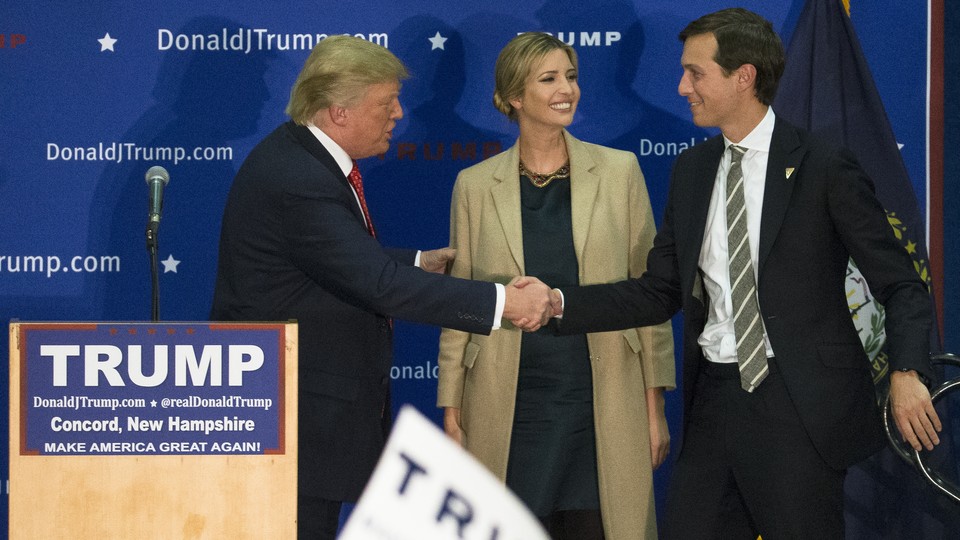 Updated on January 9 at 5:27 p.m.
Jared Kushner is a man who has been in the right place—or more precisely, the right families—at the right time, and been willing and able to bend the rules to move forward.
In the latest instance of that pattern, President-elect Donald Trump will reportedly name Kushner a senior White House adviser, CNN and The New York Times report, placing his son-in-law in a top post but setting up a potential showdown over the reach of federal nepotism laws. That would end weeks of speculation that Kushner would receive a top job at the White House, and it would represent a continuation of his role on the Trump presidential campaign, where Kushner gradually grew in influence, ultimately becoming one of his father-in-law's closest aides. Ivanka Trump, Kushner's wife, will take a formal role in the administration, CNBC reports.
As soon as rumors of a Kushner appointment bubbled up, ethics experts objected, saying his playing a role in the White House would fall afoul of rules instituted in 1967, partly in response to John F. Kennedy naming his brother, Robert F. Kennedy, as attorney general. But there are ways around the law. The statute specifies:
A public official may not appoint, employ, promote, advance, or advocate for appointment, employment, promotion, or advancement, in or to a civilian position in the agency in which he is serving or over which he exercises jurisdiction or control any individual who is a relative of the public official.
The law defines agency as "an Executive agency," "an office, agency, or other establishment in the legislative branch," "an office, agency, or other establishment in the judicial branch," or "the government of the District of Columbia," and it's the meaning of those definitions on which Kushner's eligibility for his new job hinges.
Ironically, it's Hillary Clinton who might bail Trump out here. When Bill Clinton named the first lady to lead a health-care task force in 1993, the appointment was challenged in court as a violation of the act. But the court concluded that the White House and Executive Office of the President didn't fall under the statutory definition. Will that work for Kushner? Opinions diverge, even between Norm Eisen and Richard Painter, who have emerged as the most consistent voices assailing Trump's ethical practices.
"We're not talking about Kushner running a side task force here," Eisen, who was Obama's chief ethics lawyer, told Politico in November. "We're talking about a regular staff job. This falls right in the bull's eye of the statute. I think it's illegal." But Richard Painter, who held the same position for George W. Bush, told ABC News that same month that while a Kushner job "clearly violates the intent of the law," there are also "arguments that could be used to try and wiggle around it if you were making an appointment in the White House."
The likely ascent to a job at the president's right hand represents the latest piece of good luck and good timing for Kushner, a spree that began with his birth as the scion of a prominent New York area real-estate family—a parallel between Kushner and Donald Trump that has not been overlook. Kushner was also lucky in marriage, with his union with Ivanka Trump bringing him into another prominent New York real-estate empire.
The attempt to circumvent nepotism statutes points to another characteristic of Kushner's career: He's been willing and able to have rules bent on his behalf. In a 2006 book on how colleges court wealthy donors, Pulitzer Prize winning reporter Daniel Golden reported that Jared Kushner was likely admitted to Harvard on the basis of a lavish gift that his father Charles made to the Ivy League college. Golden recapped his reporting in a recent ProPublica piece:
"There was no way anybody in the administrative office of the school thought he would on the merits get into Harvard," a former official at The Frisch School in Paramus, New Jersey, told me. "His GPA did not warrant it, his SAT scores did not warrant it. We thought for sure, there was no way this was going to happen. Then, lo and behold, Jared was accepted. It was a little bit disappointing because there were at the time other kids we thought should really get in on the merits, and they did not."
During the course of the campaign, Kushner gradually came to be seen as a more and more powerful figure. He helped shape Trump's Middle East policy and his March 2016 speech to AIPAC, an outing that was seen as surprisingly sober and prepared for a candidate mostly characterized by chaos and disorder. He was said to have a role in the June firing of Trump campaign manager Corey Lewandowski, who, according to some reports, had sought to plant negative stories about Kushner. But although Kushner is an observant orthodox Jew, he emerged as a major backer of Steve Bannon, the emissary of the "alt-right" who became Trump's final campaign chairman and is headed to the White House as its top strategist.
Kushner's hand is said to be at work in the falling fortunes of Chris Christie, the New Jersey governor who was an early backer of Trump. Christie, then a U.S. attorney, sent Jared Kushner's father Charles to jail for two years in a rococo case, in which Charles hired a prostitute to solicit his sister's husband, then taped the encounter and sent a recording to the sister. Christie was dethroned as head of the transition shortly after Trump's election, and has thus far been shut out of a post in the Trump administration.
Although Kushner has little experience in politics or government—he is the owner of the New York Observer, a weekly newspaper that has historically focused on media, real estate, and the doings of New York City's chattering classes—he is well connected in business circles. Kushner was reportedly a major advocate for Gary Cohn, the president of Goldman Sachs who has been appointed as the head of Trump's National Economic Council. Kushner has already been sitting in on meetings with foreign leaders like Japanese Prime Minister Shinzo Abe.
As Andrew Rice reports in a new profile in New York, the parallels between Donald Trump and Jared Kushner do not end with their backgrounds as the sons of major Gotham developers. Trump was for many years a Democrat and espoused standard liberal positions before taking his hard-right turn ahead of his presidential campaign. Kushner, like Ivanka Trump, seems to have been a fairly typical pro-business Democrat until recently—indeed, when his father was sentenced to jail, the New York Times headline identified him first and foremost as a "Democrat Donor." More recently, associates told Rice that Kushner had taken a hard turn right.
Even if nepotism laws can be overcome, Kushner risks running afoul of other White House rules. Because of his role running his family's real-estate company, Kushner is deeply enmeshed with a variety of business interests that could conflict with his role in policymaking. A deeply reported Times story on Sunday looked at the Kushner companies and how they intersect with, among other things, Chinese national interests. Despite Trump's belligerent words about China, a joint Trump-Kushner venture in New Jersey was financed in part with a maneuver that allows major overseas investors, in this case many of them Chinese, to get U.S. visas.
These connections could cause problems for Kushner. Or he could take the approach that Donald Trump has taken as president-elect, and simply refuse to acknowledge the deep conflicts of interest or do anything about them. If Kushner did that, it would be yet another case of like father, like son-in-law.