Is Obamacare Repeal in Jeopardy?
Republican leaders are facing more and more hurdles to scrapping the health law, but they are moving ahead with votes to scrap it—for now.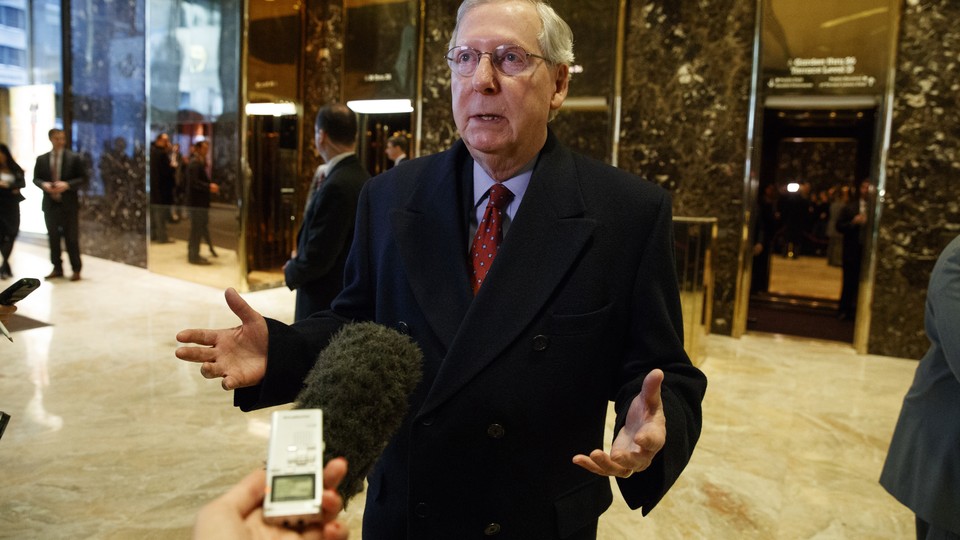 Republicans in Congress are quickly discovering that repealing a law governing an industry that's one-sixth of the American economy may not be as easy as they thought.
The GOP plan following the November elections was this: They would swiftly pass a measure repealing the Affordable Care Act through the House and Senate, delay the date of enactment by a few years, and buy themselves time to replace the law with conservative, market-oriented measures of their own.
Yet with each passing day, more and more Republicans are blanching at the idea, worried about the political and practical wisdom of scrapping the health law without having a new one ready to go. The latest to cast doubt on the plan Tuesday was the most important Republican of them all: President-elect Donald Trump.
In an interview with The New York Times, Trump said that while he wanted the Republican Congress to repeal Obamacare immediately, it should follow up with a replacement "quickly"—not the two, three, or even four years later that GOP leaders originally envisioned. "Long to me would be weeks," he said. "It won't be repeal and then two years later go in with another plan."
As The Times noted, Trump may be setting an impossibly high bar for Republicans to meet. Individual lawmakers have been advancing proposals for an Obamacare replacement for years, but the party has never coalesced around a single plan, in large part because the details are incredibly complicated and require all kinds of politically risky decisions about cost, access to care and insurance, and taxes. As recently as last week, House Speaker Paul Ryan was committed only to passing legislation taking the place of the Affordable Care Act sometime in 2017, with the understanding that it would not actually take effect until after an orderly transition out of the current system.
By Tuesday morning, however, that timetable had shifted considerably. "It is our goal to bring this all together concurrently," Ryan told reporters after a party meeting. He indicated that Republicans would try to pass as much of the replacement as possible through the budget process known as reconciliation, which allows the Senate to clear legislation dealing with taxes and spending through a simple majority vote rather than a filibuster-proof 60 votes. Yet experts on Senate procedure have said that while Republicans can scrap much of Obamacare using that process, most of the replacement would have to go through regular order, requiring 60 votes—and thus, some Democratic support.
The stated timeline for a replacement has moved up following complaints from Republican senators about the "delay" part of the leadership's original strategy. Senator Rand Paul of Kentucky, a former Trump rival for the GOP presidential nomination, has emerged as a leader of that pushback. He voted against the first procedural step Republicans took to set up repeal in the Senate last week, and in the days since he has sought to rally support—and even enlist Trump—in a bid to repeal and replace the law simultaneously. Judging by Trump's comments to the Times, the president-elect seems to be coming down in the middle of that debate—not  a simultaneous repeal-and-replace vote, but not a long delay either.
Senators Tom Cotton of Arkansas and Lamar Alexander of Tennessee, chairman of the Senate health committee, have also raised concerns about repeal-and-delay. And on Monday, a group of Republican senators introduced a budget amendment that could have the effect of putting off repeal of Obamacare until March, a significant delay considering that GOP leaders at one point wanted Trump to be able to sign that bill during his first days in office. Republicans have a more comfortable margin in the House, but even there, members of the conservative Freedom Caucus have urged party leaders to slow down, citing a desire to ensure that repealing the health law does not threaten their desire to balance the federal budget. Because of the taxes in Obamacare, repeal would increase the deficit in the short term.
Does this mean the GOP's longstanding drive to eviscerate the Affordable Care Act is in jeopardy? Not necessarily. Senate Majority Leader Mitch McConnell has vowed to press ahead with the procedural and budget votes to set up repeal, and thus far no Republicans have vowed to withhold their votes for that effort. While Democrats have warned about the real-life consequences of immediate repeal, Republicans are equally insistent that Obamacare is failing as it is, and they have argued they must act immediately to provide "relief" to Americans suffering from higher premiums and fewer insurance choices under the law.
But the GOP majority in the Senate is slim; McConnell can only afford to lose two votes, and it's unclear whether he can hold the party together when the decisive repeal measure comes up. If enough Republicans demand to vote on a replacement at the same time, the whole process could stall, perhaps indefinitely. President Obama's signature law is not safe, but it might survive his presidency at least a bit longer than Republicans hoped.