Halcyon Days for Conspiratorial Media
Alex Jones, Roger Stone, and their cohort are thriving at the dawn of the Trump era.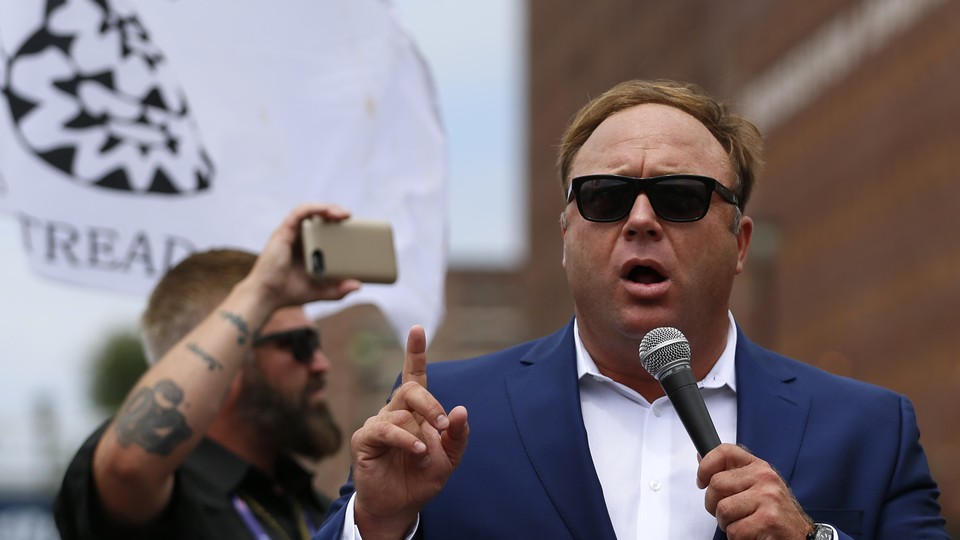 On Tuesday, Roger Stone went on the conspiracy theorist Alex Jones's Infowars show and claimed that he had been the victim of an assassination attempt via polonium poisoning.
Stone, the Donald Trump confidant and legendary political dirty trickster, told Jones that he couldn't have just been ill: He runs and lift weights, as well as taking the Infowars-branded supplements Jones sells. But who would want to hurt him? "I am an enemy of the deep state," Stone told Jones. "I think people know that I was an insider in American politics, I was close to power in nine presidential elections. Everything Glenn Greenwald says [about the 'deep state'] is true."
Stone, who was dumped (or, in his telling, quit) by the Trump campaign in August 2015 but remained an informal advisor, has a new book to sell: The Making of the President 2016: How Donald Trump Orchestrated a Revolution. It features a cover blurb from President Trump himself: "Roger Stone is one tough cookie … we appreciate him."
The dawn of a new administration is always a time of opportunity for enterprising politicos and media figures. This time around is no different, particularly for the colorful mix of characters on the margins of the right who have been emboldened by Trump and who have emboldened him in turn.
These are heady times for the likes of Roger Stone, Alex Jones, Julian Assange, Mike Flynn Jr., the alt-right, and others who might normally be relegated to the fringes of American politics. People like these have taken on a new importance in the age of Trump, a boundary-smashing political figure who has brought a most unexpected band of supporters into the mainstream, and whose rise has resulted in the blossoming of a series of connections between them. These figures are poised to enjoy unprecedented prominence and influence during Trump's presidency.
"We are now the mainstream," Stone told me. "CNN and the New York Times - they are the fringe."
Take Stone and Jones. The pair enjoy a strong working relationship, with Stone appearing often on Jones's Infowars show and hosting is own hour on the network once a week.
Jones is the premier voice in the 9/11 truth movement that argues that the September 11 attacks were an inside job, as well as a leading proponent of a multitude of other conspiracy theories. He has said he believes, for example, that the Sandy Hook massacre was a hoax. He's made similar statements about the Boston Marathon bombing and a series of other tragedies. He's also been a rock-solid Trump supporter, championing Trump as a man of the people who will stand up to globalist elites.
Jones's reputation as America's premier conspiracy theorist hasn't stopped Trump, who has a penchant for conspiracy theories himself, from directly interacting with him. In December of last year, he went on Jones's show, telling him "your reputation's amazing." Jones returned the favor, telling Trump that 90 percent of his audience was made up of Trump supporters—an estimate that takes on greater significance in retrospect. The person responsible for setting up the interview was, of course, Roger Stone.
Jones was in Washington for the inauguration, seemingly everywhere, following protests and even doing a surprise interview of a clearly uncomfortable Senator Ted Cruz in a chance encounter in a hotel elevator. Jones broadcast from outside the inauguration, surrounded by onlookers in Trump hats. At one point, he took a question from a man who identified himself as a Breitbart reporter. "What did you think of the speech today? He really laid the wood to 'em," the reporter asked.
"He just brought everything George Washington envisioned back, America 2.0, and just basically rebooted and launched the system, and it came out of there like a fiery phoenix, a fire-breathing dragon," Jones responded. "The globalists are crapping their drawers right now. This was pure Americana, and trailblazing, and science, and vision, and absolutely empowering this country."
"A global tipping point has been reached," Jones told me, in the form of a 36-second audio clip sent by a spokesman after this story was published. "Humanity is now seeking out information and news for themselves and not just blindly accepting whatever the corporate press attempts to shovel down their throats. There is a new reformation taking place in the minds of the people against the old status quo and the old orders. This is a true rebellion against the elites."
The night before, the National Press Club had played host to the Deploraball, a party associated with the white nationalist "alt-right" movement and the group MAGA3X (though one of MAGA3X's main co-organizers, Mike Cernovich, prefers the term "new right"). It attracted several major news outlets and a packed house at the National Press Club, where attendees listened to speeches from Cernovich, Milwaukee County Sheriff David Clarke, conservative provocateur James O'Keefe, and Michael Flynn Jr., the son of new national security advisor.
Though the party had been in the news as a locus of ideological infighting on the alt-right, Politico's Playbook listed it among other "Inauguration Party Hot Tickets," with no mention of the event's ideological underpinnings. The alt-right, in other words, is no longer a surprise, especially in Trump's Washington.
The alt-right's closest tie to the administration may be through the former Breitbart News chairman and current White House chief strategist Steve Bannon, who has described Breitbart as a "platform for the alt-right." But it's also connected through Michael Flynn Jr., who doesn't self-identify as a member of the alt-right, but whose social media presence puts him in their sphere. He commonly retweets alt-right figures and his racially charged comments have been documented by CNN. "Unfortunately, only reason minorities voted for BO is the color of his skin and NOT for the issues," Flynn once tweeted.
Flynn used to have a profile picture on Twitter and Facebook of himself wearing an Infowars t-shirt, according to CNN, and he has spread the "Pizzagate" conspiracy theory, tweeting in December, "Until #Pizzagate proven to be false, it'll remain a story. The left seems to forget #PodestaEmails and the many 'coincidences' tied to it."  He recently raised eyebrows by tweeting a story from the blog of Thierry Meyssan, a French 9/11 truth conspiracy theorist. The blog post cites "sources" who have inside knowledge of changes the elder Flynn plans to make to the intelligence community, leading to speculation that the younger Flynn might have been the source.
"I have automatic alerts set up to receive anything on the net regarding my father (that's how I received article)," Flynn Jr. told me in an email. "I have NO affiliation with Thierry Meyssan and have NEVER met or discussed ANYTHING with him."
On Sunday, Flynn deleted his Twitter account after referring to Trump's controversial executive order on immigration as a "Muslim ban."
Another figure made newly relevant by Trump is the Wikileaks publisher Julian Assange.
Assange, who has been hiding out in the Ecuadorian Embassy in London for over four years, promised earlier that he would give himself up for extradition to the United States if Chelsea Manning was pardoned. Last Tuesday, former President Obama commuted Manning's sentence, putting Assange in the position of having to deliver on his promise. (He didn't.)
But Trump's ascendance to the presidency raises interesting questions about Assange's future, especially since his organization played a key role in the hacked email disclosures that did so much to damage Hillary Clinton's campaign.
In a bit of a twist, Assange appeared to change his tune on Trump slightly last week. After Trump's advisor Kellyanne Conway said on television that Trump would not be releasing his tax returns, the Wikileaks Twitter account put out a request for the returns, and tweeted "Trump's breach of promise over the release of his tax returns is even more gratuitous than Clinton concealing her Goldman Sachs transcripts."
In 2010, Fox News' Sean Hannity warned that "people may die" because of Wikileaks' disclosures.  Now, the Trump-backing cable host has had Assange on his radio and TV show with some regularity for chummy interviews, including four appearances on the radio show alone. Hannity also recently scored a sit-down with Assange at the embassy in London, a rarity these days.
Hannity emerged over the course of the campaign as one of Trump's most ardent boosters. His advocacy put him front and center in the divisive war in conservative media over Trump, alienating him from Trump-resistant conservatives; "You can't live your life caring how the punditry class thinks of you," he told me last year. Hannity's penchant for Twitter fighting and spending hours each day on the radio and TV made him into a very public-facing figurehead for the Trump movement.
The other media entity that could give Hannity a run for his money in that regard is Breitbart News, which has reshaped itself into possibly Trump's most loyal outlet over the course of the election cycle. The site is now a useful window into the Trumpian worldview, and serves as a barometer of where Republicans stand in Trump's Washington. Although it long targeted House Speaker Paul Ryan, it's lately begun to soften, praising him last week for "warming up to President-elect Donald J. Trump's ideology." In the era of Trump, Breitbart has essentially become establishment media, and the proof is beginning to show itself in tangible ways. Breitbart reporter Julia Hahn and national security editor Sebastian Gorka are joining the Trump White House, it was reported last week, and the site has hired financial journalist John Carney from The Wall Street Journal, a sign that it seeks to compete with legacy media.
But an even more influential media figure lurks behind the scenes of this whole tableau, and that's Matt Drudge. Drudge dropped out of public view years ago, and has rarely spoken in public since. His last major interview was with—who else?—Alex Jones, in 2015. His facial features obscured, Drudge reeled off a litany of conspiracy theories. Since then, he's laid low, apart from attending a presidential debate last year with his friend Ann Coulter. But Drudge's influence has always been felt in other ways. The traffic he drives through the Drudge Report is significant to this day, and has done much to keep conservative media sites afloat. Drudge's agenda-setting capabilities meant that his Trump sympathies had a meaningful impact on the direction of Trump-related conversation during the campaign. Roger Stone has said that the "alternative media" represented by both Drudge and Jones played "crucial roles" in electing Donald Trump, and they seem set to do the same during the Trump administration.
Drudge, who regularly deletes all of his tweets, tweeted last Sunday: "In brave new media era, your eyes and ears will not witness same things…"