Trump Nominates Neil Gorsuch for the U.S. Supreme Court
In what could be one of his most enduring legacies, the president announced Tuesday night he had selected the 49-year-old federal judge to fill Antonin Scalia's vacant seat.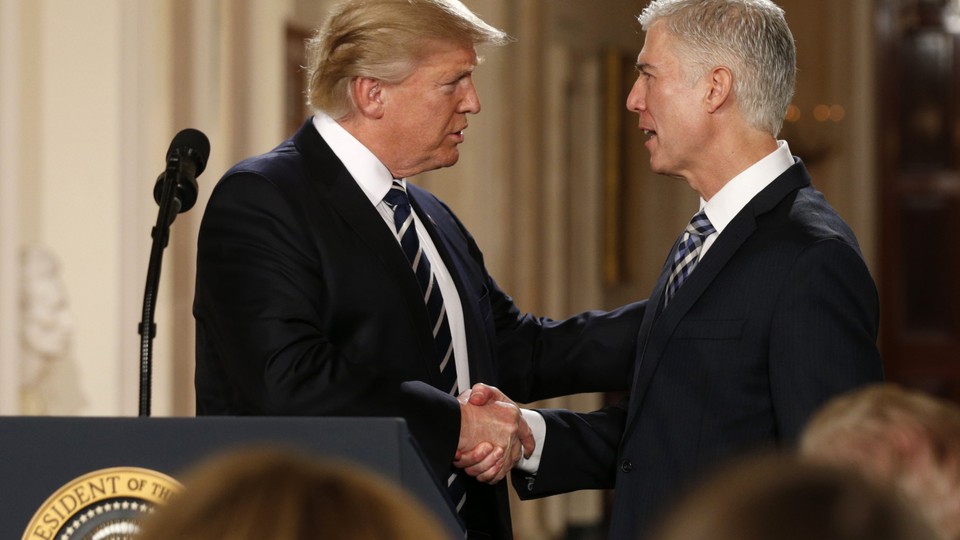 Updated at 8:50 p.m. ET
President Trump nominated Neil Gorsuch to fill the 11-month-old vacancy on the U.S. Supreme Court on Tuesday night, fulfilling his campaign promise to appoint a staunch conservative justice to replace Antonin Scalia.
In a primetime ceremony at the White House, Trump praised Gorsuch as among the finest jurists in the country and a worthy successor to the conservative icon he would replace.
"Judge Gorsuch has outstanding legal skills, a brilliant mind, tremendous discipline, and has earned bipartisan support," Trump said. "When he was nominated to the Tenth Circuit Court of Appeals, he was confirmed by the Senate unanimously."
Gorsuch, a 49-year-old federal appellate judge based in Colorado, currently sits on the Tenth Circuit Court of Appeals. Born in Denver, Colorado, he would be one of the few justices hailing from west of the Mississippi, adding some geographic diversity to a court where most of the justices hail from the Northeast. Gorsuch spent his teenage years living in Washington, D.C., when President Ronald Reagan appointed his mother, Anne Gorsuch Buford, to lead the Environmental Protection Agency.
His legal career reflects a rapid ascent to the upper echelons of the American judicial system. After graduating from Harvard Law School in 1991, Gorsuch clerked first for Judge David Sentelle, a longtime member of the D.C. Circuit Court of Appeals' conservative wing, followed by Justices Byron White and Anthony Kennedy on the U.S. Supreme Court. He then spent 10 years in private practice at a high-profile Washington law firm, followed by a year serving as a principal assistant to the deputy attorney general in the Department of Justice. President George W. Bush appointed Gorsuch to the Tenth Circuit in 2006.
Speaking briefly after Trump's announcement, with his wife at his side, Gorsuch expressed gratitude for the nomination and extolled those who held his seat before him, including his immediate predecessor.
"The towering judges that have served in this particular seat of the Supreme Court, including Antonin Scalia and Robert Jackson, are much in my mind at this moment," he said. "Justice Scalia was a lion of the law. Agree or disagree with him, all of his colleagues on the bench share his wisdom and his humor, and like them, I miss him."
With this nomination, Trump has met his campaign pledge to nominate a conservative jurist "in the mold of" Scalia, who died in February. Scalia's death propelled the Court's future to the forefront of the American political arena during the 2016 presidential election, especially on the right. A justice nominated either by then-President Barack Obama or Hillary Clinton would have likely given the Court's liberal wing its first five-justice majority since the Warren Court of the 1960s.
To prevent such an ideological shift, Senate Majority Leader Mitch McConnell, a Republican from Kentucky, vowed to keep Scalia's seat vacant until after the presidential election. Senate Republicans accordingly refused to hold hearings for D.C. Circuit Chief Judge Merrick Garland, Obama's nominee for the vacancy.
Trump's choice of Gorsuch in particular will likely hearten conservative activists and Republican members of Congress alike. He was among the 11 judges named on the second of two lists Trump released to assuage fears among the conservative legal community about his commitment to appoint a Supreme Court justice in their ideological mold. As my colleague David Graham noted earlier this week, nominating a reliably conservative jurist like Gorsuch could also shore up Trump's support among conservatives after a rocky opening week to his presidency.
Gorsuch's history on the bench is unlikely to disappoint them. On the Tenth Circuit, he carved out a reputation for relying upon an originalist interpretation of the Constitution—that it should be read from the perspective of those who first wrote it—when deciding cases. In the Hobby Lobby and Little Sisters of the Poor cases, which challenged the Affordable Care Act's contraceptive mandate on religious-liberty grounds and were eventually heard by the Supreme Court, Gorsuch sided strongly with the plaintiffs.
"The opinion of the panel majority is clearly and gravely wrong—on an issue that has little to do with contraception and a great deal to do with religious liberty," he wrote in a dissent in the Little Sisters of the Poor case. " When a law demands that a person do something the person considers sinful, and the penalty for refusal is a large financial penalty, then the law imposes a substantial burden on that person's free exercise of religion."
Unlike Scalia, Gorsuch is also a critic of Chevron deference, a legal principle under which judges generally defer to administrative agencies when interpreting federal statutes. And while he has never decided a case on abortion, he wrote in a book considering the morality of euthanasia and assisted suicide that "human life is fundamentally and inherently valuable, and that the intentional taking of human life by private persons is always wrong."
Many Democrats, still smarting over Senate Republicans' unprecedented stonewalling against Garland last year, are expected to put up a strong resistance to Gorsuch's nomination. Their most potent weapon to resist will be the filibuster. Senate Democrats eliminated it for all executive branch and judicial nominees when they controlled the Senate in 2013, but left it intact for Supreme Court nominations.
In a statement, Senate Minority Leader Chuck Schumer, a Democrat from New York, said he had "very serious doubts" about whether Gorsuch fell within the legal mainstream and could protect the Constitution from potential abuses of power by the executive branch.
"Make no mistake, Senate Democrats will not simply allow but require an exhaustive, robust, and comprehensive debate on Judge Gorsuch's fitness to be a Supreme Court Justice," Schumer said.