Courts Stay Trump's Order Targeting Muslims, but Confusion Reigns
At Dulles International Airport on Sunday, lawyers and activists feared federal officials were ignoring court decisions staying the president's executive order restricting travel from several mostly Muslim nations.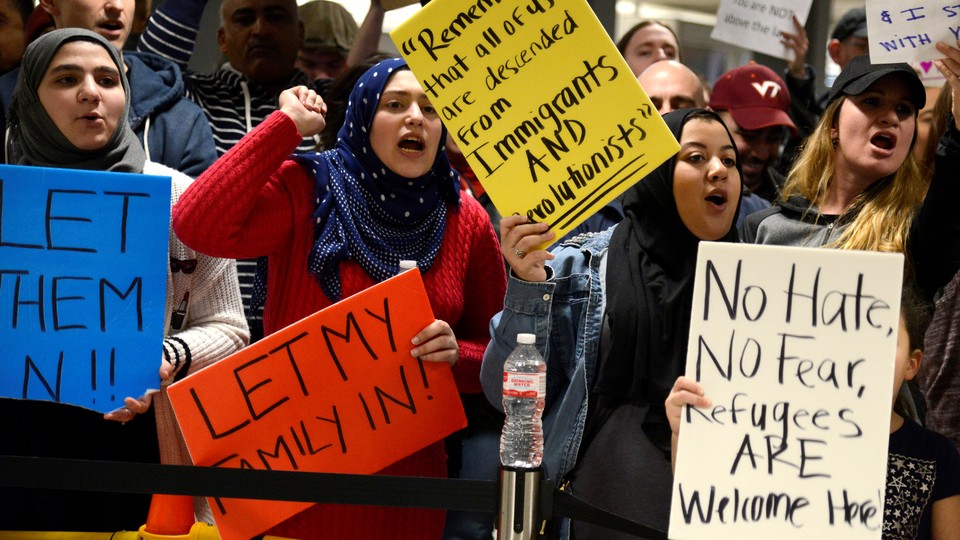 What the lawyers and protesters who gathered at Dulles International Airport outside Washington, D.C., on Sunday night didn't know about the impact of President Trump's executive order vastly outweighed what they knew. But they knew they had to do something.
Both groups arrived at the airport on Saturday knowing that people had been detained when the executive order, which restricts entry to the U.S. from several mostly Muslim nations, suddenly went into effect. But with no clear answers on whether Customs and Border Protection officials at the airport were following federal court orders temporarily blocking some of the restrictions, uncertainty reigned on Sunday. Even the number of people who were being detained inside Dulles, if any, was a mystery.
"We have zero idea," said Mirriam Seddiq, a criminal-justice and immigration attorney from Maryland who was among the assembled lawyers' de facto leaders. "We have none. Zero, zilch, no idea."
Nor was anyone at the airport forthcoming. The police officers who stood guard over the thin hallway leading to the U.S. Customs and Border Protection office said they didn't know, and that they probably wouldn't be allowed to tell anyone if they did. Airline employees at ticket counters would not say if any passengers had been pulled off of their flights and sent back. Even members of Congress were turned away Sunday afternoon during their attempt to ascertain whether a Virginia federal judge's order forbidding removal and requiring legal counsel at Dulles was being followed.
Hundreds of members of the American legal community faced similar hurdles as they flocked to airports nationwide over the weekend to defend and represent people they'd never seen or met. About 50 attorneys huddled inside a "war room" at the Dallas-Fort Worth International Airport in Texas, pressing for word from unresponsive officials about the fate of nine travelers detained there. All were eventually released on Sunday afternoon; Dallas Mayor Mike Rawlings personally apologized to them for their "unacceptable" ordeal. At JFK International Airport in New York City, a horde of lawyers took over the Central Diner in Terminal 4 and began writing petitions on behalf of more than two dozen people who had been denied entry.
Beyond the airports themselves, the entire Customs and Border Protection agency had also apparently gone silent. Telephone calls to CBP public-affairs officials from Arizona to Puerto Rico on Sunday went unanswered. Automated voice messages on both the CBP and Department of Homeland Security's primary media-inquiry phone numbers invited callers to leave messages in voicemail inboxes that were already full.
To fill that void, lawyers and some protesters at Dulles held signs aloft in English, French, German, Arabic, and Farsi outside the international arrivals terminal, each one asking travelers if they had seen anyone being detained during their voyage. Had they seen other passengers taken off airplanes? Had someone been taken away at their point of departure? Was anyone pulled aside during the primary screening checkpoint at Customs? Family members looking for relatives who hadn't appeared after their flight arrived also provided useful information about who was potentially missing, Seddiq said. But questions were many and answers too few.
"You get conflicting reports, of course, of what people were doing because people aren't paying attention," she told me. "I think right now there's a lot of fear too, so people are just not looking around, just getting off flights as quickly as they can."
Supporting this effort was a group of volunteer lawyers from the D.C. area, the army that my colleague Kaveh Waddell saw assembling on Saturday. More than two-thirds of them were young women; many were people of color. Participants identified themselves by writing their names on stickers in different color markers: red for lawyers with immigration experience, blue for those with foreign-language skills, black for any other attorneys who wanted to help. Their legal backgrounds also varied. Some came from high-profile law firms in the heart of the nation's capital. Others specialized in immigration law and suddenly found their career's path intersecting with a major political crisis.
Among those who offered their aid was John McGlothlin, a former Army paratrooper who used the G.I. Bill to attend law school after 14 years of military service, including tours in Afghanistan and Iraq. "I came here when I saw the Trump administration was not following the judicial orders to let in people who live here legally," he told me. "I didn't fight to bring the rule of law to other countries to see it ignored here."
As we spoke, he acknowledged another lawyer passing by. "Interesting times, am I right?" McGlothlin called to him. "Just like the Chinese curse," came the response.
To keep in touch, the lawyers relied on a WhatsApp group they had set up among themselves with about 300 members—some still at the airport, others chiming in from elsewhere. Updates were terse and unconfirmed. One lawyer said a passenger on a flight from Canada had been detained, but had no further information. Another passenger told one of them an Iranian woman may have been taken off a plane from Istanbul before the flight had left. A few lawyers speculated the CBP could have taken people it had detained to a separate facility outside Dulles, evading the narrowly tailored court order. But concrete facts were hard to come by.
Those who weren't gathering information in the terminal huddled on the cold linoleum between baggage-claim carousels, poring over laptops to find precedents for a possible motion of contempt against the CBP officers. (It was unclear when such a motion would be filed, or by whom.) Others brought supplies: cartons of bottled water, more than a dozen pizzas and other foodstuffs, as well as pens, paper, and other office trappings for writing petitions and motions. A quiet, determined energy filled the gathering.
One of the most troubling questions for those assembled was whether green-card holders from the seven Muslim-majority countries targeted by the order were still being detained. There were some indications on Sunday morning the White House would relent and allow them in, but nobody knew if the CBP officers had actually changed course. Then, as 8 p.m. neared, some certainty finally arrived: Secretary of Homeland Security John Kelly issued a statement saying he had granted a waiver for lawful permanent residents to reenter the United States, a full reversal of what had been one of the most roundly criticized parts of the new executive order.
And soon thereafter, word spread among the lawyers that an Iraqi family with four children, all of whom had green cards, had now finally made it through secondary screening. After passing through the cheering demonstrators and into the drab Dulles concourse, a squad of attorneys approached them and inquired if they needed legal assistance or other aid. Reporters jostled around them too, asking if they would be willing to be interviewed. But the family quietly and politely declined them all.
They just wanted to go home.