Why Some Democrats in Congress Refuse to Attend Trump's Inauguration
"Trump is absolutely trying to attack our democratic institutions and to make the country more authoritarian," one Democratic lawmaker warns.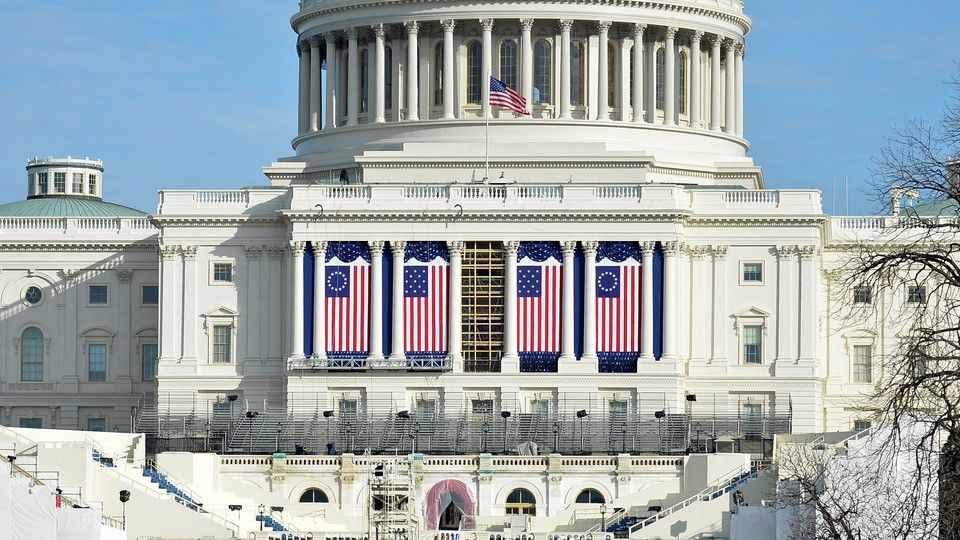 A steadily growing number of congressional Democrats are refusing to attend Donald Trump's inauguration, sending a message of resistance at the outset of Trump's presidency. It's less clear, however, what exactly that message is, and whether it will do the Democratic Party much good as it attempts to find its way in the Trump era.
The high-profile protest was galvanized by the president-elect's rebuke of civil rights icon John Lewis as "all talk" and no action" over the weekend after the Georgia congressman said he does not view Trump "as a legitimate president" and did not plan to attend Trump's inauguration. At the latest count, more than 60 Democrats in Congress have now announced they will not show up. Painting a bleak picture of what the country now faces, some Democrats warn that the incoming Trump administration could fundamentally erode American democracy.
"Trump is absolutely trying to attack our democratic institutions and to make the country more authoritarian," Democratic congressman Ted Lieu from California said in an interview, citing what he described as Trump's attempts to undermine the free press, and barrage of attacks against anyone who criticizes him. "Those are authoritarian actions, and I think it's important for those who love America and love our democracy to resist," he added. "I think our country is facing a grave threat," Jared Huffman, another Democratic congressman from California warned. "I don't think we can take for granted the continuation of democracy as usual."
The problem for Democrats is that a highly-publicized spectacle of resistance might contribute to an erosion of democratic norms in its own right if it disrupts the peaceful transition of power from one president to the next. The different reasons some Democrats have for not attending inauguration, and the fact that high-profile party leaders are not taking part in the boycott, also highlight the party's struggle to craft a unified opposition.
"It's really not something I ever could have imagined, but that tells you just how far out of the mainstream this particular situation is, and I can't normalize it," congressman Huffman said. "I can't sit there and pretend that everything's just fine with our democracy when I know it's not." When asked whether a boycott could further erode norms, however, Huffman added: "I do have that concern."
Seeking to defend the decision not to attend inauguration, Democratic Congresswoman Chellie Pingree said "there were numerous Republicans who didn't attend Obama's first or second inaugural," adding: "so it's not as much of a tradition or a norm as people think." A Senate Historian told The Sacramento Bee that  while "about 100 lawmakers skip the presidential inauguration every four years" due to scheduling conflicts, the Senate Historical Office "had no record of a boycott comparable to that being proposed for Trump's inauguration." And even if rank-and-file members of Congress don't always attend inaugurations, a high-profile show of resistance is far more dramatic then quietly skipping town.
Democratic congresswoman Pramila Jayapal from Washington decided not to attend the inauguration because she wants to spend time with her constituents, many of whom she says are "truly terrified" of what Trump's presidency might bring. She does not consider her decision a boycott, but argued that Democrats cannot back down from the potential threat of a Trump presidency. "He can't expect everybody else to play by the rules, if he himself is not playing by the rules," she said.
In making his case against Trump's legitimacy, Lewis invoked Russia's alleged involvement in the election. "I think the Russians participated in helping this man get elected, and they helped destroy the candidacy of Hillary Clinton," he said on Meet The Press. A report issued by the Office of the Director of National Intelligence recently concluded that Russia led an "influence campaign" during the election intended to "undermine public faith in the US democratic process, denigrate Secretary Clinton, and harm her electability and potential presidency," a campaign which involved the hacking and release of emails from the Democratic National Committee. It did not find any evidence of interference with the actual vote count.
Other congressional Democrats have pointed to reasons apart from the specter of election interference to argue that Trump's legitimacy is in doubt, though not every Democrat refusing to attend inauguration has gone so far as to say that Trump is illegitimate.
"The legitimacy I question really is more about his moral legitimacy," Democratic congressman Mark Takano of California said, citing Trump's criticism of Lewis over Martin Luther King Day weekend. "You need more than a technical, legal win of the Electoral College to lead our country ... you need a certain amount of moral authority, and respect from the citizenry," he added.
Congressman Lieu added that Trump faces "serious issues surrounding legitimacy," based on his refusal to release his tax returns and the warnings of ethics experts that he will face conflicts of interest when he takes office due to his business holdings. "I accept that Donald Trump will be our next president, but I absolutely have concerns about his legitimacy, and he alone can clear up those concerns," he said.
Trump himself spent years seeking to sow doubt over President Obama's legitimacy by falsely suggesting whether he was an American citizen. The rationale, tactics and circumstances are very different now: Trump was not an elected official, and was giving voice to false rumor and innuendo, not citing intelligence agency findings and the expert opinions of ethicists. Congressional Democrats' stature as elected officials could mean that whatever they say to sow doubt over Trump's legitimacy might be more likely to take hold among their constituents.
The show of opposition has met with criticism from some Republicans in Congress who suggest the action might have dangerous consequences. "I'm disappointed that all these Democrats are saying they're going to stay home," Republican congressman Sean Duffy said in an interview on CNN, arguing that if "these events become partisan in nature, that's bad for the country." Trump dismissed the protest as unimportant in an interview on Fox News. "What happens to their tickets?," he asked. "I hope they give me their tickets."
Of course, even the loftiest ideals would not prevent an inauguration celebrating the election of a political figure from being a partisan event on some level. And some Democrats have defended their decision as well within the bounds of expressing dissent in a democracy. "Not attending inauguration is fundamentally not about Democrats saying that we oppose the peaceful transition of power," congressman Takano said. "We are fundamentally doing an American thing by voicing our dissent. Nothing about a constitutional, peaceful transfer of power says that there's no room for dissent."
Whether Democratic defections at inauguration sets the tone for how the party works with Trump when he becomes president remains to be seen. Some Democrats have been quick to emphasize that just because they won't be attending inauguration does not mean they plan to refuse to work with Trump once he takes office. "There's a difference between obstructing for the sake of obstruction, which is what the Republicans did to President Barack Obama for eight years, versus not normalizing unacceptable behavior, and racism, sexism, and bigotry," Lieu said, adding: "If a piece of legislation is a good idea ... I'm going to vote for it. If it's a bad idea, I'm going to vote against it. I'm not simply going to obstruct and vote no."
Democrats may be concerned that voters will label them obstructionists, but in seeking to prove that they will work with Trump if he acts in good faith, they risk coming across as insincere. Anxious Democratic voters may find it hard to imagine how a lawmaker could on the one hand warn that Trump poses an existential threat to American democracy, but still find it acceptable to work with him if he comes up with a good policy proposal. It also seems unlikely that Trump and Democratic members of Congress who fiercely oppose so many of his statements and actions to date will manage to find much common ground.