Where Christian Leaders Stand on Trump's Refugee Policy
Many religious groups have urged the president not to give Christians priority in seeking asylum, but some conservative political organizations back his new ban on refugees.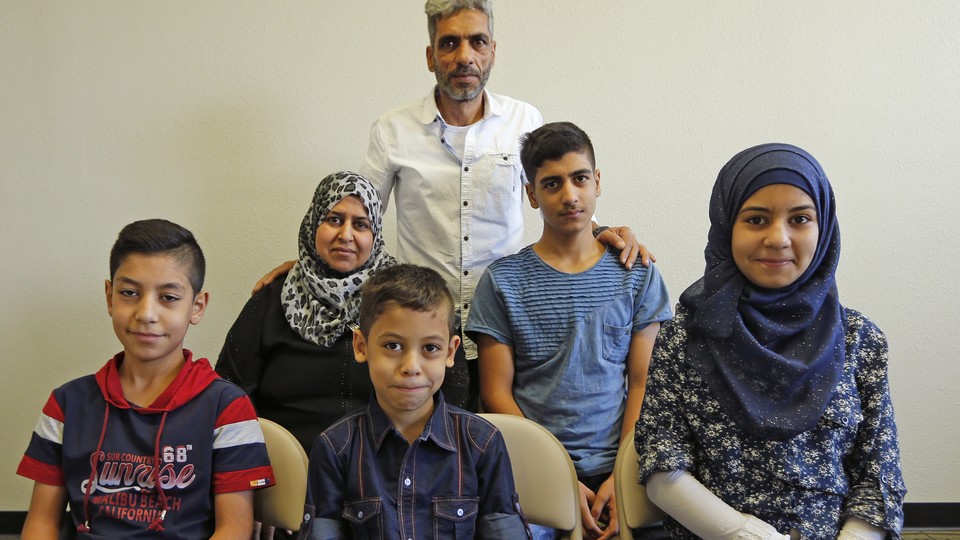 Updated on January 29 at at 3:03 p.m. EST
President Trump has signed an executive order that temporarily suspends the U.S. refugee program and bars Syrian refugees. It will likely suspend immigration from certain Muslim-majority countries and bars the admission of anyone who engages in "acts of bigotry or hatred," including "the persecution of those who practice religions different from their own." It also allows the the secretaries of State and Homeland Security to jointly admit individuals on a case-by-case basis, "including when the person is a religious minority ... facing religious persecution."
In an interview with the Christian Broadcasting Network on Friday, Trump clarified what this means: Christians refugees will be given priority status. "They've been horribly treated," the president said. "Do you know if you were a Christian in Syria it was impossible, at least very tough, to get into the United States? If you were a Muslim you could come in, but if you were a Christian, it was almost impossible." People overseas "were chopping off the heads of everybody, but more so the Christians," he added, "so we are going to help them."
The announcement was met with immediate backlash from leaders of nearly every Christian denomination, along with those of other faiths. They argue that Trump's actions do not reflect the teachings of the Bible, nor the traditions of the United States, and they have urged the president to let them get back to work—many of the country's most prominent refugee resettlement organizations are faith-based.
If so many prominent Christian leaders reject the notion that their fellow Christians should get preferential treatment, why has this become Trump's policy? One possible answer is that these leaders don't necessarily reflect what their flocks believe. Even if they think an open refugee policy is in line with the teachings of Christianity, lay Americans don't necessarily feel the same way.
From religious leaders' perspectives, backlash against Trump's immigration policy may be the most ecumenical issue in America right now. Hundreds of prominent clergy signed onto a letter condemning the "derogatory language that has been used about Middle Eastern refugees and our Muslim friends and neighbors," calling on Trump to reinstate the refugee program.
While these efforts included many progressive and mainline denomination leaders, along with an interfaith coalition of other clergy, it's not just liberals who are pushing back against Trump. A wide range of conservative Christian leaders, along with other relief organizations, have also spoken out against the president's decision.
"Christ calls us to care for everyone, regardless of who they are and where they come from," said Jenny Yang, the senior vice president of advocacy and policy at World Relief, the arm of the National Association of Evangelicals that provides refugee and immigration resettlement services. "That has to be a core part of our witness—not just caring for our own, but caring for others as well."
The United States Conference of Catholic Bishops, the official body of the Church in America, also declared that it "strongly opposes" Trump's executive orders. "We believe in assisting all those who are vulnerable and fleeing persecution, regardless of their religion," said Bishop Joe Vásquez of Austin, Texas, in a statement. "This includes Christians, as well as Yazidis and Shia Muslims from Syria, Rohingyas from Burma, and other religious minorities. However, we need to protect all our brothers and sisters of all faiths, including Muslims."
During his homily at a pro-life prayer vigil on Thursday, New York Cardinal Timothy Dolan said something similar, as I wrote on Friday: "Refugees and immigrants continue to believe that this nation is still a sanctuary, as they arrive with relief and thanksgiving," he said. "We pray they are never let down!" And on Sunday, Chicago's Cardinal Blase Cupich condemned the executive order directly, calling this weekend a "dark moment in U.S. history" and noting that turning away "refugees and to close our nation to those, particularly Muslims, fleeing violence, oppression, and persecution is contrary to both Catholic and American values."
"It would be wise to be open to a healthy immigration policy that allows people to flee."
During his campaign, Trump won the tentative support of Samuel Rodriguez, the head of the National Hispanic Christian Leadership Conference, who later offered a prayer during Trump's inauguration. This was an important endorsement—Rodriguez is a vocal advocate for immigrants and their families, many of whom are part of churches represented by his organization. Responding to Trump's order, Rodriguez told me, "We are a good nation when we are secured. We are a great nation when we are both secured and provide safety for those feeling from the most egregious circumstances." When asked whether he supports priority status for Christian refugees, he said, "In light of the fact that Christians are now the most persecuted religious group in the world, I would allocate 50 percent for Christians and 50 percent for other groups." While it is very difficult to know exactly how many Christians face persecution for their faith each year, and how their experiences compare to other groups', Pew Research Center found that Christians faced harassment in more countries than any other religious group in 2014—a number closely followed by Muslims, the world's other largest religious group.
Other organizations simply haven't chosen to be vocal on this issue. "I don't think we're that declarative," said Jim Daly, the president of Focus on the Family, in an interview. He said he wants "a process that we can have confidence in that people are being checked out," echoing President Trump's rhetoric. But he also believes the U.S. should offer religious asylum to families. "Yazidis and Christians and even Muslims who are persecuted—if we can verify their sincerity, and their story, as we've done for centuries, I think it would be wise to be open to a healthy immigration policy that allows people to flee," he said.
A small handful of Christian leaders have spoken out in favor of reducing or banning Muslims' entry to the United States, sharing in some of Trump's rhetoric about "radical Islamic terrorism."  For example: In the summer of 2015, Franklin Graham—the son of Billy Graham and head of his father's eponymous evangelistic organization, as well as the charitable organization Samaritan's Purse—wrote on Facebook:
We should stop all immigration of Muslims to the U.S. until this threat with Islam has been settled. Every Muslim that comes into this country has the potential to be radicalized—and they do their killing to honor their religion and Muhammad.
This week, he commented on Trump's executive order, telling The Huffington Post that "it's not a biblical command for the country to let everyone in who wants to come."
Graham may be reflecting what many Americans, including some of his fellow Christians, believe. As recently as last summer, 40 percent of Americans—including two-thirds of Republicans and 77 percent of Trump supporters—supported a temporary ban on Muslims coming to the United States, according to a report from the Public Religion Research Institute and the Brookings Institution. Nearly half of Americans also worry that they or their families will be victims of a terrorist attack, according to a 2015 PRRI survey.
"As Christians, we need to overcome our fear, legitimate as it may be."
"I think they're thinking about it through the lens of fear," said Bill O'Keefe, a vice president at Catholic Relief Services. "Many Americans have legitimate security concerns because of what they see on television and what they believe about how dangerous the world is." But, he said, the way "Muslims are portrayed on television does not reflect the experience of groups like Catholic Relief Services."
Contrary to Trump's claims, Christians refugees have not faced unfair treatment from the U.S. government compared to Muslims. Roughly the same number of Christian and Muslim refugees have been admitted to the United States each year in recent years, according to data from the State Department. It was only in 2016, the first time in a decade, that the share of Christian refugees dipped slightly below that of Muslims, to 44 percent of overall refugees.
On issues that directly affect the lives of religious minority groups, the voices of religious leaders matter. When Graham and the small handful of others like him speak out on these issues, they likely influence the faithful who follow them. It's very possible they've also influenced the president of the United States toward a tacit refugee policy that puts Christians first among religious groups, to the exclusion of others.
Meanwhile, the leaders who disagree with Trump will be left to keep shouting their concern. "The Christian religion is about love, and fear is actually the opposite of love," said O'Keefe. "As Christians, we need to overcome our fear, legitimate as it may be, and act on the basis of love and concern for the poor."