Breitbart Alumni Launch 'Populist-Nationalist' Group
Former Breitbart News reporters are founding a pro-Trump advocacy group.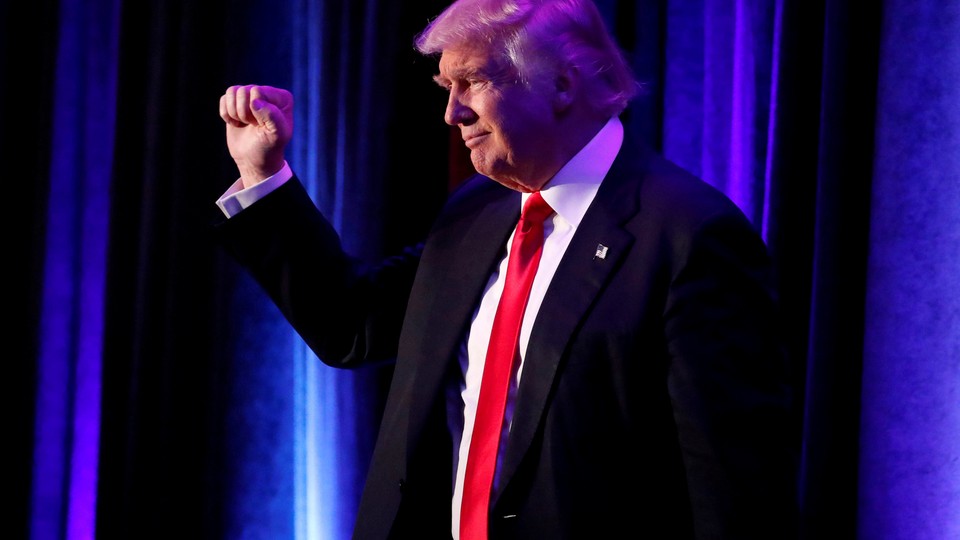 Patrick Howley, a former Breitbart News reporter, left the site under vague circumstances back in November. Howley told me at the time that he was leaving of his own volition because the site had become more "controlled" after the departure of Steve Bannon, the organization's former chairman who was hired for a top job in the Trump campaign and will be the White House's chief strategist in the incoming administration.
Now, however, Howley and other Breitbart News alumni are starting their own group designed to enforce Trump's agenda, combined with a planned media arm. So far, the group, which they are calling the America First Project, has surfaced in the press for trying to unseat the current chairman of the Florida Republican Party, who is seen by some Trump allies as having been untrustworthy during the election. Its existence is still more nominal than real. But the move by Breitbart alumni to form their own group indicates that ideological factions are already taking shape within the Trumpist populist-nationalist movement, even before its leader takes office.
Howley has made the rounds of the conservative media world in Washington, having done stints at right-wing publications like The Daily Caller and the Washington Free Beacon as well as Breitbart, where he was suspended for a time last year after publicly questioning his then-colleague's account of being manhandled by Trump's campaign manager at a press conference. He said he envisions the project as an "advocacy organization that is going to advocate for Trump administration policies that generally fall under a populist-nationalist window." (He doesn't primarily use the word "conservative." Howley has lost patience with the conservative movement's focus on cutting spending and entitlement reform. "Conservatives are not offering any solutions, all they're doing is cutting government benefits," he said.)
In Howley's view, Breitbart has lost its street cred by trying to go mainstream, and it no longer provides a voice for the "populist nationalist" movement that Trump represents.
"Breitbart's dropping the ball in term of explaining what all of this is about," Howley said. He's not pleased, for example, that the site hired John Carney from The Wall Street Journal to lead business and economics coverage. "They're going in a direction that I don't think is interesting. I think it's boring," he said.
"After Steve [Bannon] left, the people who are in charge of it now are more interested in being a mainstream organization that has credibility in the eyes of people who read The Wall Street Journal," he said. Dustin Stockton, another former Breitbart reporter who will serve as chief strategist for the group, was more measured, describing their relationship with their former organization as "really good."
Howley wouldn't say whether Bannon is aware of or has given his blessing to their group.
"You'd have to ask him," he said. "Bannon is somebody who is a contact of ours in the administration and he's always believed in me and he's always believed in Dustin."
Bannon left Breitbart News after joining the Trump campaign in August.
"I imagine there will be lots of competition to Breitbart, as there should be—it's healthy," Bannon said of the new group. "I'm still struck by how those on the left have not come up with a progressive version that goes after the Democratic establishment."
Howley plans an investigative outfit called Big League Politics as the media arm of his project, though Stockton said the launch for that site was some time away. The group has also brought on board Jen Lawrence, another former Breitbart reporter (and also Stockton's girlfriend), as well as Bruce Carter, an activist who ran a pro-Bernie Sanders group called Black Men For Bernie. Stockton said Lee Stranahan, a longtime Breitbart News writer, would informally advise the group while continuing to write for Breitbart. "A rising tide lifts all boats, so I view Donald Trump's victory in November as a rejection of establishment media and a chance for a  wave of new media outlets to provide reporting and energize activism," Stranahan said. "Breitbart's enormous new audience gets news from a variety of outlets already and I think Dustin, Jen and their team will be able to provide more of the kind of journalism that Breitbart readers appreciate."
Stockton said the group will be structured for now through an already extant (albeit bare-bones) PAC called the Western Representation PAC in order to be able to launch quickly. Stockton is still working out the details of how the group will be legally structured, but for now it will be a "hybrid PAC": a traditional political action committee operating in tandem with a super PAC.
Stockton's background is in the tea party groups of the early 2010s, and he was a reporter for Breitbart News until shortly after this election. His new group has an email list of around 200,000 addresses, Stockton said, to raise small-dollar donations, though they say they want big donors as well. Stockton would not identify which donors they are talking to. They have set a fundraising goal of $8 to $10 million in the first year.
One idea being kicked around is that donors could receive "Trump Enforcement Posse" or "Trump Enforcement Team" badges, a proposal that encapsulates the group's ambitions and approach.
Howley and Stockton have devised a series of escalating "pressure points" that they will use against members of Congress and other members of the "permanent political class" who they believe must be brought in line with Trump's agenda. Stockton laid them out in an email:
STAGE 1: Whipping votes on legislation by facilitating constituent to member contacts

STAGE 2: Deploying DC reporter team to question any members who evade/deflect

STAGE 3: Deploying production/reporter team to ambush in DC or in District/State

STAGE 4: Engagement with local activists and local media through earned/paid media

STAGE 5: Development of comprehensive opposition research file

STAGE 6: Organize local protests, town hall confrontations, and other grassroots action

STAGE 7: Promotion of potential opponents, creation of independent expenditure campaign

STAGE 8: Replace bad guys with good guys
Howley and Stockton described a program of "ambush interviews" and "tea-party tactics" designed to enforce cooperation with Trump's priorities.
The issues they're focusing on include some signature Trump proposals—the wall, protectionist trade policy—and some that are a little bit more outside the bounds of what is considered mainstream, even in this new era, such as "vaccine safety."
Trump has signaled his openness to vaccine conspiracy theorists, meeting this week with Robert F. Kennedy Jr., who believes that there is a link between vaccines and autism (a theory that has been debunked by researchers). Stockton and Howley said they had contacted Kennedy about vaccines. Reached by phone, Kennedy said he didn't recall being in contact with them. "I'm not familiar with those people but it doesn't mean I didn't see them at a speech or somewhere," he said. "I can't say I've ever met them, I'm not familiar with them and not familiar with the organization."
Like Trump himself, they show a certain ideological flexibility when it comes to the split between the left and right. Stockton said they are "looking to add several high-profile people on the left," and Carter's presence on the team represents an overture to recalcitrant Sanders supporters.
But their primary goal is ideological enforcement on the right. Maybe Trumpism would have had more cohesion, in fact, if Trump had lost; now that the project has succeeded, it has the time and energy for infighting.
"Now that we've saved the republic and protected our sovereignty, we can start having ideological arguments," Howley said.