A Defamation Suit Against the President-Elect
"I wanted to give Mr. Trump the opportunity to retract his false statements about me and the other women who came forward."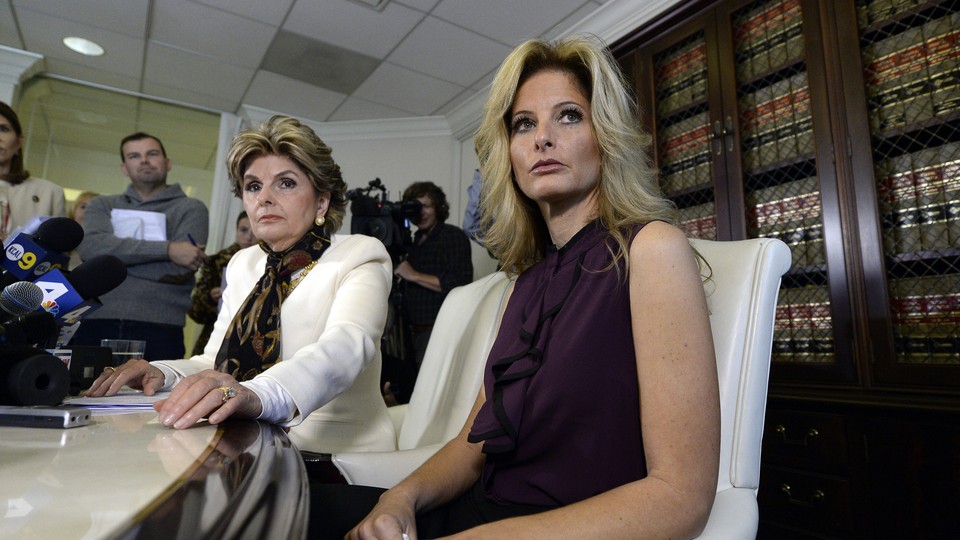 Former Apprentice contestant Summer Zervos, one of multiple women who've accused President-elect Donald Trump of sexual assault or misconduct, is now suing him for defamation.
Zervos first went public in mid-October, alleging that Trump non-consensually kissed and groped her at the Beverly Hills Hotel in 2007, where she met with him to discuss a job opportunity. Zervos announced the defamation suit alongside her lawyer, Gloria Allred—who's representing several Trump accusers—at a press conference Tuesday in Los Angeles, as thousands of miles away organizers of Trump's inauguration continue preparing the U.S. Capitol grounds.
Reading from the lawsuit, which she said was filed in New York Tuesday morning, Allred explained that Zervos initially thought Trump's alleged behavior was an aberration, a test, or something he regretted. But soon, "Summer Zervos saw Trump's behavior for what it was: that of a sexual predator," Allred said in her opening statement.
Multiple women levied sexual-assault or -misconduct allegations against Trump last fall after the release of a 2005 video from the celebrity-news show Access Hollywood. In the video, Trump is heard bragging on a hot mic about kissing and groping women without their consent—conduct he's repeatedly denied ever engaging in. The Washington Post has a detailed rundown of all the women who've levied accusations against Trump, from Jessica Leeds, who told The New York Times that Trump groped her on an airplane in the early 1980s, to Natasha Stoynoff, a People magazine reporter who claims Trump "forc[ed] his tongue down my throat" while she was on assignment in 2005.
According to Allred, it was after hearing Trump's words on the 2005 tape that Zervos realized she was "just one of many women who'd been victimized" by Trump's alleged "predatory conduct." Afterward, she retained Allred's counsel and first discussed her story publicly at an October news conference.
Trump has responded to all of the women's allegations the same way, by denying their claims and criticizing them personally—attacking their credibility, their character, and their looks. "These people are horrible people, they're horrible, horrible liars. And interestingly, it happens to appear 26 days before our very important election, isn't that amazing?" Trump said at a mid-October rally, where he framed the accusations as part of a conspiracy to undermine his campaign. "Look at her, look at her words," he instructed the crowd, referencing Stoynoff's appearance. "You tell me, what you think. I don't think so."
Others in the Trump campaign also tried to discredit his accusers, and Trump himself said he'd take legal action against them. "All of these liars will be sued after the election is over," Trump said in late October. In response to that threat—which never came to fruition—Allred told reporters at a post-election press conference in November that she might sue him.
At Tuesday's news conference, Allred said Trump had used "his national and international bully pulpit" to make false statements and "verbally attack" Zerbos and the other women. His statements against Zervos—claiming she made up her story, that he wasn't inappropriate with her, that she and other women lied—were defamatory, Allred said.
"I wanted to give Mr. Trump the opportunity to retract his false statements about me and the other women who came forward," Zervos told reporters on Tuesday. Because he's done so such thing, "he's therefore left me with no alternative than to sue him in order to vindicate my reputation." Zervos said she would still dismiss the suit if Trump were to withdraw his earlier statements and say that she's been telling the truth.
That doesn't seem likely to happen. Asked for comment on the lawsuit, Hope Hicks, a Trump transition-team spokeswoman, said: "More of the same from Gloria Allred. There is no truth to this absurd story."
Zervos's lawsuit is the first to come out of the sexual-assault or -misconduct allegations against Trump. But it's not the only suit the president-elect is involved in. As of late December, Trump was in the midst of several cases stemming from his real-estate business, as well as "a number of active lawsuits" that stem from activity at his campaign rallies, as CNN has reported.
Zervos might not be the only woman to take the lawsuit route, either. Allred is representing other women who've levied accusations about Trump, and he's criticized them publicly as a group. More, similar cases could arise.
Trump hasn't yet made a public statement about the Zervos lawsuit, but he can probably be expected to issue one. Since winning the presidential election, President-elect Trump has comported himself in much the same way as Candidate Trump.
He still uses Twitter regularly to communicate with his supporters and critique his critics, most recently targeting civil-rights icon Representative John Lewis of Georgia for refusing to attend his inauguration. Given how harshly Trump condemned his accusers in the weeks leading up to his election, it's possible the soon-to-be U.S. president will launch similar attacks as the lawsuit proceeds. Only this time, those attacks would come from the White House.