Will Obama Retaliate Against Russia Before He Leaves Office?
The president will face questions about acting against Vladimir Putin during his final year-end press conference on Friday afternoon.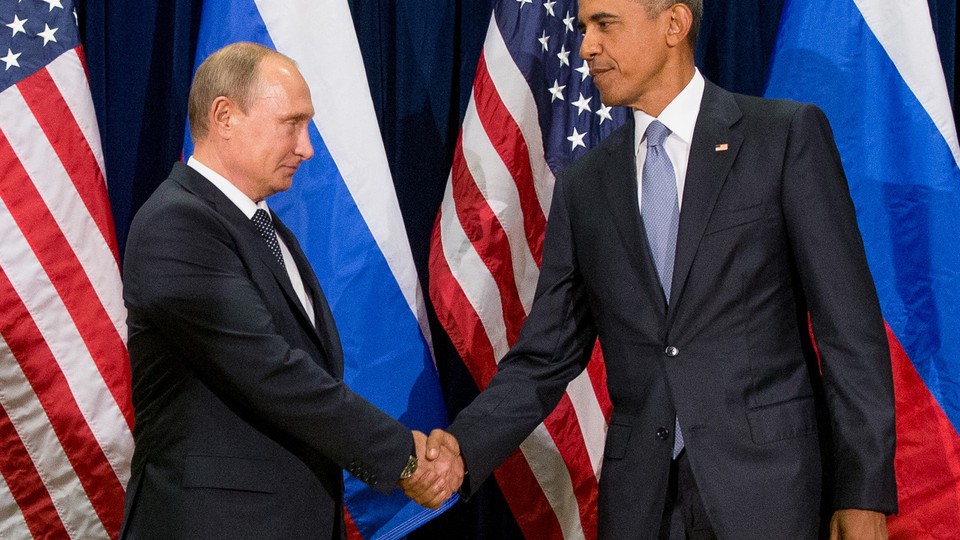 Barack Obama is president for another five weeks. Will he retaliate against Russia before he leaves? And if so, how?
Those are the most pressing questions Obama will face on Friday afternoon as he holds his final press conference of the year—and perhaps his presidency. Don't expect him to detail precisely how the United States will respond to what the government considers solid evidence that Russia interfered in the presidential election on behalf of Donald Trump. But Obama has already hinted that a retaliation may be in the offing.
"I think there is no doubt that when any foreign government tries to impact the integrity of our elections ... we need to take action," Obama said in an NPR interview that aired Friday morning. "And we will—at a time and place of our own choosing. Some of it may be explicit and publicized; some of it may not be."
The reality is that Obama has precious little time left to choose for a response to Vladimir Putin, and his decision to further escalate tensions in the weeks before he leaves office threatens to unravel the surprisingly cordial and cooperative relationship he's forged with his successor, President-elect Donald Trump.
That awkward alliance is already fraying amid reports that the CIA believes the Russians hacked Democratic email accounts with the express purpose of helping Trump defeat Hillary Clinton. Trump has disputed the claims and falsely asserted that the Obama administration kept quiet about Russian interference before the election. In a Friday tweet, he went a step further and once again brought up one of the revelations from the emails that Russian hackers purportedly stole:
Are we talking about the same cyberattack where it was revealed that head of the DNC illegally gave Hillary the questions to the debate?

— Donald J. Trump (@realDonaldTrump) December 16, 2016
At a rally Thursday night in Pennsylvania, Trump called White House press secretary Josh Earnest "a foolish guy" after the spokesman reminded reporters that it was the Republican nominee who explicitly asked Russia to hack Clinton's emails during the campaign. Obama will likely face questions Friday both about Trump's rhetoric and whether there was more his administration could have done to prevent Putin from so brazenly meddling in the election.
In her own event with donors on Thursday night, Clinton made clear that she believed the combination of the Russian hack and FBI Director James Comey's late-October letter to Congress about her email server cost her the election. In a recording of her remarks published by The New York Times, she said that Putin had "a personal beef" with her that dated to her time as secretary of state, when she cast doubt on the legitimacy of his election as president and protesters filled the streets of Moscow. There was "a direct line," Clinton said, between that incident and Putin's direction of Russian interference this year. "This is an attack against our country," she said. "We are beyond normal political concerns here. This is about the integrity of our democracy and the security of our nation."
The question now: What will President Obama do about it?
While Friday's press conference will likely be dominated by Russia and Obama's relationship with Trump, there are a number of other topics the president might be asked to weigh in on:
How does he answer critics who say his policy in Syria is at least in part to blame for the unfolding tragedy in Aleppo? Was there more the U.S. could have done to prevent or mitigate the deaths of thousands of civilians there?
What is Obama's message to members of the Electoral College who will meet in state capitols on Monday to cast their decisive votes for president?
Will the president endorse the bid of his labor secretary, Tom Perez, to be chairman of the Democratic National Committee, and where does he stand in the roiling debate over the lessons his party needs to learn from the election?
After Obama finishes answering questions this afternoon, he'll board a flight to Hawaii for his annual year-end vacation. When he returns to the White House on January 2, the end of his presidency will be less than three weeks away.