Why Are So Few Women Running for DNC Chair?
Democratic women should have plenty to say—not just about the direction of their party but also about the state of women's leadership in the American political system.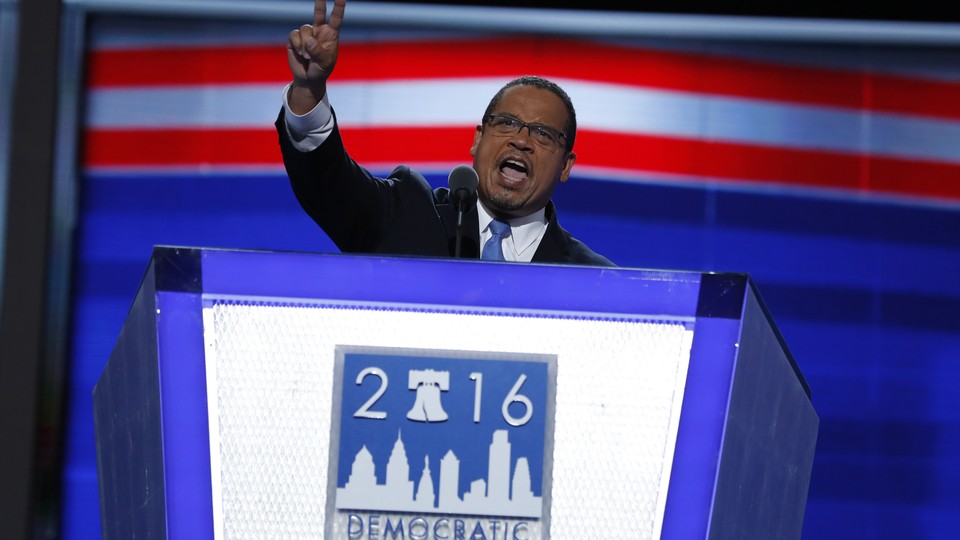 Updated on December 19 at 12:25 p.m. ET
As you may have heard, the Democratic Party is undergoing a slight existential crisis this season. Slice and dice it however tickles your fancy--identity politics vs. economic populism, centrism vs. progressivism, insurgency vs. establishment, Millennials vs. Boomers--getting bested by Donald Trump has thrown Dems into a "struggle for the soul of the party" of the kind that so intoxicates political watchers. More irresistible still, a made-for-TV microcosm of this struggle exists in the increasingly crowded battle to become the next chairman of the DNC.
Late last week, Labor Secretary Tom Perez jumped into the mix, bringing the number of officially declared candidates to four: Perez; Minnesota Rep. Keith Ellison (the current frontrunner); Jaime Harrison, head of the South Carolina Democratic Party; and Raymond Buckley, head of the New Hampshire party. For a while, ex-DNC chairman Howard Dean was in the running, but he bowed out earlier this month. Similarly, former Maryland Governor and 2016 presidential wannabe Martin O'Malley made some noises about jumping in before fading from the scene.
Like the Democratic Party itself, the DNC contenders are a diverse bunch. Perez is of Dominican descent, and Ellison and Harrison are African American. Ellison is one of only two Muslims in Congress. Buckley is openly gay. But until Friday, when Idaho Democratic Party executive director Sally Boynton Brown entered the race, each of the aspiring chairmen were men.*
Not to get all gender politicky, but does it strike anyone else as slightly odd, if not patently absurd, that so few women have entered the DNC fray? After the election Americans just went through, not to mention the guy who wound up winning, you'd think Democratic women would have plenty to say—not just about the direction of their party but also about the state of women's leadership in our political system. (In a nutshell: improving but still pathetic.) Say what you like about Trump's peculiar charms, he won by loudly running as an unreconstructed comic-book tough guy vowing to swagger in and rescue America from all the lily-livered unmanliness of recent decades. He was the ultimate "Who's your daddy?" revanchist. With a character like that in the White House, you'd expect women to be lining up to push back.
There are, in fact, early signs of rallying at the grassroots. The folks at EMILY's list report that donations are flowing in at an impressive rate for what is typically a dead period for fundraising. "We've raised over half-million dollars since Election Day," Marcy Stech, the group's communications chief, tells me. "Roughly a third of donors to come in are new."
More anecdotally, the group is also seeing a rise in women looking to run for office. "We have long known at Emily's List that women who want to run for office for the first time tend to do so for two reasons," says Stech. "One, they want to fix something. And, two, they're mad as hell. Right now, we have a beautiful combination of both those things. Women are ready to step up."
Meanwhile, the new political incubator She Should Run reports that more than 4,500 women have signed up to run for office through its web site.
With so many gals fired up to demand a seat at the table, surely one woman wants to organize the charge.
For years now, Republicans have been fretting about their lady problems. As many of the party's female activists are forever pointing out, women are not some quirky subgroup of voters to be patronized. They are a solid majority of the overall electorate—and, vast and varied though their perspectives may be, they consistently trend Democratic.
Trump does not fundamentally alter that dynamic. Indeed, the 2016 elections have left women even more wildly underrepresented in the ranks of GOP leadership. The number of Republican women in the Senate has shrunk to five (poor Kelly Ayotte), their representation in the House to 21, and their representation in House leadership from three down to one. (None of the conference's half-dozen leadership posts in the Senate will be held by a woman.) And while it's early yet, thus far Trump's White House—the sparkling Ivanka notwithstanding—isn't shaping up to be a hotbed of female leadership.
There will, however, be at least one new female power-player on the scene: The head of the RNC. Outgoing chairman Reince Preibus, on his way to be Trump's chief of staff, pushed for a Midwestern gal to take his place. Going forward, Michigan GOP chairwoman Ronna Romney McDaniel—a niece of Mitt's whom Trump likes to refer to as "his Romney"—will become the committee chief.
None of which is to say that the Democrats absolutely, positively must have a woman atop the committee. They do, however, absolutely, positively need more women's voices, perspectives, and wisdom in the mix of those debating how to restore the party's mojo.
It's not as though Dems lack available talent. Even ignoring women officeholders (since the party has decided it needs a full-time chair), there are contenders aplenty: Stephanie Schriock or Jess O'Connell from EMILY's List; Ilyse Hogue at NARAL Pro-Choice America (who has been publicly mulling a run); Amanda Renteria, who just finished a bruising term as political director for Team Hillary; Mindy Myers, who ran the independent expenditure arm of the DSCC this cycle. Or, heck, since Dems were for a while there floating Joe Biden as a long-shot fantasy candidate, why don't they get equally crazy in a different direction and beg Michelle Obama to take over? If the party is going to dream big, it should dream really big.
A couple of female Democratic strategists suggested to me that the DNC landscape could change before the new chair is chosen at the committee's meeting in late February. "Men in politics tend to see themselves as the right fit and on day one jump right in," chuckled one. "Democratic women operatives are smart. They're going to take their time and be thoughtful and strategic. They want to make sure that, if they put their name in, they know what exactly they want to do and what their purpose is—and know that they have an appetite for it."
On one hand, that sounds totally sensible. On the other, it also sounds depressingly like the explanation you too often hear for how women wind up underrepresented in so many areas. They are so sensible and "thoughtful and strategic" that they talk themselves out of entering the battle—or, at the very least, wind up waiting until the action has passed them by.
Suit up, ladies. Now is no time to cede the field to the guys.
---
* This article originally stated that no women had entered the race for DNC Chair. In fact, Idaho Democratic Party executive director Sally Boynton Brown entered the race Friday. We regret the error.