Did Jeff Sessions Champion Desegregation?
Trump's nominee for attorney general claims to have "filed 20 or 30" desegregation cases as U.S. attorney in Alabama, but there's little evidence to support that.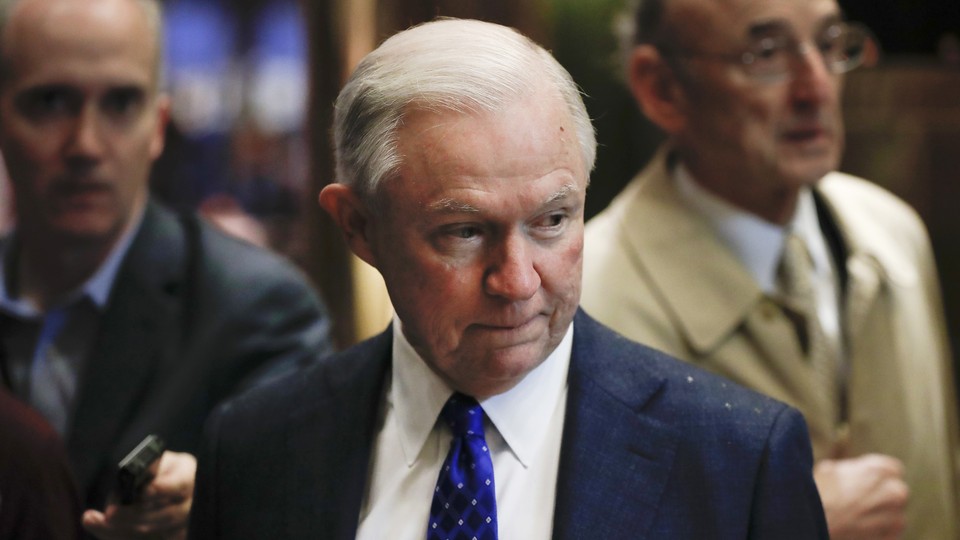 Civil-rights organizations balked when Alabama Senator Jeff Sessions, who was rejected for a federal judgeship in 1986 over allegations he made racist remarks, was chosen to succeed Loretta Lynch as attorney general. Sessions's allies have sought to portray those criticisms as unfair, in part by pointing to his record of filing desegregation lawsuits as U.S. attorney in Alabama.
Sessions himself claims to have been a champion of desegregation. "I filed 20 or 30 civil-rights cases to desegregate schools and political organizations and county commissions when I was a United States attorney," Sessions told National Review in 2009. Trump spokesman Jason Miller offered a similar claim in November, telling reporters on a conference call that "when Senator Sessions was U.S. attorney, he filed a number of desegregation lawsuits in Alabama." Miller's claim about his record has been reported by outlets including Politico, Wired, and The Washington Times. Conservative outlets have dismissed the questioning of his civil-rights record as "another in a long line of liberal smears" against a principled conservative, in part by citing his record on school desegregation.
The Atlantic could not find evidence Sessions filed any new school desegregation lawsuits. Searches of the legal databases Westlaw and PACER found no evidence that any new school-desegregation lawsuits were filed in Alabama's Southern District by Sessions between 1981, when Sessions became U.S. attorney in Alabama, and 1995, when he became Alabama attorney general, though it is possible that the records exist but are not in those databases. The Atlantic could find no reference to the claim in the transcripts of his 1986 confirmation hearing.
Former Justice Department officials and civil-rights experts expressed puzzlement when asked about the claim, in part because nearly every school in Alabama was under desegregation orders by the 1970s, years before Sessions became U.S. attorney. Several historians and legal experts who focus on desegregation said they were also unaware of any new school desegregation cases  in Alabama filed during that period, let alone by Sessions.
In 1967, despite massive resistance by Governor George Wallace and later his wife and successor Lurleen Wallace, the Supreme Court upheld a statewide school-desegregation plan in put forth in Lee v. Macon County Board of Education––many schools in Alabama still remain under desegregation orders. In 1971, in Davis v. Board of School Commissioners of Mobile County, the U.S. Supreme Court ruled that Mobile, which is in the Southern District, had not developed an adequate desegregation plan. That case, filed in 1963, lasted until 1997. Two higher-education desegregation cases were filed in the 1980s, but they were outside of the Southern District.
"I'm not aware of any new school desegregation cases filed 1981 to 1993," said James Blacksher, a longtime civil-rights attorney in Alabama who was the lead counsel on the Davis case. "Most pleadings filed by the government usually listed the [U.S. attorney] as local counsel, even though they did not actively participate."
After 1981, when Sessions became U.S. attorney, his name could well have been on filings related to the Lee or Davis cases––Sessions's office provided The Atlantic with one such filing. But those filings would most likely have been prepared by the Justice Department's civil rights division in Washington, D.C., not the U.S. attorney's office in the district under a desegregation order. Several current and former civil rights division lawyers told The Atlantic it would be unusual for any desegregation case to be filed by a U.S. attorney rather than the civil rights division––but it would be standard procedure for a U.S. attorney's name to be on a particular filing.
That seems more consistent with the way that Sessions himself characterized his record in a separate 2009 interview, with National Journal, cited by the Trump transition team when asked about Sessions's claims:
I signed 10 pleadings attacking segregation or the remnants of segregation, where we as part of the Department of Justice, we sought desegregation remedies—the takeover of school systems, redrawing lines—all those things that I was allowed to participate in supporting.
Asked about Sessions's 2009 claim in National Review, the Trump transition team also offered a list of Sessions's "top civil rights enforcement cases." That list included 10 filings in four separate cases, three of them voting-rights cases and one in the ongoing Davis school desegregation case in 1986. But the list raises additional questions.
The list states that Sessions "brought the first anti voter suppression lawsuit in the history of the Department of Justice," in the 1983 case U.S. v. Conecuh County, when "Sessions sued white Conecuh County election officials, including the Chair of the local Republican Party."
Sessions is indeed listed on the filing. But John Tanner, a former Bush-era Justice Department appointee and the main attorney on that case, said that while he discussed the case with Sessions, who seemed "interested" and "supportive," most of the work was done out of the civil rights division. Not every Southern U.S. attorney was cooperative with the civil rights division in that era, but Sessions was.
"We conduct our own investigations, we worked out of the office, the U.S. attorney's offices sometimes send someone in to introduce the D.C. attorney to the court as a courtesy," Tanner said. "On that one most of the fact gathering was from having federal observers present, and that is an operation that's run out of D.C."
Sessions is also listed on filings in the U.S. v. Dallas County Commission voting rights case, because it took place in his district. But Gerald Hebert, who was the lead civil rights division attorney on that case, said Sessions had little to do with the case itself. The case was a challenge to the county's at-large method of electing members to the county board of education, contending that it violated black voters' rights.
"He never filed anything in the Dallas County case that he wrote," said Hebert, now with the Campaign Legal Center. "Usually, the civil rights division filed the briefs and wrote them. His name would have been included in the CRD draft, which is standard operating procedure." During his 1986 confirmation hearing, Hebert testified that Sessions had described the ACLU and NAACP as "un-American" and called a white civil-rights attorney "a traitor to his race," claims that Sessions denied.
Joe Rich, a former civil rights division attorney on the Davis school desegregation case who is now at the Lawyer's Committee for Civil Rights, is listed on the Davis filing that includes Sessions's name. He said he did not recall the Alabama senator being a big part of the case.
"My recollection is that Sessions had very little to do with it," said Rich. "He was the U.S. attorney, he was probably on the pleading, but I don't remember him playing a major role in it."
Reached by email, the attorney for the Justice Department listed on the fourth case, a voting-rights case related to Dallas called U.S. v Marengo County Commission, declined to speak to The Atlantic.
Asked about the discrepancies between Sessions's 2009 claim to have "filed 20 or 30 civil-rights cases" and the available public documents, the Trump transition team cited Sessions's other claim, to have "signed 10 pleadings attacking segregation or the remnants of segregation."
Sessions claimed however, to have "filed 20 to 30" desegregation cases, and Miller likewise said he had  "filed a number a desegregation lawsuits in Alabama." They did not claim he placed his name on work prepared by the civil rights division, or that he had a small part in ongoing desegregation cases that were filed decades before. And in three of the four examples the transition team offered of Sessions's "top civil rights enforcement cases" to support the more modest claims regarding his record, attorneys who worked on those cases said they did not recall Sessions playing a major role.
"All this shows is that Sessions didn't completely refuse to participate in or have his name on pleadings in cases that the civil rights division brought during his tenure. But nobody, to my knowledge, has ever made such a claim about him," said Samuel Bagenstos, a professor at Michigan Law and the former number-two official in the civil rights division under Obama. "These four cases are awfully weak evidence of Sessions's supposed commitment to civil rights … if this is what they can come up with, it's pretty unimpressive."
The question looming over Sessions's nomination isn't just about his personal views on race, but whether he believes in vigorous enforcement of federal civil-rights laws, and whether as attorney general, he would see them enforced. In response, Sessions's defenders have pointed to his record on desegregation. But on closer inspection, that record seems to raise more questions than it answers.
---
Related Video: