How One Reporter Turned to His Readers to Investigate Donald Trump
The Washington Post's David Fahrenthold opened up to his audience, using crowdsourcing to explore the president-elect's charitable activities.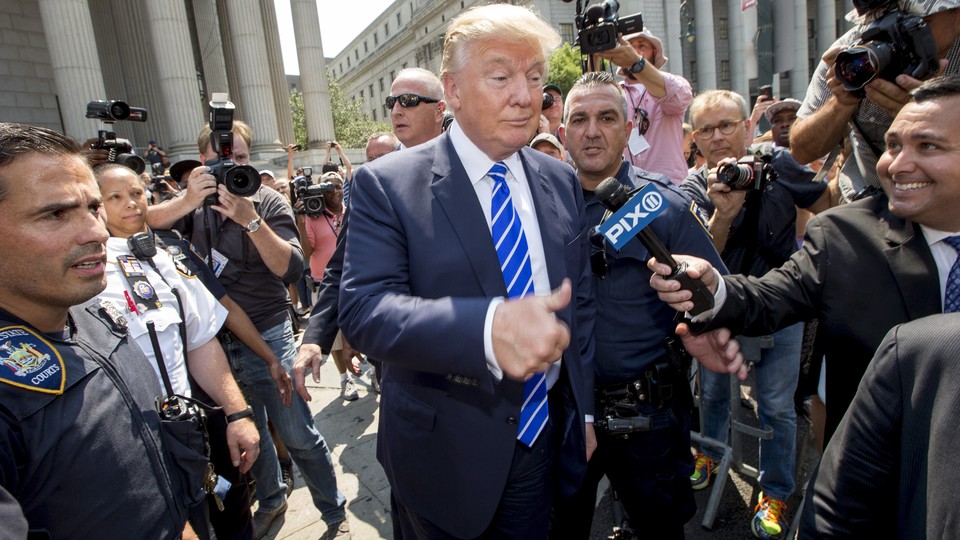 David Fahrenthold's coverage of Donald Trump's charities this year for The Washington Post stood out for its quality and depth. It also stood out the way he did his work. Mostly via Twitter, Fahrenthold asked his readers to be part of his journalism—direct contributors to his reporting—and he did so in an unusually transparent way.
He's not the first to have used what some call crowdsourcing to deepen his sources and knowledge. But from my vantage point, as someone who's paid attention to this kind of thing for many years, he's taken it into new areas, notably by using social media in a particularly smart way. And his methods offer a lesson to others in journalism.
Many political reporters are intensely secretive about their process, remaining tight-lipped about the topics they're interested in for fear of getting scooped. Fahrenthold, by contrast, asked his Twitter followers to help him with his reporting. He started doing this in early 2016, when he was trying to track down the veterans' group or groups, if any, to which Trump had made a donation, as the candidate claimed he'd done. The campaign was either lying to him, or stonewalling, so he decided to dig on his own.
"I couldn't call them all," he told me. Instead, he tweeted at a number of veterans' organizations to ask them if they'd gotten any donations from Trump. This technique drew attention from other journalists and other Twitter users, and Fahrenthold started hearing from more veterans' organizations. None reported having been recipients of such gifts. Ultimately, and likely because of the public focus on this by the Post, Trump did donate some money, as Fahrenthold wrote in one of many follow-up stories to his initial reporting.
In his reporting, Fahrenthold had learned that Trump's charity paid for portraits of the businessman, potentially violating laws regulating how charities operate. One key question that would help determine the legality of the move was the use to which the portraits had subsequently been put. The location of one was already known, but not of a second picture that Fahrenthold's reporting had turned up.
Other reporters might have quietly embarked on a search, racing to be first to the scoop. Fahrenthold, instead, asked his Twitter followers for help. An internet—and real-world—treasure hunt ensued. And in the space of just a few hours, with the help of an Atlanta woman, Allison Aguilar, and a Florida Univision journalist, Enrique Acevedo, the location became known. Here's the sequence, as Fahrenthold described it in an email:
1) 10:34 a.m., 9/20/2016. I posted this tweet, revealing the new portrait and linking to a story asking where it was:
2) Less than an hour later, at 11:04 a.m., Allison Aguilar (@alkaguilar) tweeted at me that she'd found it:
3) I didn't see this, in the avalanche of twitter traffic, so I didn't see that Aguilar had found it until that night, when she sent me an email.
4) 7:11 p.m., 9/20/2016 When I did see her message, I tweeted out that Aguilar had found it in a photo from trump's golf course at Doral.
5) Then, at 12:30 a.m. that night, Enrique Acevedo Tweeted at me that he'd found the portrait in real life:
"It was an amazing day," he told me. "I never would have found it myself."
One of Fahrenthold's most clever transparency techniques combined low-tech with digital media: He made a list, with a pen and paper, of "more than 400 charities with some ties to the GOP nominee in an effort to find proof of the millions he has said he donated to them," and posted results as he got them. ("We've been mostly unsuccessful," he wrote dryly in the Post.)
Trump and his supporters are known for trolling and attacking their critics, including people in the news media. Perhaps surprisingly, Fahrenthold says he didn't get much abuse. "Trump called me a 'nasty guy' on the phone, and some of his surrogates called me 'obsessed' and biased on TV," he said. "But I heard almost nothing from the Trump campaign, and very little from Trump supporters (at least compared to the reports I heard from others)."
Fahrenthold's work offers lessons for other journalists covering the president-elect.
First, as he notes, his technique was "a way to get around the blockade Trump puts up around himself, a way to spread questions far and wide." That may be particularly important in covering a politician who denies access to media outlets whose reporting he finds objectionable.
Second, Fahrenthold advises, "Don't focus on what Trump says. Focus on the results of his actions. Stay in your lane and focus on one particular area."
Crowdsourcing, of course, isn't new. A notable earlier example was Talking Points Memo's prize-winning work on the politicization of federal prosecutors during the George W. Bush administration. ProPublica and a few other news organizations have been using it to great effect in the past several years.
But as a technique, inviting the audience to be part of the journalism—beyond sending photos and videos—has been bizarrely under-used. That's why I'm particularly glad to see outlets like The New York Times moving to deploy their audiences in the service of better journalism.
Fahrenthold and his Post colleagues—and journalists more widely—are now preparing for a Trump presidency. The president-elect has already made plain his hostility to many journalistic outlets, if not to honest journalism as a concept. But Fahrenthold's experimentation suggests that by opening up to readers, reporters can not only deliver better stories—but also help rebuild the trust they'll need to ensure that their reporting has the impact they desire.