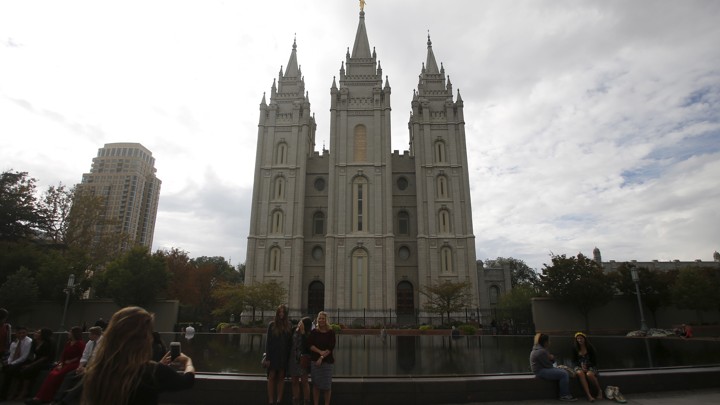 The report comes out every year, a bit of demographic horse-racery: Which U.S. state grew the quickest? It's usually some sun-drenched locale, or more recently, an oil-drenched one—North Dakota and its shale boom have won for four years in a row. Texas is a perennial favorite among the Top 10. So is Washington, D.C., small and condo-hungry.
But this year, I clicked open the email from the U.S. Census Bureau to find the winner was… Utah?
Utah?
State population growth, 2015-2016 and 2010-2016
| State | Population | Change since 2015 | Change since 2010 |
| --- | --- | --- | --- |
I shouldn't have been surprised. Scrolling through previous press releases, I saw the Beehive State had made the top 10 list for years: No. 7 in 2015, No. 8 in 2014, and as high as No. 3 in 2013. But somehow, it never drew my attention. The common map of migration in America shows a steady stream of residents leaving the Northeast and Midwest, and pooling in the sunny South and West, where the weather is nicer and cost of living cheaper. Demographers call it the Snow Belt to Sun Belt shift. It decidedly does not include Utah, where the winters are as frosty as anything in Pennsylvania.
(Granted, the fact that Utah took No. 1 has a lot to do with the declining fortunes of North Dakota, whose economic boom in natural gas has cooled along with energy prices. North Dakota had very few people to begin with, so any raw increase in migrations shot it to the top of the list. This year, it's No. 37.)
But Utah's ascendency in 2016 was only partially fueled by migration, the typical driver of population growth for the rest of the country. The lion's share of growth came from something Utahans have always been good at, and the rest of America, rather bad: They're making more babies.
In 2016, more than three children were born in Utah for every resident who died, an astoundingly fertile ratio. Only Alaska and Texas come close, at around 2-2.5 births; Massachusetts clocks in at an anemic 1.25 births. (West Virginia closes out the list at 0.88 births, well below the replacement rate and a sad reminder of the high mortality and poor health in the state.)
Utah has been this way for years. What's behind the baby boom? The state has one defining feature above the rest, of course: It's the headquarters of The Church of Jesus Christ of Latter-day Saints, and the center of the Mormon faith. And Mormons make having a children a priority. The average Mormon mother has 3.4 children over her lifetime;  a mainline Christian has just 2.2 children.
"There's a strong emphasis on family values in the state," said Brian Cannon, a history professor at Brigham Young University. He noted that for a time, Utah was posting 30 percent growth every 10 years. "Those are high stats, and throughout, the high birthrate has been a key factor."
But it's not the only factor, he said. In 2016, only 57 percent of Utah's population bump came from so-called natural growth. The rest came from people moving into the state, both from elsewhere in the U.S. and from abroad. Utah's economy is actually pretty good, and its state government has aggressively courted corporations, leading to sizable investments from eBay and Adobe, Cannon said. As for immigration, many of the state's new residents come from from Mexico and Central America, and though they're not Mormons themselves, they typically have children at similarly high rates.
Utah, then, is a bit of an oddity in the U.S., which on the whole has crept closer to the low birth rates seen in Europe and Japan. Relatively permissive immigration keeps the country from entering a Japan-style demographic tailspin, funneling in new residents to stand in for the ones not being born. But places like Utah, where birthrates resemble the Baby Boom of the 1940s and '50s, are becoming increasingly rare.
These population figures are not the final word. The Census continuously revises its estimates, sometimes to the detriment of certain states; one recent analysis found the Bureau had drastically overestimated international migration in previous estimates. The overall numbers will almost certainly change, and so could Utah's position.
But one way or another, things are changing, even there. The state's fertility has dropped sharply in the past three decades, though it's still high compared to the rest of the U.S. National trends probably play the biggest role—more women are finishing college and delaying motherhood. But LDS policy plays a role, too. In 2012, the Mormon church lowered the age at which women could become missionaries from 21 to 19, making the traditionally male rite-of-passage more accessible. Cannon thinks that could push Mormon women to delay marriage, and lower the number of children they'll eventually have.
Either way, Utah is catching up with the rest of the country. So enjoy the No. 1 spot, Utahans. It's only a matter of time before North Dakota wins again.
We want to hear what you think about this article. Submit a letter to the editor or write to letters@theatlantic.com.