Red States in the Hot Seat
Areas of the country Trump won by large margins are particularly vulnerable to the environmental devastation wrought by climate change.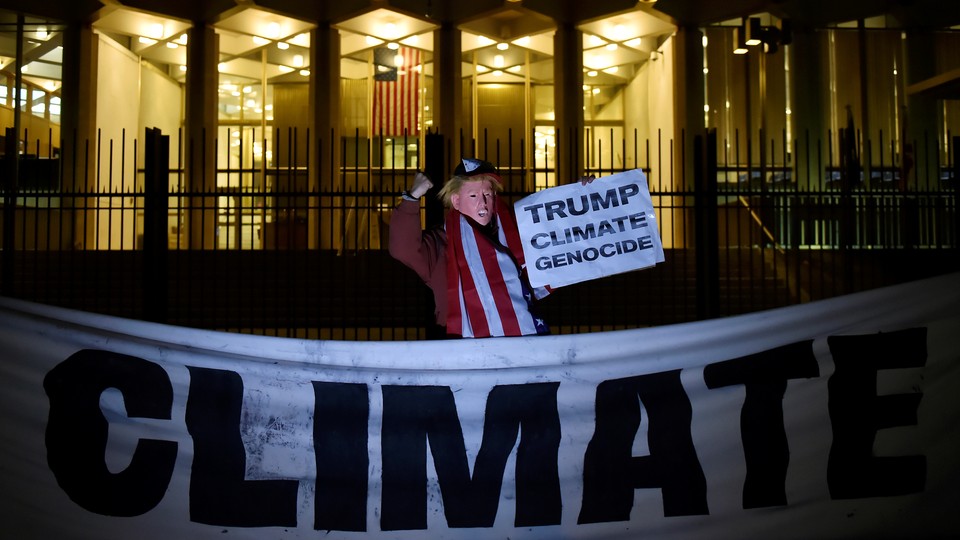 On the heels of President-elect Donald Trump's meeting this Monday with environmentalist and former vice president Al Gore, 97 percent of the world's scientists might have breathed (just a little) easier. Here was a signal—however tentative—that the incoming president was at least interested in hearing the views of those who consider climate change to be a looming threat, and who would prefer the United States do something about it. The meeting, as my colleague Robinson Meyer writes, was arranged by the first daughter, Ivanka Trump. Presumably, it is part of a reported effort to make climate change "one of her signature issues" in a bid to win over "liberals disgusted and depressed with the tone and tenor of the new leader of the free world."
It is worth noting that not only liberals are concerned with climate change: According to Gallup, 40 percent of Republicans and 64 percent of independents are "worried a great or fair deal" about it, an increase of nine points since the question was asked last year. And then there's the rest of the world, where not only is the existence of climate change broadly agreed upon, but is seen as a something that must be combatted—which is why nearly the entire planet signed on to the Paris climate-change accords earlier this year. To be clear: Ivanka Trump's potential "outreach" on the subject would be as much international diplomacy as it would be an olive branch to distressed Democrats and concerned Republicans.
But other indicators relating to the incoming administration do not bode as well for those who care about the warming of the earth's surface: Myron Ebell, a prominent climate-change denier, continues to head the Trump transition at the Environmental Protection Agency. And The New York Times yesterday reported that:
Among Mr. Trump's current top candidates for E.P.A. administrator are Jeffrey Holmstead, a lead lawyer representing states and fossil fuel companies suing to overturn Mr. Obama's climate change regulations; Attorney General Scott Pruitt of Oklahoma, who has been a key architect of that legal fight; and Kathleen Hartnett White, the director of a Texas think tank who served as a top environmental official under the former Texas governors Rick Perry and George W. Bush. Ms. White has denounced "global warming alarmism" and called last year's international Paris Agreement on climate change a "tragedy."
The environmental picture remains equally grim over at the Interior Department, where the incoming president is considering appointing Oklahoma Governor Mary Fallin, a strong critic of the clean power regulations set in place by the Obama administration, and a forceful advocate for oil and gas. Remember, this is the governor who responded to a question about climate change—and whether it was to blame for a prolonged and historic drought that was crippling her state—in 2013:
It's just nature itself and the patterns that flow and so we're going to continue to pray for rain in the state of Oklahoma and hope we that we get some relief.
At this point, no one can know where the Trump White House will land on a number  of environmental concerns, but what we do know is this: The men and women who are likely to feel the most catastrophic effects of a warming planet are not West Coast Gore acolytes or compost-obsessed Northeastern liberals. The people on the front lines of climate change in the America are Trump voters: residents of the deep-red states in the Southeastern United States.
Last year, an initiative called Risky Business, put together by former New York Mayor Michael Bloomberg, former Treasury Secretary Hank Paulson, and the philanthropist Tom Steyer, released a report detailing the catastrophic effects of a changing climate on various regions of the United States. The Southeast—precisely the states of Alabama, Arkansas, Florida, Georgia, Kentucky, Louisiana, Mississippi, North Carolina, South Carolina, Tennessee, Texas and Virginia—is, according to Kate Gordon, editor of that report, "the most vulnerable." Gordon explained that, "the global South starts to encroach in the U.S. through the Southeast."
Excepting Virginia (which Clinton won), these are also states where Trump claimed victory, mostly by very large margins. In Alabama and Arkansas, states Trump won by nearly 30 points each, temperatures are expected to soar in the coming years, thanks to climate changes as the result of increased greenhouse-gas emissions. Since 1980, the typical Alabaman has experienced an average of 12 days per year of temperatures above 95 degrees, while the typical Arkansan has had 19 days of it. According to the report, by 2050, there may be as many as 75 days of 95-plus degree heat. In Arkansas, over the same time frame, there may be as many as 82 days of scorching heat—a nearly three-month long heat wave.
The same goes for Mississippi, where Trump won by nearly 18 points and where, on average, residents experience of 13 days per year of 95-plus degree heat. The state is on track to reach up to 85 days of those temperatures by 2050.
The effects of this heat are not simply discomfort, according to the report. In Texas, where Trump won by over 9 points and where the typical year sees an average of 43 days above 95 degrees, by 2040-2058, that number is likely to reach up to 106 days per year. In tandem with this, heat-related deaths are likely to increase by more than 4,500 in the same frame, the report projects.
In a state like Florida, which Trump won narrowly, nearly one-fifth of the population is over the age of 64. With the largest share of elderly residents in the country, the effects of extreme and prolonged heat in Florida could be devastating: By mid-century, Florida is projected to have as many as 5,080 additional annual deaths, of which 90 percent are expected to affect people over age 64.
Prolonged high temperatures will take a toll on the state's energy grids, which will be taxed with over-consumption, necessitated by over-reliance on air conditioning—and state energy costs are expected to rise by billions of dollars, come mid-century. Worker productivity will also decline. Remember, Gordon told me, these are states where "it gets really hot and humid, so you have heat stroke issues."
State economies will equally be under pressure: Increased temperatures would have potentially devastating effects on the agriculture industries. Currently, Tennessee (which Trump won by nearly 25 points) has more than 79,000 farms, which cover more than 40 percent of the state's land area. Among the crops grown in the state are corn and soybeans, both of which, Gordon said, "are very vulnerable" to climate change.  Without significant agricultural adaptation, Tennessee's soybean yields will drop by as much as 31 percent by mid-century; corn yields may plummet by as much as 47 percent.
In Alabama, where soybeans were the state's second most valuable crop, absent significant agricultural adaptation, soybean yields will likely decrease by as much as 44 percent by midcentury. In Arkansas, corn yields will likely decrease by up to 59 percent in the following 20 years, so long as nothing is done to adapt the industry.
Georgia, which Trump won by 5 points, is the country's largest producer of broiler chickens. (Alabama is second and Arkansas is third.) According to the report:
Because poultry flocks can only tolerate narrow temperature ranges, higher temperatures can disrupt performance, production, and fertility, limiting a bird's ability to produce meat or eggs. Higher temperatures can also increase animal mortality. In addition, climate change can affect the price and availability of water, feed grains and pasture, and change patterns of animal diseases. And because energy costs comprise more than 50% of growers' cash expenses, higher energy costs due to climate change have the potential to put additional pressure on this sector.
Some crops that are grown in the region, like wheat, may have increased yields due to increased carbon levels in the atmosphere, but Gordon cautioned, "the report wasn't exhaustive [in its breakdown]. Heat and humidity bring new insect species and things like mold"—both of which can have devastating effects on crops and livestock.
And then there is the issue of the coast. The southeast, Gordon told me, "has the worst sea level rise in the U.S."
That is due to a number of factors, she explained, including, "the way land is at bottom the of ocean, geological formations, and Arctic versus Antarctic melt."
Whatever the reason, this part of the country is on track to lose considerable (and valuable) coastal real estate with rising seas. In North Carolina, where Trump beat Clinton by almost 3 points, according to the report:
By 2030, up to $4.4 billion in coastal property is likely to be flooded at high tide. By 2050, the value of property below the mean high water mark will likely increase to up to $5.6 billion.
In South Carolina, where Trump won by over 4 points, the projection is almost identical: By mid-century, an additional $5.7 billion of South Carolina property is expected to be below the mean high-water mark.
Louisiana, which Trump won by 20 points, faces the highest rate of sea level rise in the United States. If the country continues on its current emissions path, the mean sea level at Grand Isle, Louisiana, is likely to rise 1.9 to 2.4 feet by 2050—and 4.1 to 5.8 feet by the end of the century. Mean sea-level impacts are similarly dire: By 2050, $44.8 billion worth of Louisiana property could be below mean sea level.
But nowhere is this picture more grim than in Florida: According to projections, by 2050, about $152 billion worth of property in the state will be below local high-tide levels.
Water problems caused by a changing climate will be particularly unkind to this section of the country: Storm surge and nuisance flooding will increase. Subsequent flooding of the Mississippi River will slow transportation of goods, complicating supply chains. And droughts elsewhere are projected to wreak havoc on the water-intensive oil and gas industries.
Some of the most immediate projections included in the report will come to pass no matter who is in the White House and what their climate agenda happens to be, according to Gordon. "The heat and sea level rise impact—that's baked into next 10-20 years. That's the result of emissions we put in the atmosphere," she said."But 2040 and 2050 we could actually affect."
The coming years, "are critical for mitigation in the next 30 years. And frankly, for adapting—which you cannot ignore."
To some degree, the president-elect can trust that states will continue to combat climate change on their own (as California has done), regardless of what his environmental agencies unwind or reverse in terms of environmental regulation. But state action and industry reform are not a substitute for a national policy (nor international policy). And having an administration that acknowledges the reality of climate change—and the significant threat it poses—will be imperative in the medium and long term.
"We have to accept—and we have to have as a fundamental narrative in this country—that climate change is a serious economic and security risk and needs to be addressed," said Gordon. "We need to be global and local in addressing this issue."
Trump thus far has shown haphazard allegiance to the voters who swept him into office: He appears intent to follow through on his populist promise to prevent companies from moving American jobs overseas, but he aims to fill his cabinet with billionaires whose track records display little concern for the same working class voters whose fortunes most depend on Trump's commitment to populism.
Despite the fact that a significant part of his voting base, the Southeast United States, lies at the frontline of the climate battle, this region's residents have not been vocal about the peril they face—indeed, its state leaders have been downright skeptical about the very existence of the threat. Without a sizable and voluble coalition of his own supporters engaged on the issue, it is hard to imagine this particular president caring much at all. Even if that wasn't the case, its unclear how beholden Trump might feel to them in the long-term.
Perhaps the best hope for the millions of Americans—and billions of people around the world—concerned about the threat of climate change is that Trump's preoccupation with the fizzy high of positive press, coupled with his daughter's apparent desire to find common ground with Democrats, will result in something other than climate denialism and the unwinding of critically-important regulatory reform. As it concerns the environment, the country has little idea of  where it is headed in the short-term—even if there is broad consensus as to where it may end up in the long-term.