Can Trump's Defenders Stop Stein's Recounts?
The president-elect's allies are seeking to stop recounts in Pennsylvania, Wisconsin, and Michigan.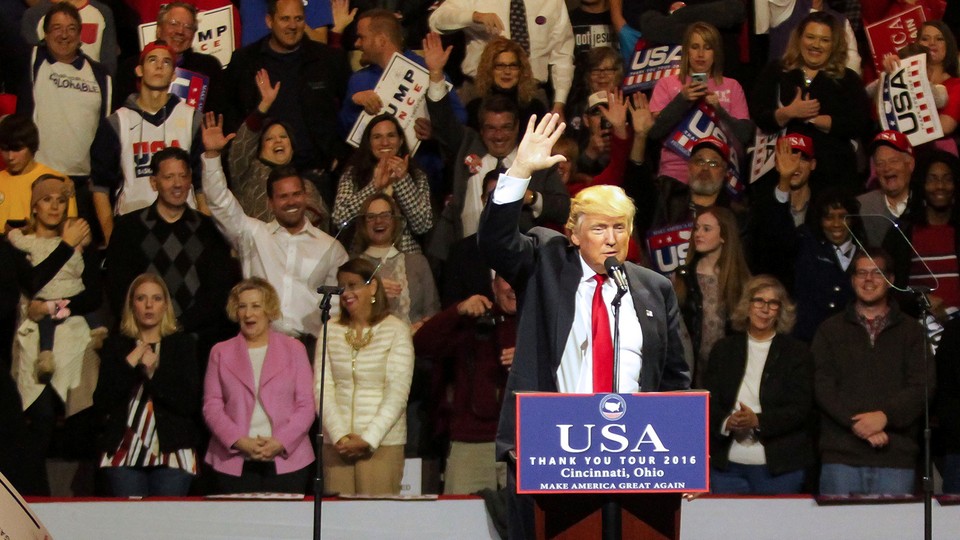 President-elect Donald Trump's allies are taking legal action intended to stop election recount attempts initiated by Green Party presidential nominee Jill Stein in Wisconsin, Michigan, and Pennsylvania.
In Wisconsin, a pro-Trump super PAC filed a federal lawsuit arguing that the recount is unconstitutional and "may unjustifiably cast doubt upon the legitimacy of President-Elect Donald J. Trump's victory."
In Michigan, Attorney General Bill Schuette, a Republican who supported Trump during the election, has filed a lawsuit,  which according to a statement aims "to stop a frivolous request ... to recount the entire state's presidential election results by hand." Lawyers representing Trump have also objected to the Michigan recount request.
In Pennsylvania, the Associated Press reports, "Trump and the Pennsylvania GOP are asking a state court to throw out a Green-Party backed request for a recount."
Stein launched a recount fundraising drive last week, and subsequently filed for recounts in Michigan, Wisconsin and Pennsylvania. In a statement on Friday, Stein vowed to fight the legal challenges. "We won't stand down as Donald Trump and his allies seek to frivolously obstruct the legal processes set up to ensure the accuracy, security and fairness of our elections," she said.
There are a few common themes to most of the legal claims challenging the recount requests: In general, Trump's defenders are arguing that it's too late in the electoral process to initiate vote recounts, and that Stein doesn't have ground to stand on since she didn't come anywhere close to winning the election herself, and has no proof that vote totals were compromised.
Whether or not legal action will stop recount efforts from proceeding is another question. "From strongest to weakest where strongest means most likely to stop the recount effort, I would rate them Pennsylvania, then Michigan, then Wisconsin," Edward Foley, an election law expert at Ohio State University's Moritz College of Law, said, though he cautioned that it's difficult to predict exactly what will happen. "The hardest case to stop the recount seems to be Wisconsin since the federal claims in federal court are more novel and unusual," he added.
Jerry Goldfeder, a professor at Fordham University's School of Law, similarly commented that legal actions against a recount seem most likely to succeed in Pennsylvania. But in an e-mail exchange, Goldfeder, who was a member of Hillary Clinton's New York Leadership Council, noted that opposition to the recounts is probably unnecessary since, as he put it, Stein's efforts appear to be "futile."
That's because whatever happens, the result of the election is almost assuredly not expected to change. There is no conclusive evidence that vote counts have been compromised in any state, and Trump's margin of victory in all three is large enough that it is extremely unlikely that recounts would make a difference in determining who won the election.
If legal fights over recounts drag on it might complicate plans for state electors to formally cast their votes on December 19th. But  "as a practical matter, even if these recount efforts caused any of these states to bump up against federal election deadlines, I think all three states will end up being counted for Trump, and I don't foresee this affecting the inauguration," Foley commented.
Attempts to initiate a recount have given Democrats disappointed by the outcome of the election a glimmer of hope, however improbable that hope may be. Calls for a vote audit gained traction on social media after New York Magazine published a report last month asserting that Clinton had been "urged by a group of prominent computer scientists and election lawyers to call for a recount in three swing states won by Donald Trump."
The fact that Clinton amassed a considerable lead in the popular vote has contributed to a sense among her supporters that the outcome of the election was unfair. And suspicions that there might have been vote tampering have been fueled by the fact that the Obama administration has formally accused Russia of interfering in the U.S. election. "The U.S. Intelligence Community is confident that the Russian Government directed the recent compromises of e-mails from U.S. persons and institutions, including from U.S. political organizations," a statement released by the administration in October read.
Yet while Clinton's campaign has agreed to participate in the recount proceedings, a counsel for the campaign noted in a Medium post that they "had not uncovered any actionable evidence of hacking or outside attempts to alter the voting technology."
Trump, meanwhile, has simultaneously denounced recount efforts, and sowed doubts about the legitimacy of the election in his own right. "Hillary Clinton conceded the election when she called me just prior to the victory speech after the results were in," the president-elect tweeted last weekend, adding "nothing will change." Later, however, he falsely claimed that millions of people voted illegally in the election, an unsubstantiated assertion that he used to suggest that he had unfairly lost the popular vote.