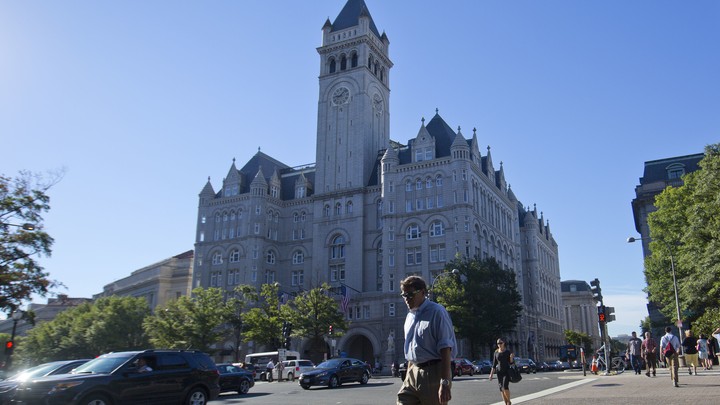 Updated on December 14 at 12:23 p.m.
The question right now isn't whether Donald Trump faces a welter of conflicts of interest. It's how extensive they are, how much the public will learn, and whether there's any recourse.
In most cases, so far, there seems to be little leverage to force Trump to disclose anything or to divest himself, as I wrote this morning. But several House Democrats allege in a letter released Wednesday that the new Trump Washington D.C. Hotel might be one. The hotel is housed in the old General Post Office building, which is owned by the federal government and managed by the General Services Administration. In 2013, long before his presidential campaign began, Trump signed a 60-year, $180 million lease to redevelop the building as a hotel and commercial center.
As Steven Schooner and Daniel Gordon pointed out in a detailed piece in Government Executive, an Atlantic sister publication, Trump's lease included one important clause: "No … elected official of the Government of the United States ... shall be admitted to any share or part of this Lease, or to any benefit that may arise therefrom..." In other words, Trump can have his hotel, or he can have the White House, but he cannot have both.
On Wednesday, Democratic Representatives Elijah Cummings, Peter DeFazio, Andre Carson, and Gerry Connolly sent a letter to the administrator of the GSA, Denise Roth, on the matter. They say that Roth sent the deputy commission of GSA's Public Buildings Service to brief them. They write:
Most importantly, the Deputy Commissioner informed our staff that GSA assesses that Mr. Trump will be in breach of his lease agreement the moment he takes office on January 20, 2017, unless he fully divests himself of all financial interests in the lease for his Washington, D.C. hotel. The Deputy Commissioner made clear that Mr. Trump must divest himself not only of managerial control, but of all ownership interest as well.
They add, "The Deputy Commissioner confirmed repeatedly during the briefing that GSA reads this provision as we do." They say that the deputy commissioner informed them that GSA had attempted to inform Trump's team of the impending violation but had received no communication. They also request a collection of documents, including the lease.
But in a statement released around noon, GSA pushed back on the Democrats' claims:
GSA does not have a position that the lease provision requires the President-elect to divest of his financial interests. We can make no definitive statement at this time about what would constitute a breach of the agreement, and to do so now would be premature. In fact, no determination regarding the Old Post Office can be completed until the full circumstances surrounding the President-elect's business arrangements have been finalized and he has assumed office. GSA is committed to responsibly administering all of the leases to which it is a party.
What's interesting is what the statement does and doesn't do. It doesn't definitively reject the idea that Trump might be in breach of the contract if he becomes president; it simply says it's too soon to tell. The statement does throw someone under the bus: Either the deputy commissioner (still unnamed) spoke prematurely or incorrectly, or else the House Democrats are misrepresenting what they are told. Presumably GSA is making preparations for January 20 and won't begin its assessment then, so the deputy commissioner's reported explanation may (or may not) reflect the preliminary view held by GSA's lawyers. GSA did not make any comment on the claims that the Trump transition team had been ignoring communications.
The Trump transition team also did not immediately respond to a request for comment, but Reuters' Emily Stephenson reported that a spokesperson said the matter would come up at a press conference Trump has said he will hold addressing his business conflict some time in January. Trump originally planned to hold the press conference on Thursday, but then suddenly cancelled it on Monday, citing a busy schedule.
While ethics experts point to a range of ethical conflicts for Trump, none is quite so glaring as the gleaming new hotel, just a few blocks down Pennsylvania Avenue from the White House. The Constitution's Emoluments Clause mandates that "no Person holding any Office of Profit or Trust under [the United States], shall, without the Consent of the Congress, accept of any present, Emolument, Office, or Title, of any kind whatever, from any King, Prince, or foreign State." Yet foreign diplomats have already begun lining up to stay at the hotel and conduct business there, reasoning that it's wise to get into the good graces of the president-elect by giving him custom.
"Why wouldn't I stay at his hotel blocks from the White House, so I can tell the new president, 'I love your new hotel!' Isn't it rude to come to his city and say, 'I am staying at your competitor?' " one Asian diplomat told The Washington Post.
Trump has said that as president, his business will do no new deals (a puzzling statement), and that Donald Jr. and Eric Trump, who are currently executive vice presidents, will run the business, while Ivanka, another EVP, detaches herself from the company to advise her father. But as the House Democrats note, this is unlikely to solve any sort of problem. Ivanka Trump was heavily involved in the work on the D.C. hotel and is also working on the Trump transition team, which has reportedly ignored all communication from GSA.
Nor are Trump's adult sons distancing themselves from politics in preparation to run the business. Politico reports today that Donald Jr., an avid hunter, was involved in selecting Ryan Zinke, a Montana representative, as his father's nominee for secretary of the interior.
This is the problem with any attempt to unwind Trump the politician from Trump the businessman. His political appeal is built in large part on his business empire, which he has taken to be voter sanction for maintaining all of his conflicts of interest. His business, meanwhile, is not a traditional large company, but instead an extremely lucrative licensing business run almost entirely by Trump and his children. The company sells the Trump brand and depends on having Trump figureheads, and Donald Trump, as I wrote today, can't divest his surname.
GSA's response to the letter offers Trump some breathing room, at least up to Election Day, at which point the question becomes live, although Democrats are sure to wield it as a political bludgeon between now and then. But Trump has several options. He seems unlikely to face much resistance from Republicans in Congress who might conduct oversight; they have indicated they have little interest in pressing the president-elect. First, time is on his side. The administrator of the GSA is appointed by the president, so if he can delay an outcome, Trump could presumably install new management at GSA that could reach a different legal conclusion about how to read the lease. Second, Trump could choose to litigate, a favorite tactic of his in the business world, where lawsuits can be used to wait out and grind down adversaries.
The letter claims that the deputy commissioner said the legal decisions about the lease were made by career staff who are insulated from political pressure. But Trump has already shown little regard for such rules, trying to get the Department of Energy to cough up names of career staff involved in climate-change work. What happens after January 20 will show just how good that insulation is.
We want to hear what you think about this article. Submit a letter to the editor or write to letters@theatlantic.com.